89 NYPD officers on leave due to vaccine mandate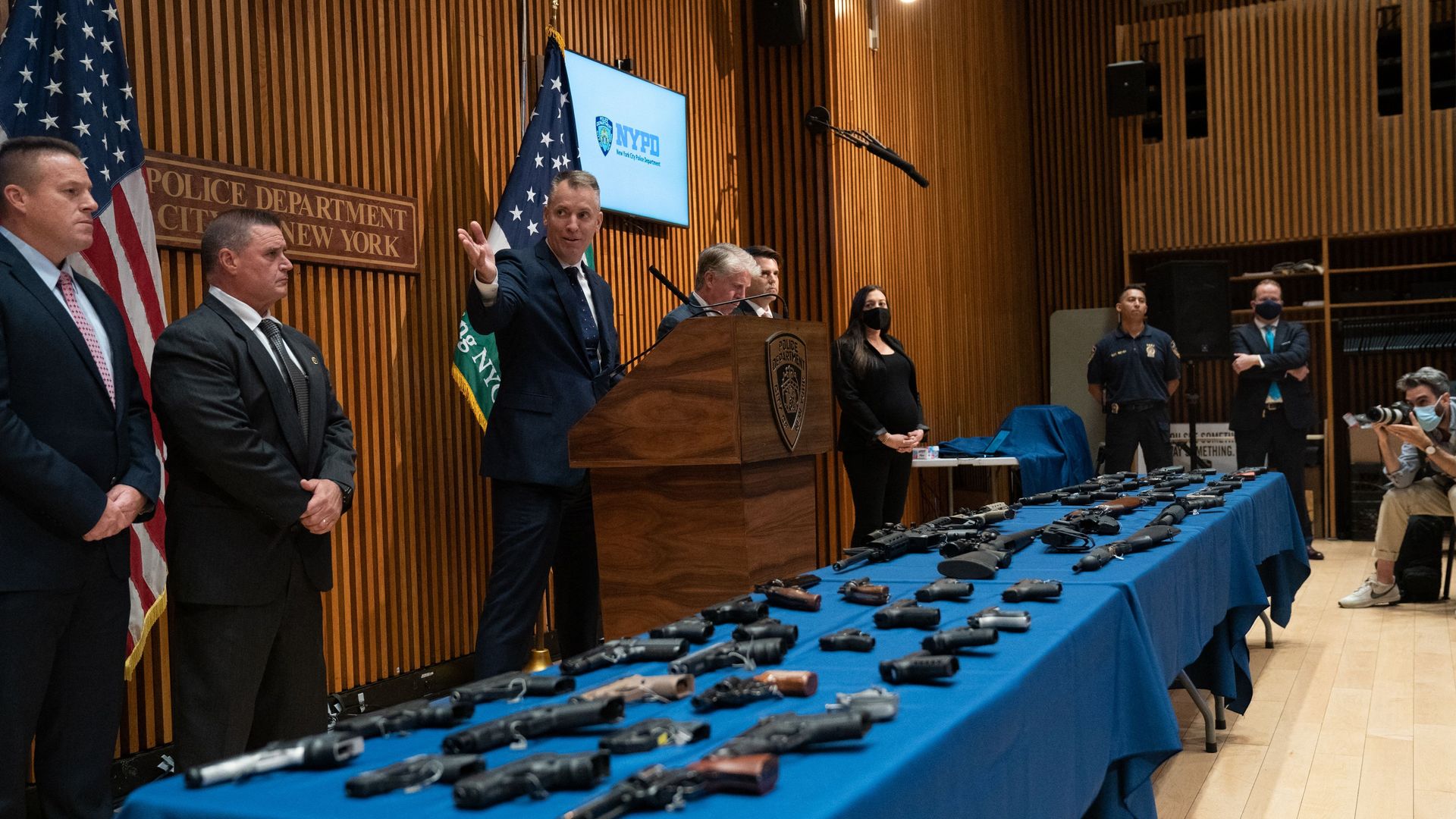 Eighty-nine New York Police Department officers have been placed on unpaid leave since the vaccine mandate for city workers went into effect, Commissioner Dermot Shea told NY1 on Tuesday.
Driving the news: The number is in sharp contrast with an Oct. 28 news release from the heads of five major police unions representing the city's officers, which stated that the city was set to pull 10,000 officers from the streets.
"[P]olice union leaders are warning New Yorkers that the NYPD brass is completely unprepared for the staffing shortage that will result from the mandate's haphazard implementation," the release stated.
The staffing shortage that the unions anticipated has not materialized, and Shea told NY1 on Tuesday the number of officers out will not impact public safety in the city.
Spokespersons for the Sergeants Benevolent Association, Lieutenants Benevolent Association and Captains Endowment Association did not immediately respond to a request for comment.
Detectives' Endowment Association president Paul Digiacomo on Tuesday told Axios. "The mayor rushed this mandate for his own political, motivated, self-serving interests. This was totally unnecessary and is putting the safety of every member of the police department and every New Yorker at risk. [...]"
A spokesperson for the Police Benevolent Association declined to comment.
The city's mandate has been a source of contention, and a judge last week denied the PBA's effort to get a temporary restraining order to halt it.
Context: Shea said the number of officers out is about a quarter of 1% of the force.
In total, 85% of NYPD staff were vaccinated as of Monday night, Shea said. About 6,000 of the unvaccinated employees who were not on unpaid leave have yet to find out whether they will be granted a religious exemption.
What they're saying: "We think we're in really, really strong shape here," Shea said at a news conference Monday.
"I mean, members of the Police Department you know, responded to this, they came to work as they always do. And there was literally no effect on service at this point."
"We want every one of those officers back to work," Shea told NY1 on Tuesday.
Editor's note: This post was updated to include a comment from Detectives' Endowment Association president Paul Digiacomo.
Go deeper