Electric air taxis prepare for takeoff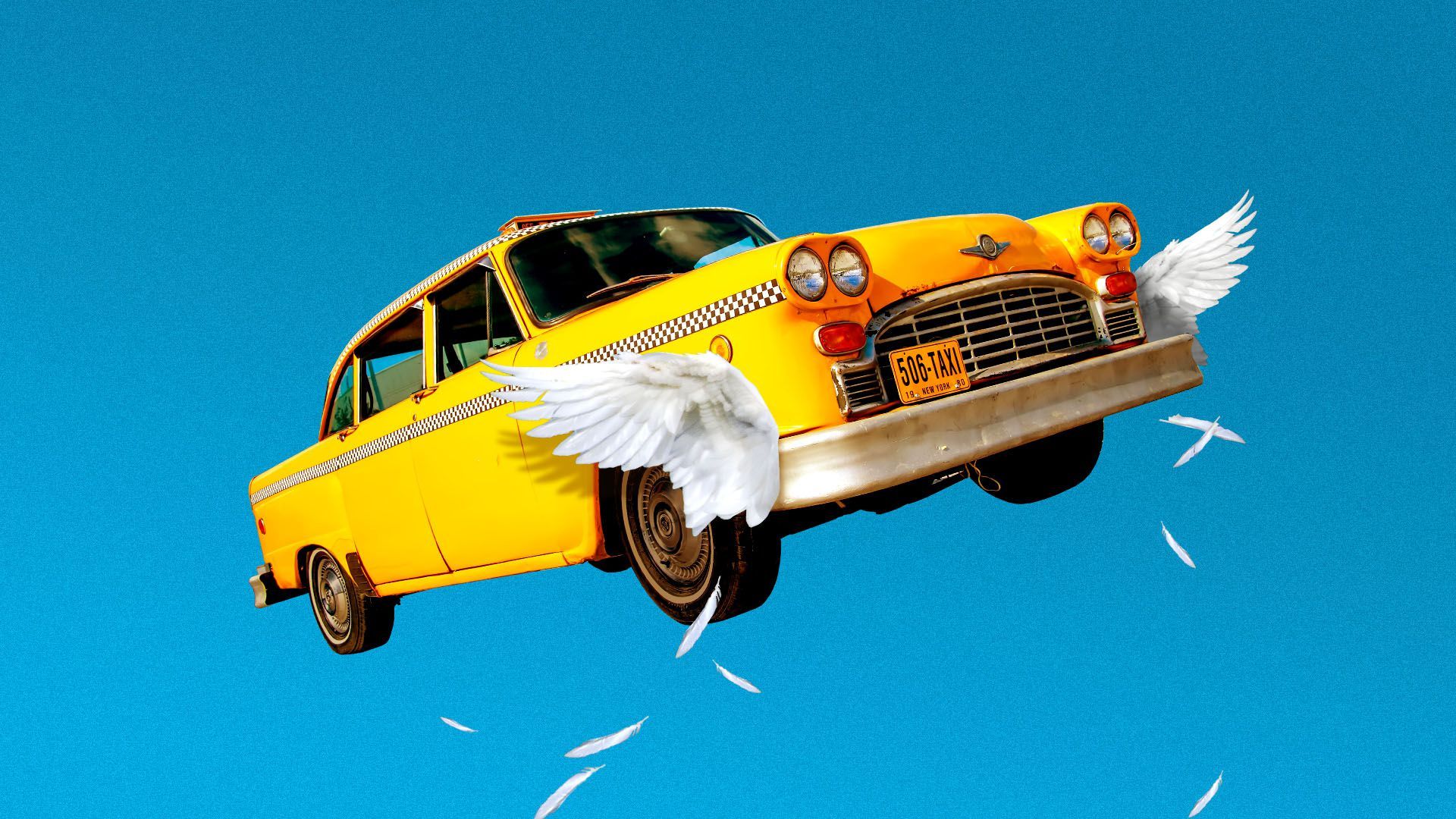 Electric air taxis might someday leap from rooftop to rooftop, delivering cargo or ferrying passengers above congested roadways — but not until they can solve a host of technical and regulatory hurdles.
A less complex e-plane under development could bring many of the same benefits by hopping among underused airports.
Why it matters: Aviation is on the cusp of a revolution as significant as the jet age, with advanced air mobility — i.e., flying vehicles — promising a cheaper, faster and cleaner mode of transportation, according to Morgan Stanley. It pegs the potential value of the market at $9 trillion by 2050.
Where it stands: Investors have pumped $5 billion into electric vertical takeoff and landing aircraft (eVTOLs) in the past two years, per data compiled by Phystech Ventures, an early-stage VC firm.
Startups in this space include Joby Aviation, Archer and Lilium — all of which have debuted on public markets through SPAC mergers at multibillion-dollar valuations.
But their prototype planes aren't yet certified to fly, and experts say it could be a decade or two before eVTOLS are widely adopted.
The intrigue: Airbus and Boeing are working on vertical aircraft too, but the former leaders of those respective efforts both struck out on their own to establish companies that take different approaches.
Those companies, Airflow and Electra, are developing electric planes that need just a short rolling start to get airborne — about the length of a football field — and can fly longer distances.
The planes, dubbed eSTOLS (electric short takeoff and landing aircraft) are cheaper and less risky than trying to invent a new type of aircraft from scratch, say the aviation veterans behind both companies.
"The problem [with eVTOLS] is, you're looking at a billion dollars and don't even know if it's going to be enough," Airflow CEO Marc Ausman tells Axios. "And you don't know the market opportunity, because it doesn't exist."
Details: Unlike vertical aircraft, which use much of their battery power to get airborne, Airflow's and Electra's ultra-short takeoff and landing planes are more efficient and thus can carry larger payloads.
They have a series of small electric propellers that rapidly blow air over the wings, creating an aerodynamic technique called "blown lift" that allows takeoff in as little as 100 feet.
That means they can take off or land on warehouse rooftops, parking lots or soccer fields — runways aren't required, says John Langford, CEO of Electra.
A turbine engine acts as an onboard generator, producing electricity that turns the propellers and can also recharge the battery in flight, meaning longer range flights and less time on the ground for recharging.
What they're saying: Ultra-short takeoff and landing planes have some advantages over vertical aircraft, including larger payloads and a clearer path to certification, says Pitchbook mobility analyst Assad Hussain.
But Hussain and others say there's room for both types of electric aircraft as advanced air mobility takes off.
"There is no right solution to air mobility," Sergio Cecutta, a partner at SMG Consulting, tells Axios.
What to watch: While air taxi companies will likely focus on short urban routes under 50 miles, look for companies like Airflow and Electra to fly longer routes by taking advantage of underused regional airports.
Go deeper