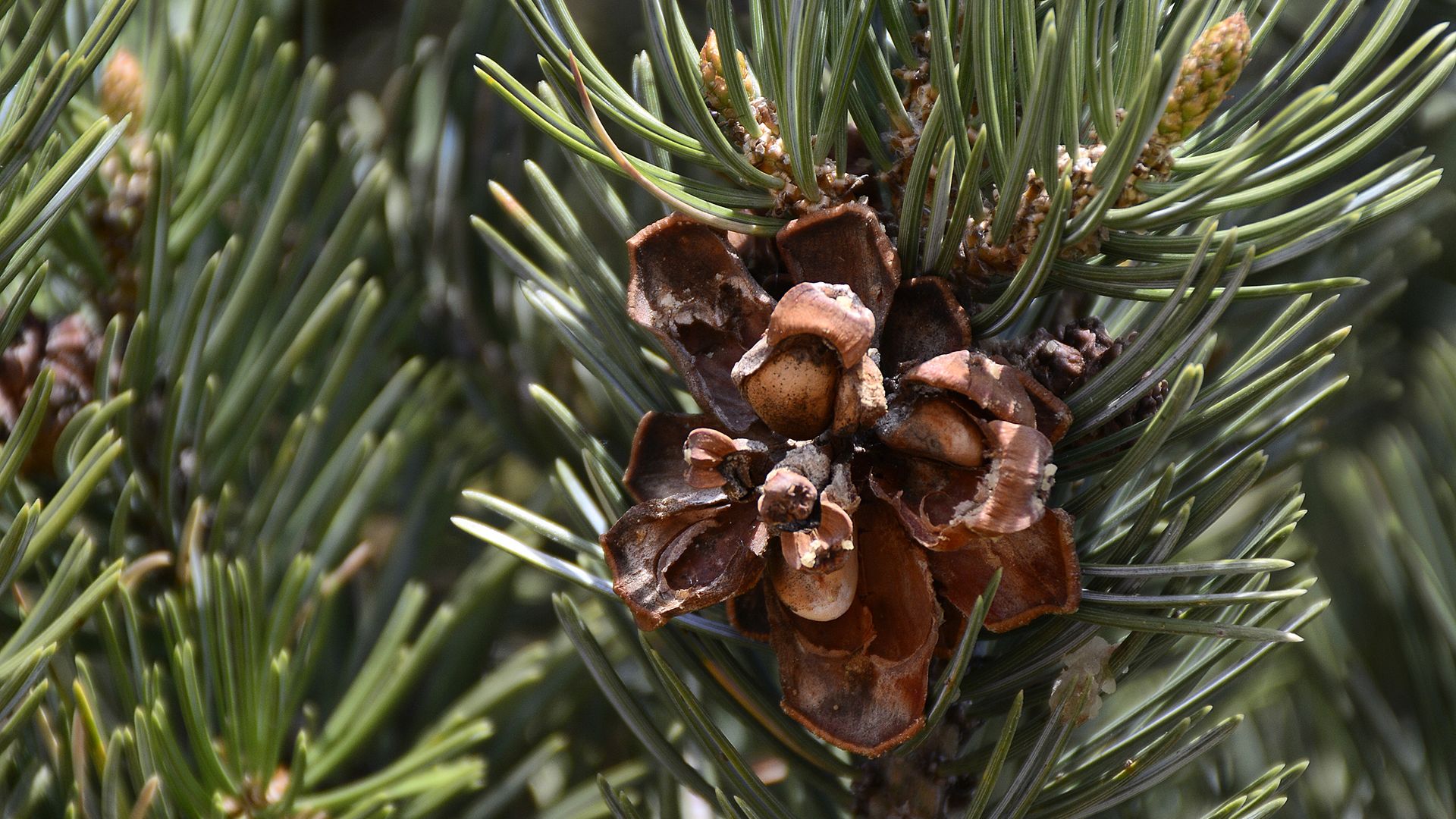 Pine nuts, known as piñons in New Mexico, aren't as plentiful as in previous years thanks to drought, beetle infestations and climate change in the delicate desert.
The big story: The lack of piñons in the mountains is putting at risk a Hispanic tradition of families venturing into the mountains to pick the nuts for holiday dishes, sparking fear that piñons may be in long-term danger.
By the numbers: A 2020 state report on New Mexico's forest health found pests had killed or damaged piñon trees in national, state and tribal woodlands and could cause a greater mass tree die-off if wetter weather doesn't come soon.
The U.S. Drought Monitor showed more than half of New Mexico is in severe drought conditions or worse.
Around 350 million piñon trees died statewide in the early 2000s, and millions more died a decade later when harsh drought conditions led to severe beetle infestations, the Santa Fe New Mexican reports.
The intrigue: Piñon trees grow in the highlands of New Mexico and other parts of the American Southwest and contain nuts indigenous to the region.
The trees take around 100 years to produce the unique nuts and can live from 600 to 1,000 years.
There are new farms that harvest piñons, and the state allows residents to pick a certain amount each year from public lands.
Residents use piñons during Thanksgiving for soups, coffee, desserts and dishes like piñon-crusted pork tenderloin.
The piñon is New Mexico's official state tree and is as important to the state as the roadrunner and green chile.
Yes, but: Recent dry conditions also have resulted in wildfires in addition to bug infestations, threatening trees that have fed Indigenous and Hispanic families for centuries.
What they're saying: "I've never seen it this bad. There are hardly any piñons out there," John Muniz, 77, a Rio Rancho, N.M., resident told Axios. He's been picking piñons since he was a child living in Raton, N.M., near the Colorado state line.
"I've never seen it this dry where you can walk across the Rio Grande. And you can walk across through it. So that tells you a lot right there."
What's next: New Mexico environmental officials are monitoring the health of piñon trees amid the drought and infestation but currently, there is little officials can do.
Go Deeper: What to know about COP26 in Glasgow
Listen to Axios Latino author Russell Contreras speak about the future of piñons in New Mexico with Los Angeles Times columnist Gustavo Arellano for The Times: Daily podcast.
Get more news that matters about Latinos in the hemisphere, delivered right to your inbox on Tuesdays and Thursdays. Sign up for the Axios Latino newsletter.
Go deeper