When Día de los Muertos goes Hollywood
Public celebrations of Día de Muertos, underway in Mexico and parts of Latin America, are increasingly falling under the influence of Hollywood.
Why it matters: Movies popularizing the festivities are changing Indigenous traditions that date back 3,000 years. The changes could "muddle" the holiday so much that future generations may not be familiar enough with their roots, says anthropologist Tomás Pérez Suárez.
Details: Mexico City's celebration now includes a massive parade with Day of the Dead motifs staged for the 2015 James Bond movie "Spectre."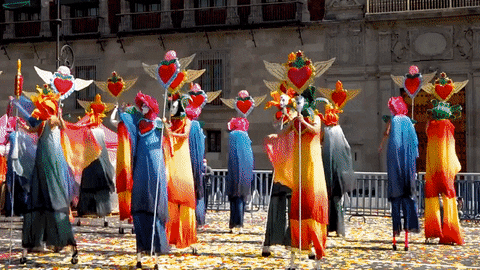 For reference: Pre-Hispanic rites, such as altars known as ofrendas believed to guide the departed to the underworld, were first fused with Spanish colonists' Catholic tradition of remembering the dead on All Saints' Day and All Souls' Day.
Of note: Mexicans in the U.S. have observed Day of the Dead since the 1890s, but the observance has boomed in the past decade, from massive ofrendas in California to parades in Texas.
Get more news that matters about Latinos in the hemisphere, delivered right to your inbox on Tuesdays and Thursdays. Sign up for the Axios Latino newsletter.
Go deeper