When Día de los Muertos goes Hollywood
Public celebrations of Día de Muertos, underway in Mexico and parts of Latin America, are increasingly falling under the influence of Hollywood.
Why it matters: Movies popularizing the festivities are changing Indigenous traditions that date back 3,000 years. The changes could "muddle" the holiday so much that future generations may not be familiar enough with their roots, says anthropologist Tomás Pérez Suárez.
Details: Mexico City's celebration now includes a massive parade with Day of the Dead motifs staged for the 2015 James Bond movie "Spectre."
"Coco," the popular 2018 Disney-Pixar movie partly inspired by Día de Muertos, was initially controversial because Disney tried to trademark the ancient celebration. The company relented.
But the film's popularity led to further commercialization of the observance, such as an official route that makes picturesque celebrations in Michoacán, Oaxaca and Guanajuato tourist fodder.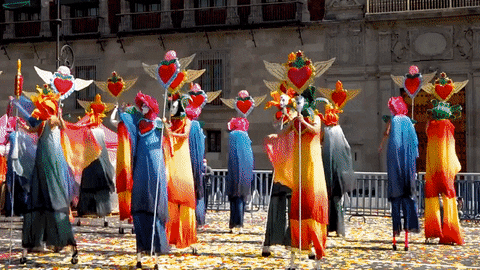 For reference: Pre-Hispanic rites, such as altars known as ofrendas believed to guide the departed to the underworld, were first fused with Spanish colonists' Catholic tradition of remembering the dead on All Saints' Day and All Souls' Day.
The typically Mexican ofrendas, which often include portraits of the deceased, flowers, poured spirits, incense and other elements to guide souls back home, were declared an Intangible Cultural Heritage by UNESCO in 2008.
In other parts of Latin America, the festivities include making an offering at loved ones' graves of flowers and different foods.
Of note: Mexicans in the U.S. have observed Day of the Dead since the 1890s, but the observance has boomed in the past decade, from massive ofrendas in California to parades in Texas.
The U.S. Postal Service unveiled a Day of the Dead stamp from artist Luis Fitch, who also designed a Día de Muertos collection for Target.
However, the date's commercialization has been decried as cultural appropriation, as when Mattel unveiled a themed Barbie in 2019.
Get more news that matters about Latinos in the hemisphere, delivered right to your inbox on Tuesdays and Thursdays. Sign up for the Axios Latino newsletter.
Go deeper