The major climate pledges made at COP26 so far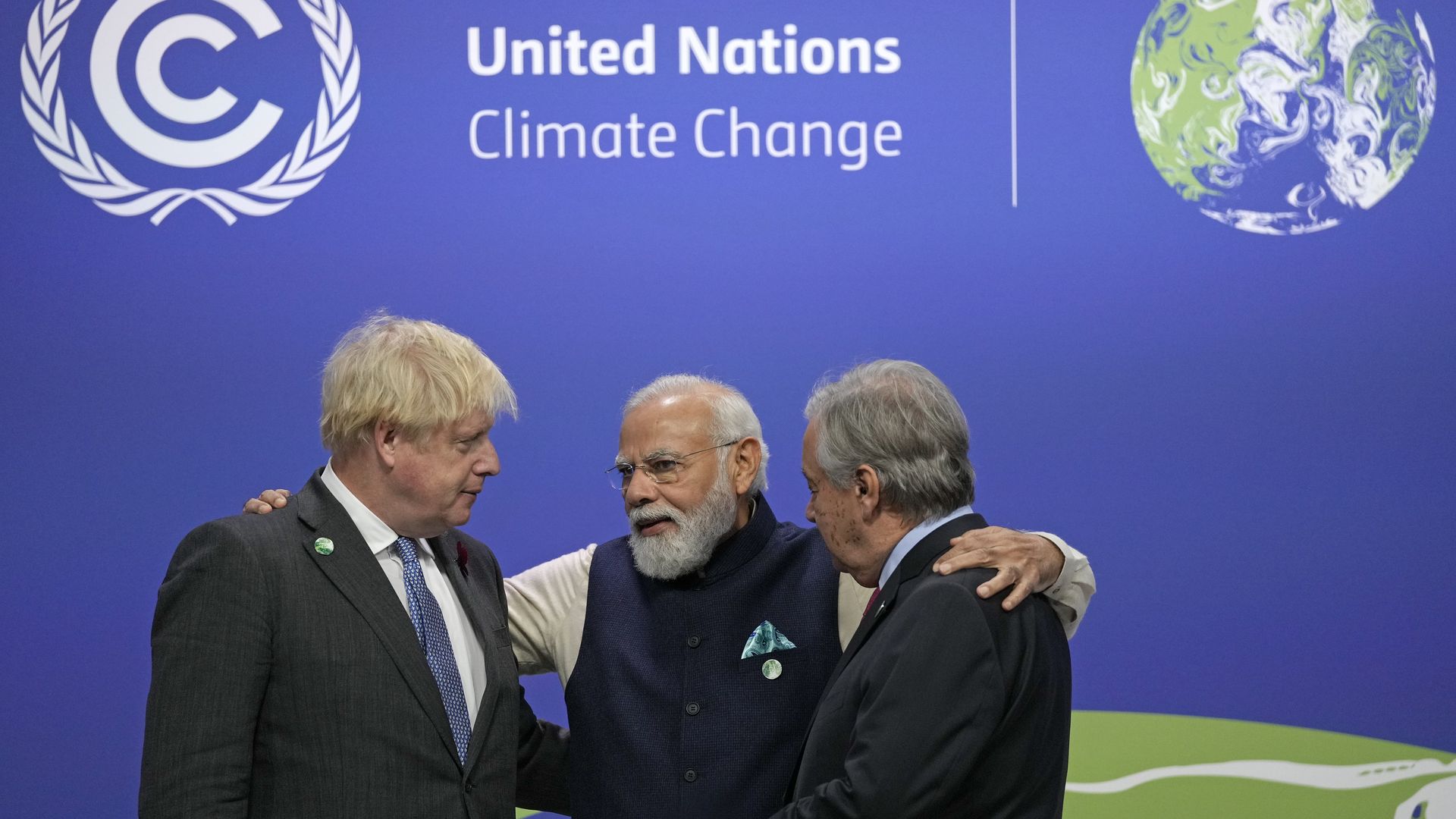 A global effort to halt and reverse deforestation. A 100+ country voluntary pact to slash methane emissions. And a commitment from India to reduce its emissions to net zero by 2070. The COP26 pledges, both public and private, have started to roll in as world leaders, diplomats and others meet in Glasgow, Scotland, to address climate change.
Why it matters: The UN summit is seen as crucial — "the last, best hope for securing the global commitments needed to get countries on track to avoid potentially catastrophic levels of climate change during the next several decades," reports Axios' Andrew Freedman.
Here's a breakdown of the major pledges made at COP26 so far...
Global pledges:
Country-level commitments:
Other initiatives:
The U.K., U.S. and several other countries, along with the Bezos Earth Fund and the EU pledged more than $1.5 billion to protect forests, peatlands and other critical carbon stores in the Congo Basin Plan, the UN said.
Jeff Bezos committed $2 billion to "restoring natural habitats and transforming food systems."
The Rockefeller Foundation, the IKEA Foundation and the Bezos Earth Fund launched the Global Energy Alliance for People and the Planet to tackle access to renewable energy across Africa, Asia and Latin America during the next decade. The alliance will also include governments and world governing bodies such as the Asian Development Bank, the World Bank, Italy, the U.K. and Denmark.
The big picture: The pledges made at COP26 follow commitments announced in the lead up to the summit.
The U.S. in September, for example, pledged to double its public climate finance commitment to $11.4 billion annually.
China, whose leader is not attending COP26, announced an end to building coal-fired power plants abroad. It did not offer any new pledges at COP26.
Yes, but... Both of these steps come with significant caveats: the U.S. pledge has to go through Congress, while China said nothing about halting domestic coal use, Axios' Freedman notes.
Be smart... The pledges made so far are just that: pledges. They are not mandatory, and no one will be punished for failing to live up to them. However, they signal the momentum behind certain aspects of climate action, and offer hope for effective actions despite the lack of a mandatory regime.
Go deeper:
Editor's note: This story will be updated as major pledges and commitments are announced.
Go deeper