Where things stand at COP26 as world leaders leave Glasgow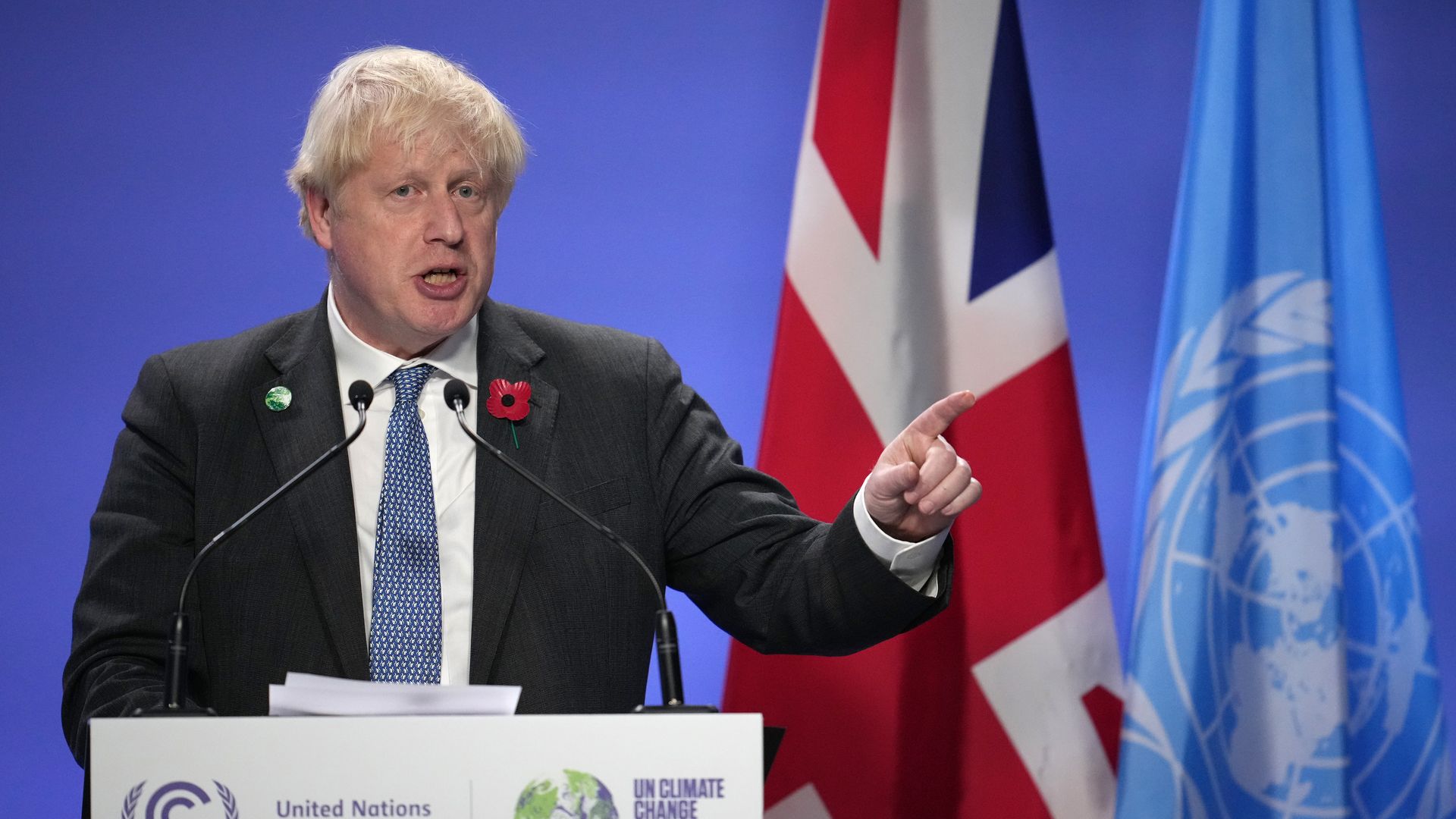 GLASGOW, Scotland —  As world leaders departed Glasgow on Tuesday, U.K. Prime Minister Boris Johnson contended that the crucial COP26 climate summit was producing real progress, but there was "a very long way to go" to make it a success.
Why it matters: Johnson is hosting the most significant climate gathering since the Paris Agreement was signed in 2015, but the early gains have been at the margins and not on the scale envisioned by many participants in a conference Johnson has called the "last, best hope" to save the planet. Now, the negotiating phase really begins.
What to watch: Johnson dropped a big hint in a press conference on Tuesday evening that the U.K. was hoping China, the world's top emitter, would move up its timetable of hitting peak carbon emissions "before 2030."
"The question is how much before. That's the issue, that's what we're discussing with China. Because there's still a world of difference between peaking in 2030 in your emissions from peaking in 2025," Johnson said.
The state of play: Johnson also heralded several key commitments from the first two full days.
He said the world was "ending the great chainsaw massacre," with countries that account for 85% of the world's forests pledging on Monday to reverse deforestation by 2030.
Yes, but: He had to fend off a skeptical question about whether Brazil, perhaps the most crucial signatory, was actually committed to action under President Jair Bolsonaro.
Johnson also touted the fact that "90% of the world's economy is working toward net zero" after a string of new pledges, most notably from India.
Yes, but: He dodged a question on whether India's 2070 target date to neutralize its emissions was soon enough, instead emphasizing India's pledge to accelerate its transition to renewable sources of power.
Johnson raised a new pledge from Japan on Tuesday to contribute $2 billion per year to help developing countries adapt to global warming.
Yes, but: Johnson emphasized that "the developed world will still be late" in meeting its commitment to provide at least $100 billion per year in climate finance, and said he was focused on working with leaders to "accelerate that timetable."
Be smart: Watch for more announcements in this space, and perhaps a commitment to exceed $100 billion in 2022, rather than 2023.
Johnson noted that over 100 countries had committed Tuesday to reduce methane emissions by 2030.
He also said the summit was producing more concrete proposals to help countries like South Africa transition away from fossil fuels.
His bottom line: Johnson compared climate action to a soccer match, and said the world had been trailing by a score of 5-1 entering COP26 but had now "pulled back a goal or perhaps even two."
But even the always-optimistic Johnson said no one should be under the impression that the steps so far were sufficient for victory.
Go deeper:
Go deeper