CDC approves Pfizer vaccine for kids 5 to 11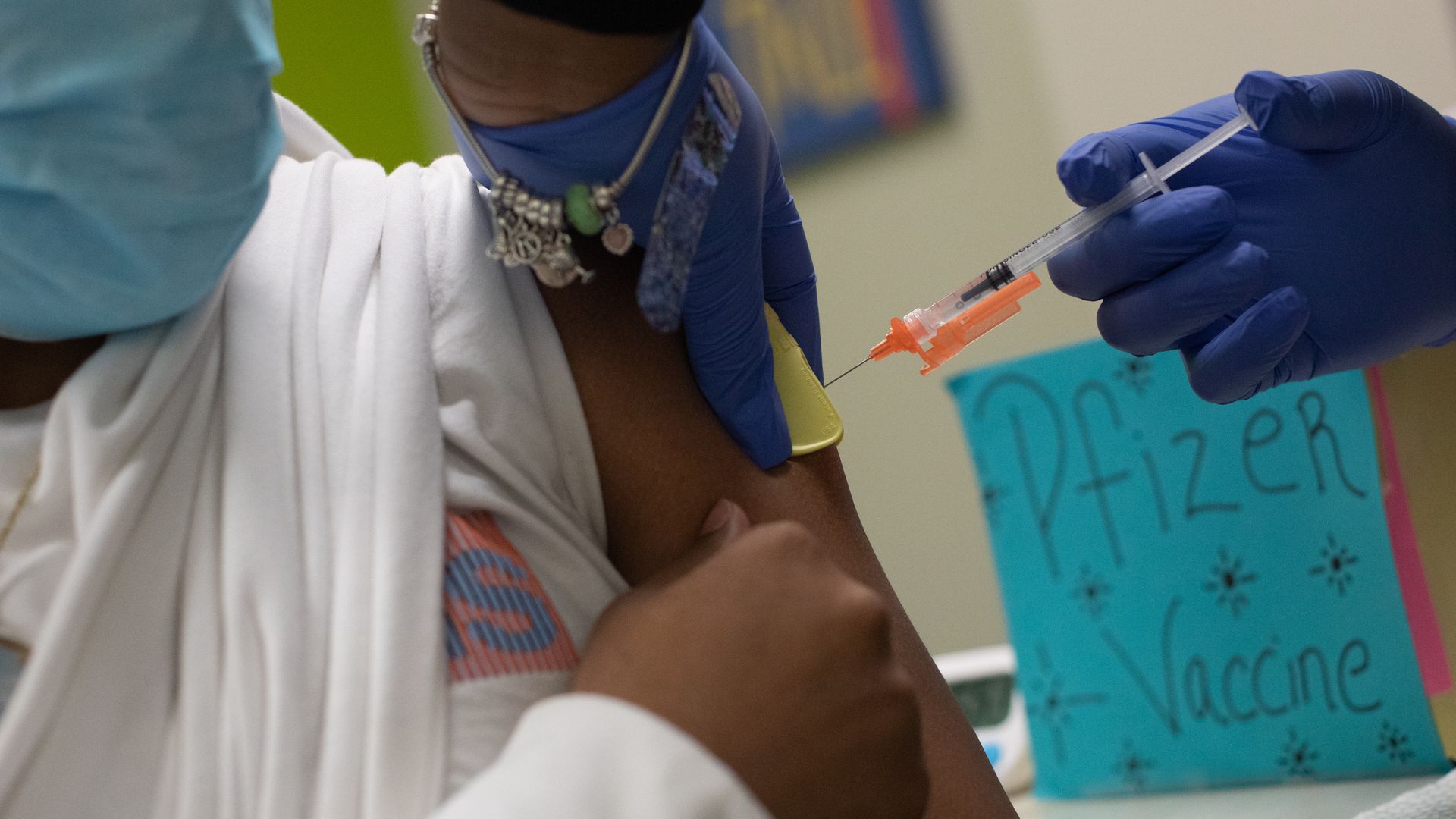 CDC director Rochelle Walensky endorsed a two-dose series of Pfizer-BioNTech's COVID-19 vaccine for kids 5-11, marking the final step in the approval process that makes coronavirus vaccines available to younger children as soon as Friday.
Why it matters: Modeling from the panel suggests that vaccinating 5-11-year-olds will reduce transmission of COVID in the U.S. by 8% between November and March 2022.
Committee member Sara Oliver said Tuesday vaccinating children would also help weaken the impact of a new variant if one emerges, but would not block its spread.
Walensky's approval comes just hours after a key CDC panel unanimously recommended the vaccine for kids.
The big picture: Many parents have eagerly awaited this moment, as the return to in-person schooling this fall was accompanied by a spike in COVID-19 cases among children.
"During a 6-week period in late June to mid-August, COVID-19 hospitalizations among children and adolescents increased fivefold," per an emailed CDC statement. The CDC noted the virus can result in hospitalizations, deaths and long COVID in children.
While children won't be fully vaccinated by Thanksgiving, they could be by the Christmas holiday.
Details: The CDC panel's endorsement comes on the heels of the Food and Drug Administration's authorization of the Pfizer vaccine for the age group on Friday.
Each of the shots administered to kids 5-11 will be about a third of the size of the adult dose. The doses will be spaced three weeks apart. Children of this age bracket who are immunocompromised may not receive a third dose.
Vaccine doses are based on age and not weight and so if a child turns 12 after their third dose, they do not need to repeat the first dose, the CDC said.
State of play: 1.9 million 5-11 year-olds had COVID-19, according to CDC data presented on Tuesday. However, evidence of prior COVID infection isn't proof of protection.
Researchers have seen no increased risk of the heart condition myocarditis from vaccination, but those that are unvaccinated are at a higher risk of getting COVID and "getting COVID is much riskier to the heart,"presenter and pediatric cardiologist Matthew Oster said.
By the numbers: Shots for kids were 91% effective at preventing infection, the pharmaceutical companies' trial showed.
Only three out of over 3,000 inoculated children experienced breakthrough infections, compared to over a dozen who had received the placebo.
Yes, but: Several surveys from the agency and other entities show initial uptake in this age bracket from parents isn't overwhelmingly high.
The panel says pediatrician offices will be key overall to reach families and reduce hesitancy as well as using school locations for kids of color or families who don't have a go-to doctor.
Go Deeper: How shots will make it into kids' arms
Go deeper