Health care plagued by new supply chain shortages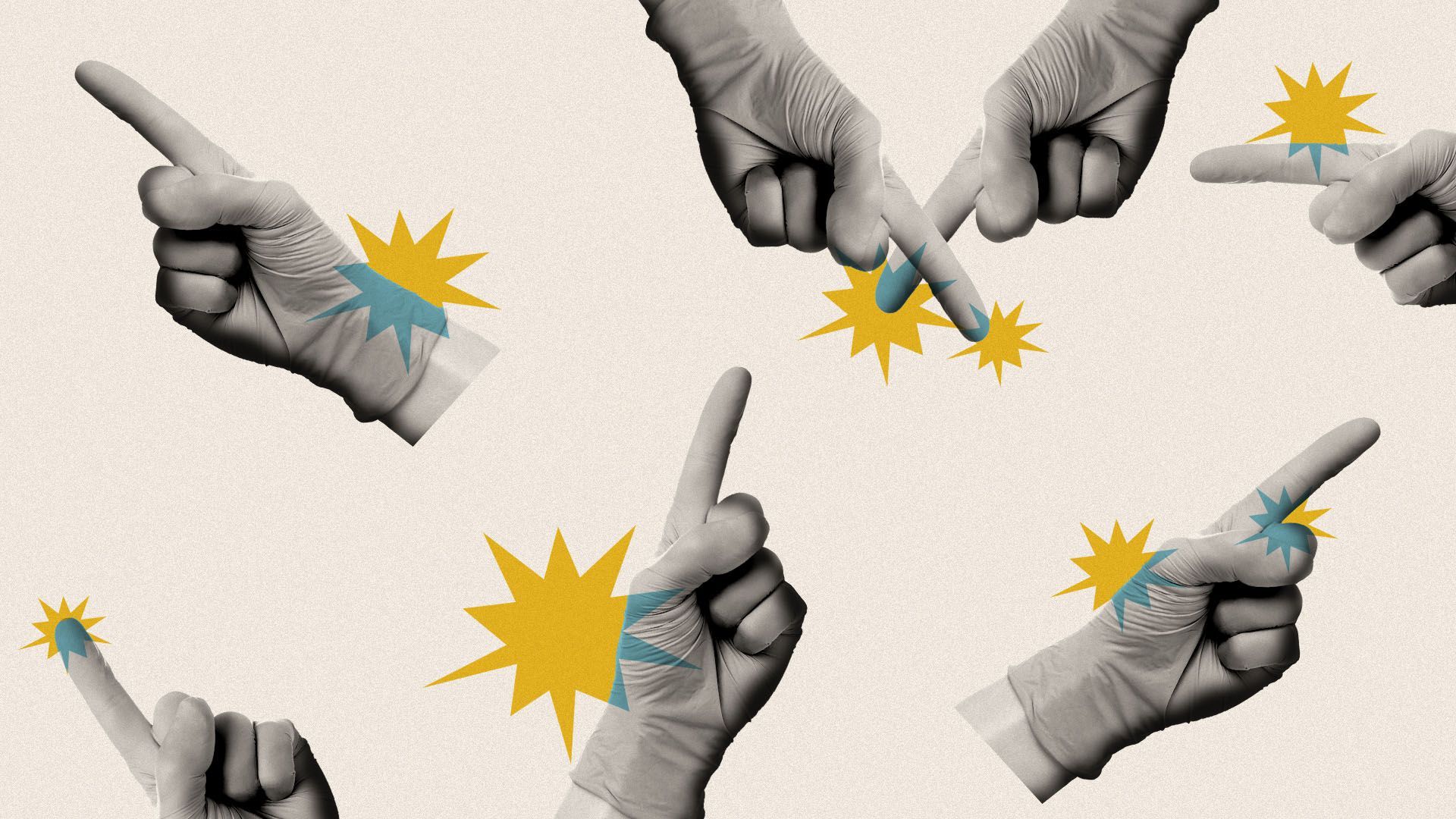 From medications to gloves to crutches, the strains of the global supply chain are hitting U.S. health care hard.
Why it matters: Shortages of health care supplies can quickly jump from a nuisance to a life-or-death proposition. They indicate serious vulnerabilities in the U.S. health care supply chain.
State of play: After seeing major supply shortages for protective equipment and ventilators in the early months of the pandemic, critical supplies stabilized and, in some places, demand for domestic products later bottomed out.
Now global supply chain tie-ups are rippling across the industry again, leading to extended wait times for commonly used supplies and equipment.
What they're saying: "We're experiencing a vast array of global challenges that, layered together, create bottlenecks in a system not designed for such demands," according to an October report from medical supply giant Premier.
Premier projects the problems for health care to last well into 2022.
Details: Some hospitals around the U.S. recently began seeking donations of aluminum crutches, walkers and wheelchairs.
The FDA is investigating allegations that used medical gloves were washed and resold as new gloves.
Blood tubes and Foley catheters are also among some of the products in short supply at the University of Alabama at Birmingham, ABC 33/40 reported.
There are shortages of raw materials for manufacturing, including semiconductors, or chips commonly used in electronics, and plastic resins that can be used to make everything from car parts to heart valves.
The chip shortage hit ResMed, a company that creates ventilators, sleep apnea machines, and other respiratory equipment, San Diego Union-Tribune reported last week.
What they're saying: "I am definitely working with some of the biggest names out there and really asking, begging, pleading that we should prioritize medical devices over another cellphone, another electric car, another cloud-connected refrigerator," ResMed CEO Mick Farrell told the Union-Tribune.
Drug shortages at retail pharmacies and hospitals are also a concern.
Hundreds of drugs are in shortage at hospital pharmacies, including the anti-inflammatory drug tocilizumab, which is given to both cancer and COVID-19 patients, CBS News reported.
A pharmacy in Michigan said inhalers are one of the most difficult items to get, ABC 12 News reported. A South Carolina pharmacy said there are a few blood pressure medications they can't get in stock, News 19 reported.
And a Nashville pharmacy said they were even having trouble getting prescription vials to put the medication in, News Channel 5 Nashville reported.
What we're watching: In a soon-to-be-released survey from Syft, a hospital supply chain software provider, 98% of hospital and supply chain leaders said the pandemic exposed significant supply chain vulnerabilities in their hospitals.
Nearly two-thirds (62%) believed their organizations are not doing enough to address these challenges and fortify against future supply chain disruptions.
Only about half of the respondents (53%) said they are very confident their organizations will have enough PPE if another pandemic situation occurs in 2022.
"We need to begin to think about how do we manufacture more of these products domestically and have less reliance overseas," Mike Alkire, CEO of Premier, told Axios.
Go deeper