Double-digit inflation hits Brazil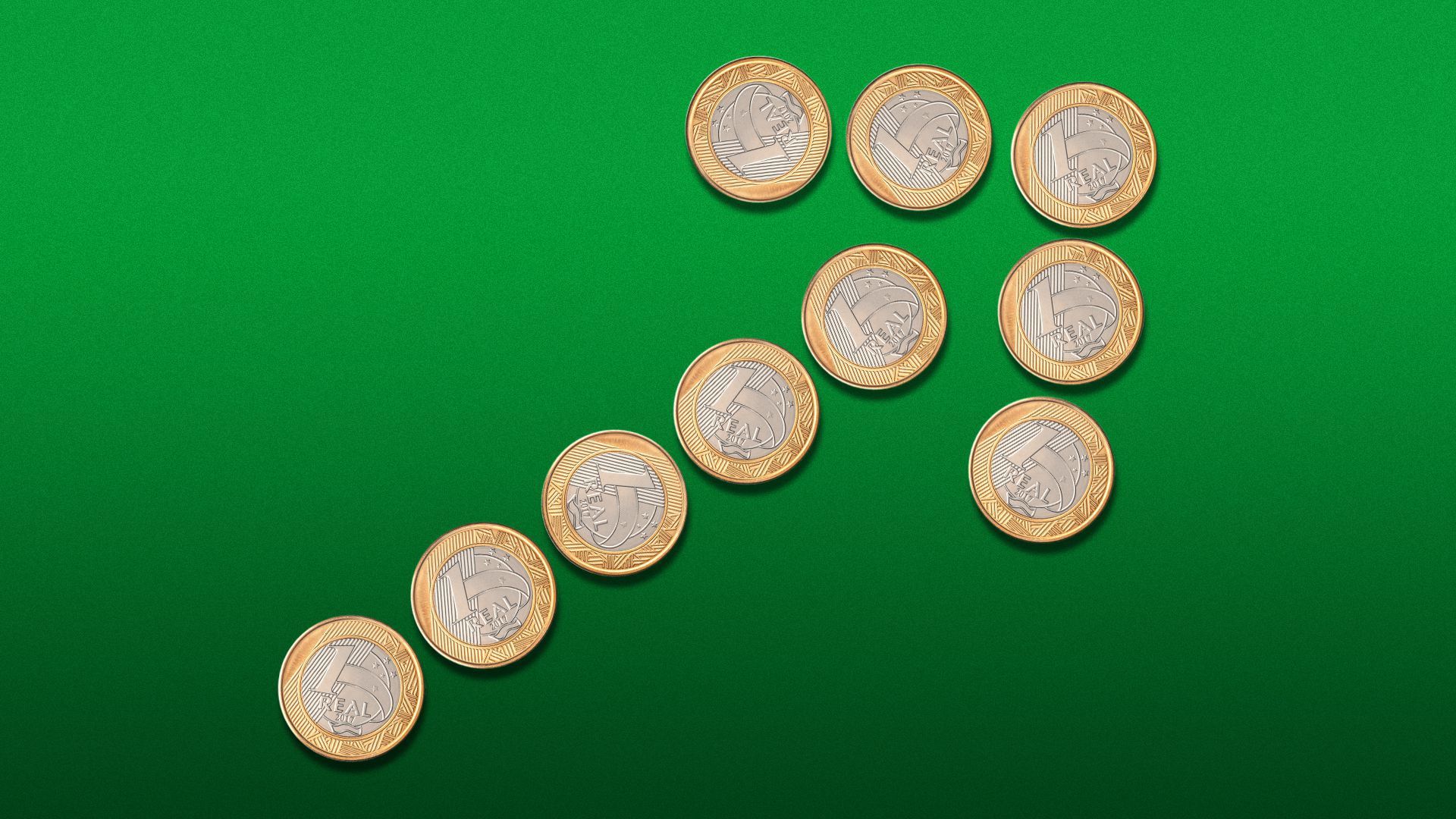 In the worldwide campaign to prevent runaway inflation, Brazil appears to be losing.
Driving the news: The nation's central bank just raised its key overnight interest rate by 1.5 percentage points — and expects to do so again in December. That would take it to an eye-popping 9.25%.
Here's why: Inflation there is running hot, at a rate of over 10% this year.
Why it matters: Brazil is the largest economy in Latin America. And the origins and implications of its financial plight mirror those of many of its neighbors.
Amid rising prices across the region — though not to the same degree as Brazil — countries like Chile, Mexico and Peru have all hiked interest rates numerous times this year.
What's happening: As in most countries around the world, Brazil's energy and food commodity costs are up substantially. On top of that, extreme drought has jacked up the price of widely used hydropower.
A weak currency makes imports increasingly expensive (the Brazilian real has declined 14% against the dollar since June).
And most critically, the government's social spending plans are expected to bust through a once-sacrosanct fiscal spending cap. That'll add fuel to the fire of rising prices and put more pressure on the central bank to offset with even higher rates, Jason DeVito, emerging markets portfolio manager at Federated Hermes, tells Axios.
State of play: The Brazilian government's pandemic assistance program is about to end — but many of its citizens remain in poverty.
As such, President Jair Bolsonaro recently announced a plan to expand the pandemic-era program — but how it will be paid for has led to government chaos, including the resignations of four high-ranking officials in the Ministry of Economy.
By the numbers: Markets are nervous. Alongside the real's tumble, Brazil's benchmark stock index is down 10% since Oct. 18, around the time Bolsonaro pledged the new round of spending.
"Once that spending cap breaks, it means the fiscal anchor is gone. It's like a dam breaking," says Pradeep Kumar, emerging markets portfolio manager at PGIM Fixed Income.
Given the higher interest rate backdrop, Brazilian bank Itau Unibanco last week cut the country's 2022 GDP forecast to negative 0.5%.
Where it stands: Bolsonaro — the right-wing populist — is up for election next year.
The left-wing former president Luiz Inácio Lula da Silva is hinting at a run — and both men are expected to promise even more sweeping spending to bolster their popularity, Kumar says.
The bottom line: This and other elections across South America over the next year will show the degree to which voters gravitate to promises of more government spending — and put central bankers on high alert.
Go deeper: Brazil senators vote to recommend criminal charges for Bolsonaro
Go deeper