UN chief to COP26: "Enough of killing ourselves with carbon"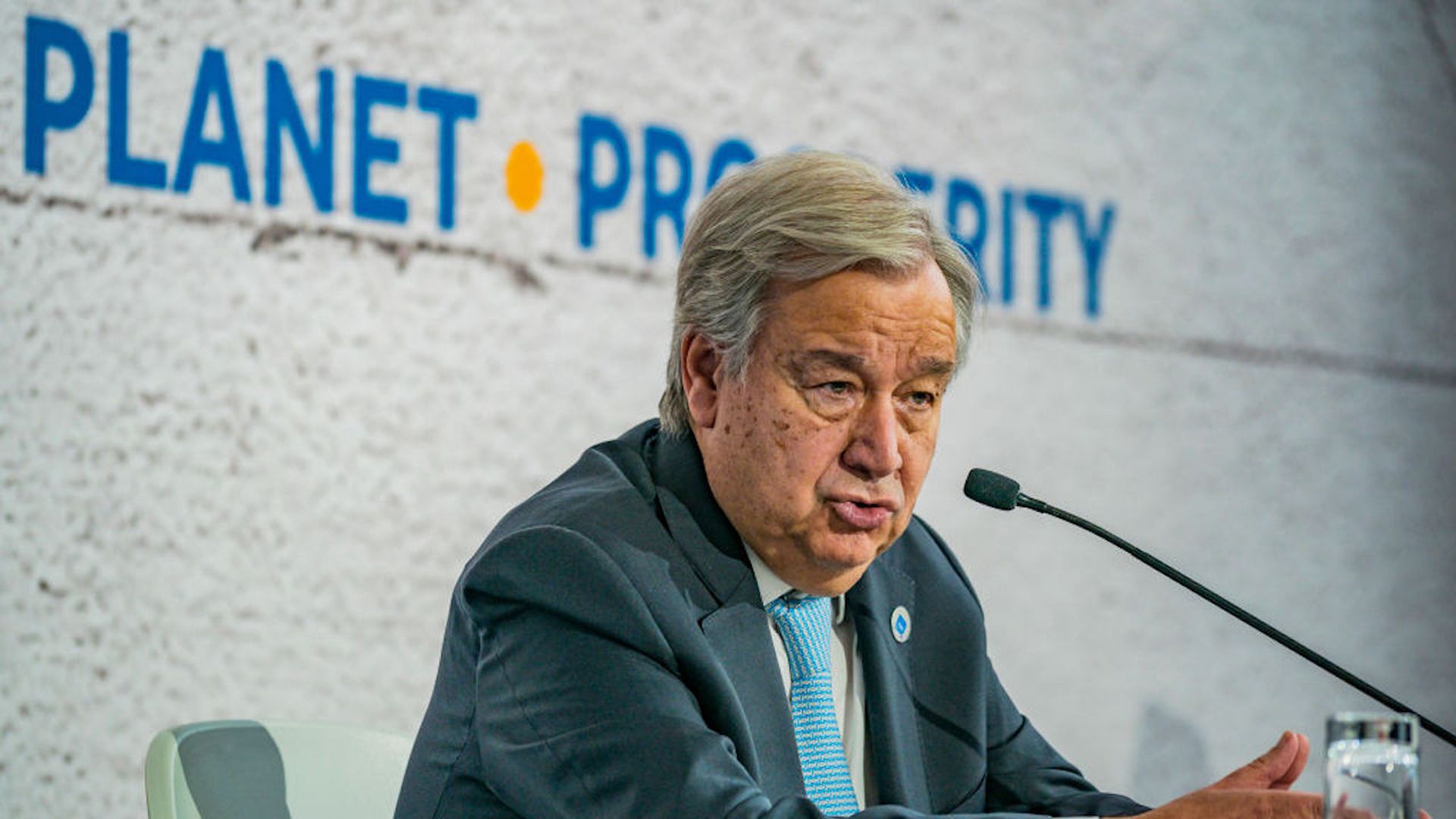 GLASGOW, Scotland — UN Secretary-General António Guterres on Monday pleaded for more aggressive steps to curb climate change, telling the COP26 conference that current plans fall short and "our addiction to fossil fuels is pushing humanity to the brink."
Why it matters: Guterres' stark language signals his concern COP26 won't lay the groundwork to put global emissions on a sustainable path.
"It's time to say: enough. Enough of brutalizing biodiversity. Enough of killing ourselves with carbon. Enough of treating nature like a toilet. Enough of burning and drilling and mining our way deeper. We are digging our own graves," Guterres said in his prepared remarks.
"Recent climate action announcements might give the impression that we are on track to turn things around. This is an illusion," he warned.
The big picture: Guterres cited recent UN projections that nations' non-binding pledges under the Paris Agreement, even if implemented, would bring a temperature rise of 2.7°C (almost 4.9°F) above preindustrial levels.
The 2015 Paris deal calls for limiting warming to "well below" 2°C and ideally 1.5°C, but the latter target is fast slipping out of reach.
Those are benchmarks for avoiding some of the most significant harms from climate change beyond damage already baked into the cake.
Between the lines: Guterres' remarks also look past the summit to urge frequent updates to nations' climate commitments, a recognition that gaps will remain in pledges and plans.
"Let's have no illusions: if commitments fall short by the end of this COP, countries must revisit their national climate plans and policies. Not every five years. Every year," he said.
Threat level: The speech follows a weekend G20 summit in Rome that fell short of an agreement to set a date for phasing out coal-fired power, an outcome that hints at the wider challenge of transforming ambition on steep emissions cuts into tangible policy.
A separate UN analysis in October found that countries and companies are planning levels of oil, natural gas and coal production that are "dangerously out of sync" with Paris goals.
Guterres also urged greater aid from developed nations to help developing countries adapt to climate change and cut emissions. A long-promised $100 billion annually by 2020 has not fully materialized. The UN chief called for making that a reality and also said greater aid is needed.
What's new: Beyond the dire warnings and pleas, Guterres made some news by announcing an effort to standardize ways climate targets are defined and discussed.
"There is a deficit of credibility and a surplus of confusion over emissions reductions and net zero targets, with different meanings and different metrics," he said.
"That is why — beyond the mechanisms already established in the Paris Agreement — I am announcing today that I will establish a Group of Experts to propose clear standards to measure and analyze net zero commitments from non-state actors," Guterres said.
Go deeper