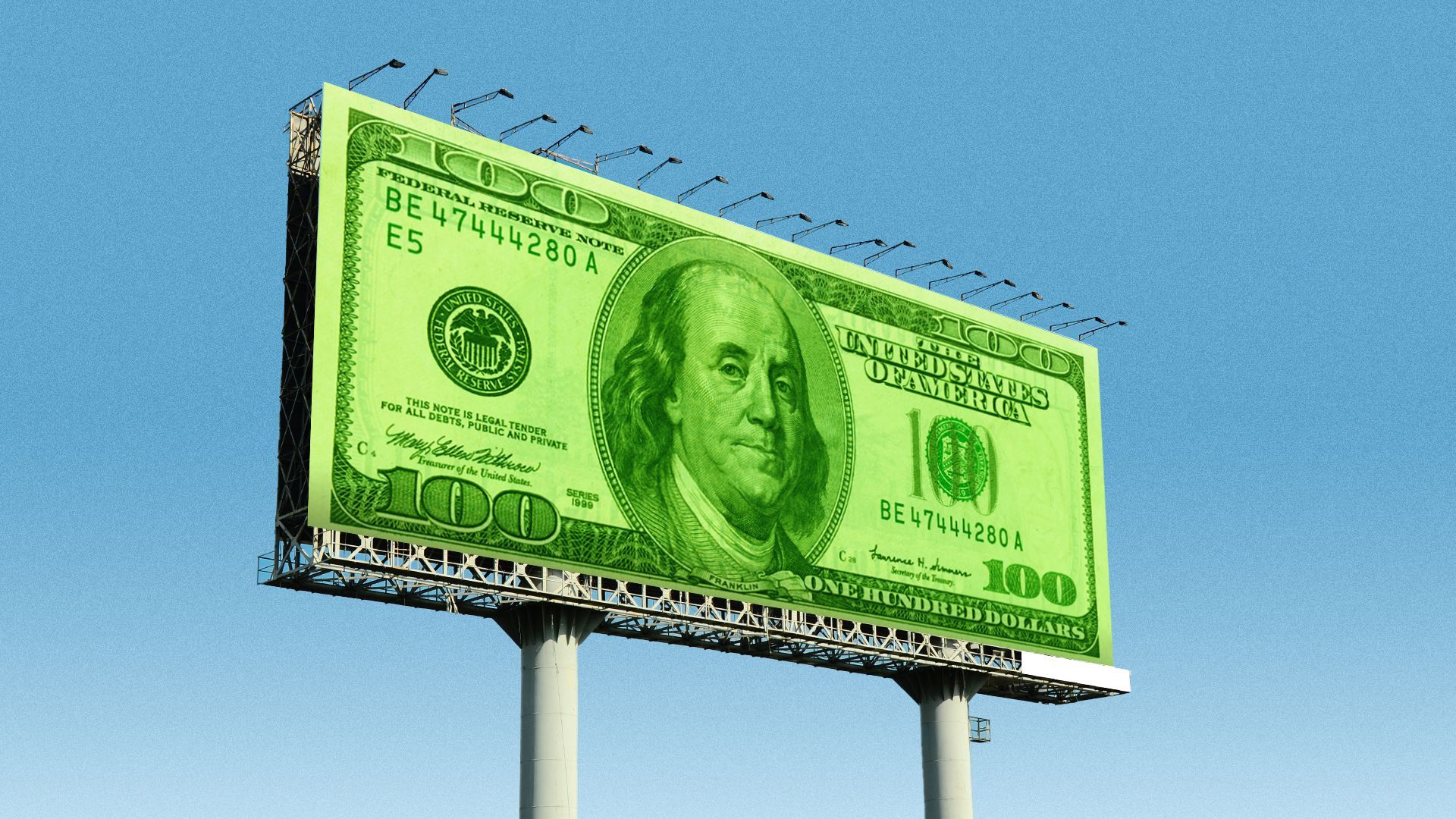 Republicans are increasingly rethinking how to use one of the most potent political tools of the modern era, the super PAC, GOP operatives tell Axios.
Why it matters: Super PACs are generally thought of as vehicles for massive political ad buys. But Republicans are employing them in more targeted efforts to build the party and its candidates a more robust grassroots fundraising operation.
What's happening: The trend is evident in Ohio, where Republican Senate candidate J.D. Vance enjoys the backing of super PAC Protect Ohio Values. It's largely financed with $10 million from billionaire tech investor Peter Thiel.
POV hasn't spent a dime of that massive war chest on TV or radio advertising, even as groups backing Vance's primary rivals spend huge sums on broadcast ads attacking him.
Instead, POV's direct pro-Vance advocacy has come in the form of digital ads and text messages. It's spent hundreds of thousands more on data modeling, polling and research — activities traditionally housed in a campaign itself.
The result is a primed list of donors and supporters that Vance's campaign itself can tap for financial backing.
It started doing so last week, when the campaign began sending fundraising emails to the Protect Ohio Values email list — a perfectly legal maneuver, as long as the campaign paid fair market value to rent it.
What they're saying: "Having substantial early support lets us do innovative things we wouldn't otherwise have the time to do, and helps us act as a force-multiplier over the course of a race," POV executive director Luke Thompson told Axios.
The big picture: Republican super PACs have outspent their Democratic counterparts in five of the six election cycles since the Supreme Court's "Citizens United" decision, according to OpenSecrets data.
But there are fewer restrictions on money raised by campaigns directly, and they pay lower rates for broadcast advertising. In general, that makes each campaign dollar more valuable than each super PAC dollar.
Republicans want to translate more of their independent groups' huge "soft" money support into "hard" dollars for their candidates and party committees.
Steven Law, who leads the powerhouse Senate Leadership Fund, noted his team has been working for a couple of years to build up precisely that capability.
"The most visible part of what we do, obviously, is paid media, but there's a much larger cycle-over-cycle investment that we make in solving infrastructure problems," he told Axios.
Massive Democratic small-dollar fundraising in 2020 has added a sense of urgency, and groups such as the National Victory Action Fund and Elect Republicans have popped up to try to help boost grassroots candidate fundraising.
Both are "hybrid" PACs, meaning they have separate accounts for direct candidate contributions and the sort of soft money that high-dollar donors can give in unlimited sums.
They pitch donors through digital ads, emails and text messages. All or part of the donations go not to the PACs, but to the candidates they support.
The donors are then added to the candidates' own internal email and text message lists, building up names and contact info for people they know are predisposed to donate.
Between the lines: NVAF isn't trying to replace more traditional GOP super PACs, according to Matt Gorman, an adviser to the group.
"We want to complement the existing outside groups," he told Axios.
"Our goal is to directly give campaigns more money, more time in which to spend it, and more control over their campaigns. In the longer term, we also hope to invest and expand our party's low-dollar fundraising base."
Go deeper