Study: Abortions in Texas dropped by half in month after ban took effect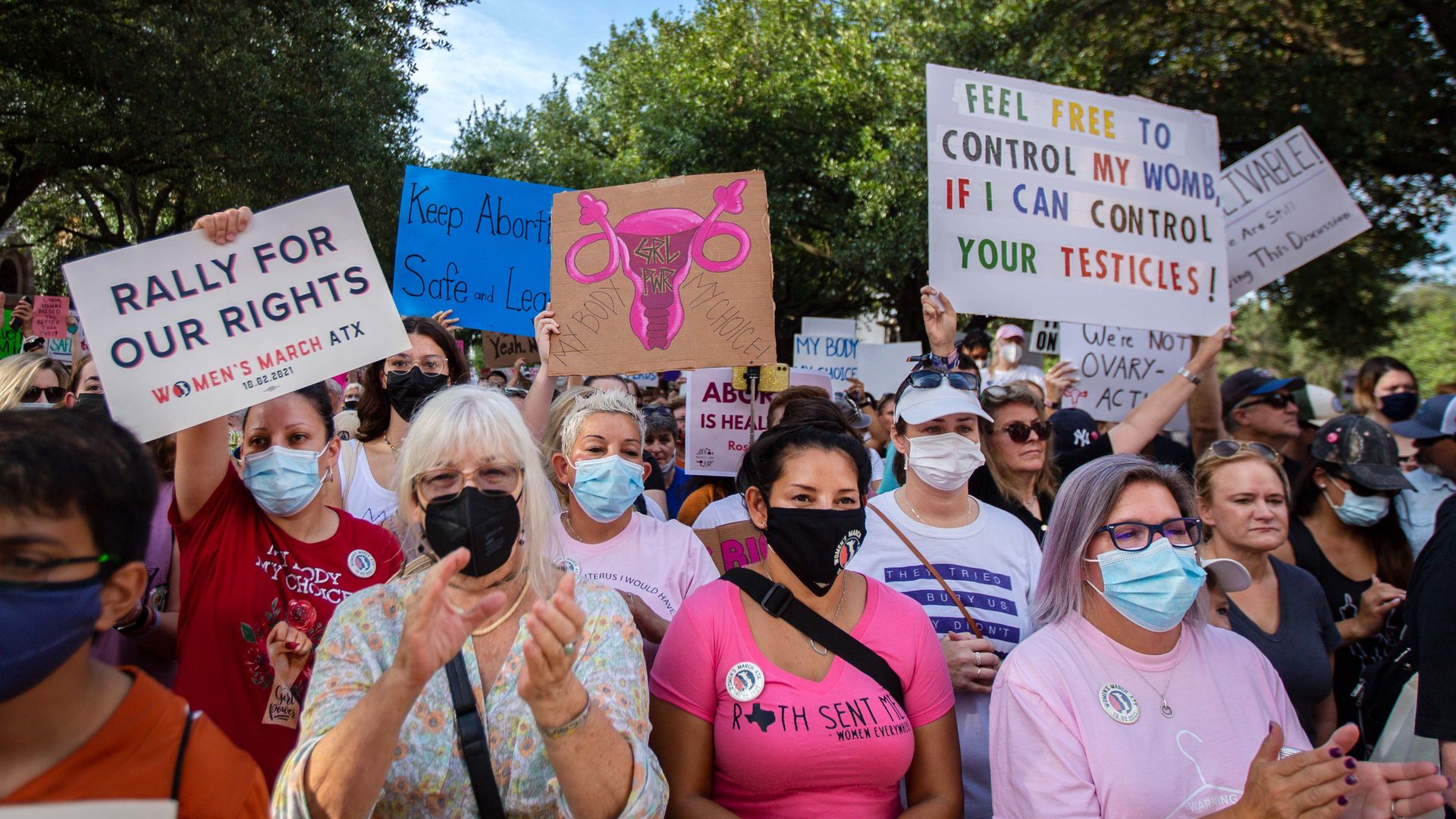 The number of clinic-performed abortions in Texas decreased by about 50% in September — the month the state's near total ban on the procedure went into effect — when compared with the same month last year, according to research from the Texas Policy Evaluation Project.
Driving the news: The Texas ban, which effectively bars the procedure after six weeks of pregnancy, is the most restrictive law allowed to be enforced since the 1973 landmark Roe v. Wade case legalized abortion in the U.S.
By the numbers: In September, there were 2,164 clinic abortions performed in Texas, compared with 4,313 abortions performed in the same month last year, according to research released Friday. No other Texas law or order restricting abortion has seen such a large decrease, the researchers noted.
The difference is even bigger when compared with August 2021, when there were 5,377 clinic abortions performed in Texas. The researchers noted that the high number of abortions in August "likely reflects facilities' expanded hours to accommodate more patients needing care in anticipation" of the Texas ban going into effect.
Of note: The researchers examined monthly data from 19 of Texas' 24 abortion providers, which provide about 93% of all abortions reported in state annual vital statistics.
Catch-up quick: The Texas abortion law bans the procedure as soon as embryonic cardiac activity is detected, "which can take place as early as 5 to 6 weeks after a person's last menstrual period," Texas Policy Evaluation Project researchers wrote. That's before many people know they are pregnant.
It provides no exceptions for rape or incest, and also permits anyone in the country to sue anyone who assists a person in getting the procedure after six weeks.
The Supreme Court is set to hear two challenges to the law next month.
The big picture: More than 40% of people seeking an abortion in Texas do not contact a facility until after six weeks of pregnancy, according to the researchers.
"Some of those who called for an appointment after September 1, 2021 were likely told they were ineligible for care based on the date of their last menstrual period, and others were turned away after an ultrasound showed embryonic cardiac activity," the study said.
Many Texans are forced to travel to neighboring states — Oklahoma, Louisiana, New Mexico or Arkansas — to access the procedure.
With the exception of New Mexico, these states have strict requirements that patients must follow to receive health care, including receiving state counseling and waiting 24 hours before they can get an abortion, according to the researchers.
It can also be very expensive. About "$550 is the average cost for an abortion and then when you start to add in travel, hotel and food costs, those costs skyrocket, potentially to hundreds of dollars or more," said Elizabeth Nash, lead state policy analyst for the Guttmacher Institute, a reproductive rights research and policy organization.
"I don't know people who could pull together over $1,000" on short notice, Nash told Axios.
Between the lines: Those most affected by abortion restrictions tend to be of low income, people of color, uninsured and/or undocumented, Nash said. Usually, people in these groups cannot afford travel costs.
Don't forget: Without access to clinic-based abortion care, researchers warn more people may resort to more dangerous practices, including self-managed abortions.
Go deeper: First Texas doctor sued for performing abortion in violation of new law
Go deeper