How Hertz is fighting to stay relevant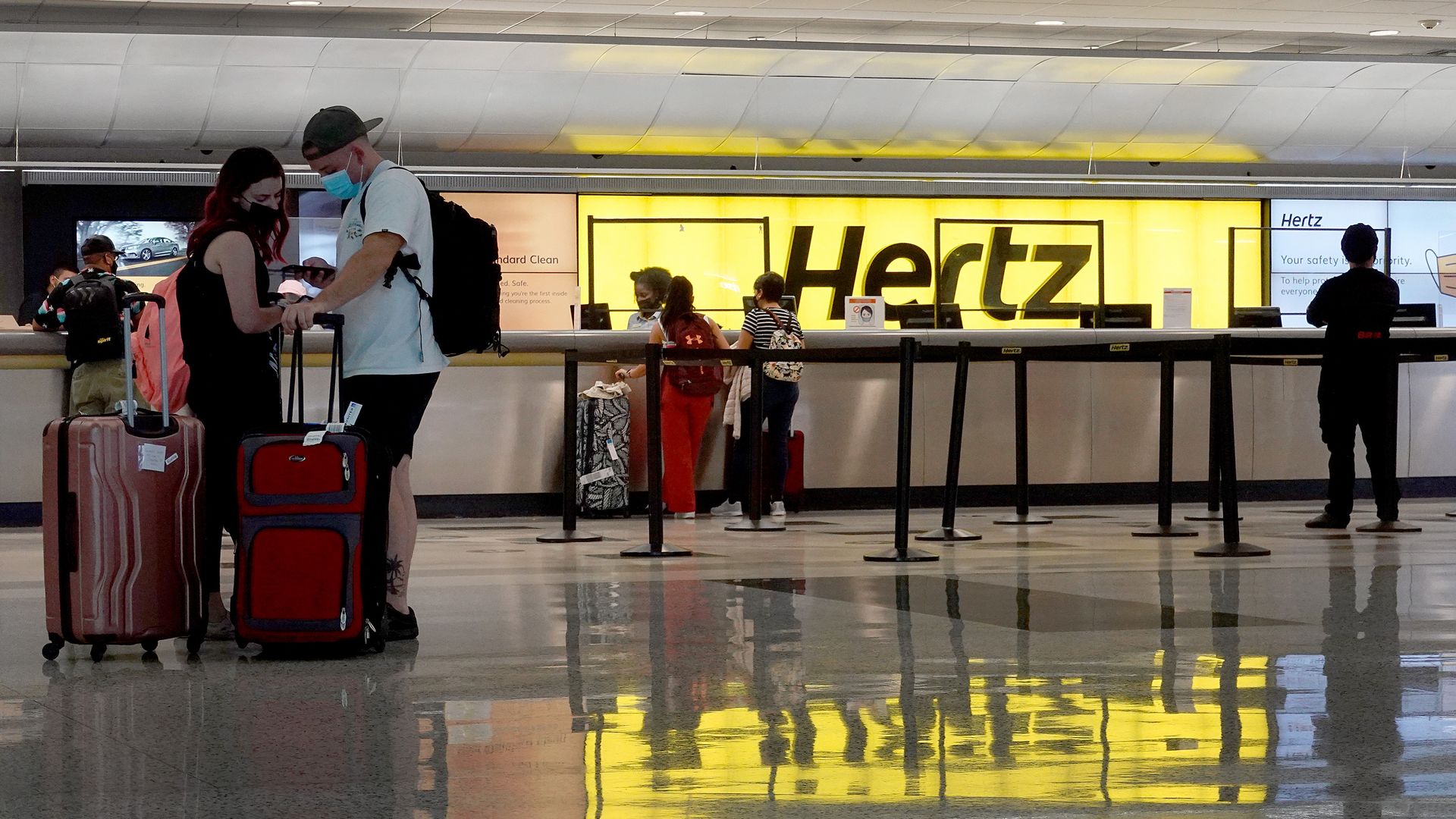 In the span of less than a week, Hertz has made three big strategic moves intended to keep the car rental giant from fading into oblivion.
Why it matters: Ride-hailing and other mobility innovations are rapidly changing the way people get from A to B, posing an existential threat to traditional car rental services.
Hertz, even more than rivals Avis and Enterprise, was also hammered during the pandemic when air travel collapsed, but it emerged from bankruptcy in June with an "if you can't beat 'em, join 'em" attitude.
"We want to become a critical and essential component of modern mobility and that whole ecosystem," interim CEO Mark Fields tells Axios.
What's happening: In a rat-a-tat series of deals with leading mobility companies this week, Hertz's strategy is coming into focus.
Tesla purchase. Hertz said Monday it will purchase 100,000 Tesla Model 3s by the end of 2o22 — by which time they'll comprise 20% of Hertz's fleet —as its first step in a shift toward electric vehicles.
Uber partnership. Two days later, Hertz said it would make up to 50,000 of those Teslas available exclusively to Uber drivers, ensuring it has rental customers for its EVs while also helping Uber achieve its own zero-emissions goals.
Carvana deal. Also on Wednesday, Hertz struck a deal to utilize Carvana's used-car sales website and logistics network to unload 1- to 2-year-old vehicles from its rental fleet.
Between the lines: The rental car industry — which buys and sells millions of vehicles annually — is an important cog in the used car market.
Historically, Hertz has sold vehicles from its rental fleet through wholesale auctions like Manheim, direct-to-dealer programs and its 68 Hertz Car Sales locations.
By using Carvana's online marketplace, Hertz can likely fetch higher prices — and better margins — for its cars than selling them at auction.
Hertz said the partnership with Carvana, which delivers used cars to customers' doorstep, will be important as it embarks on an ambitious effort to transform its fleet.
"We're disrupting ourselves, and as we do that, I think we'll disrupt the industry," said Fields, who was formerly CEO of Ford Motor.
Go deeper