Trump stars in both sides' ads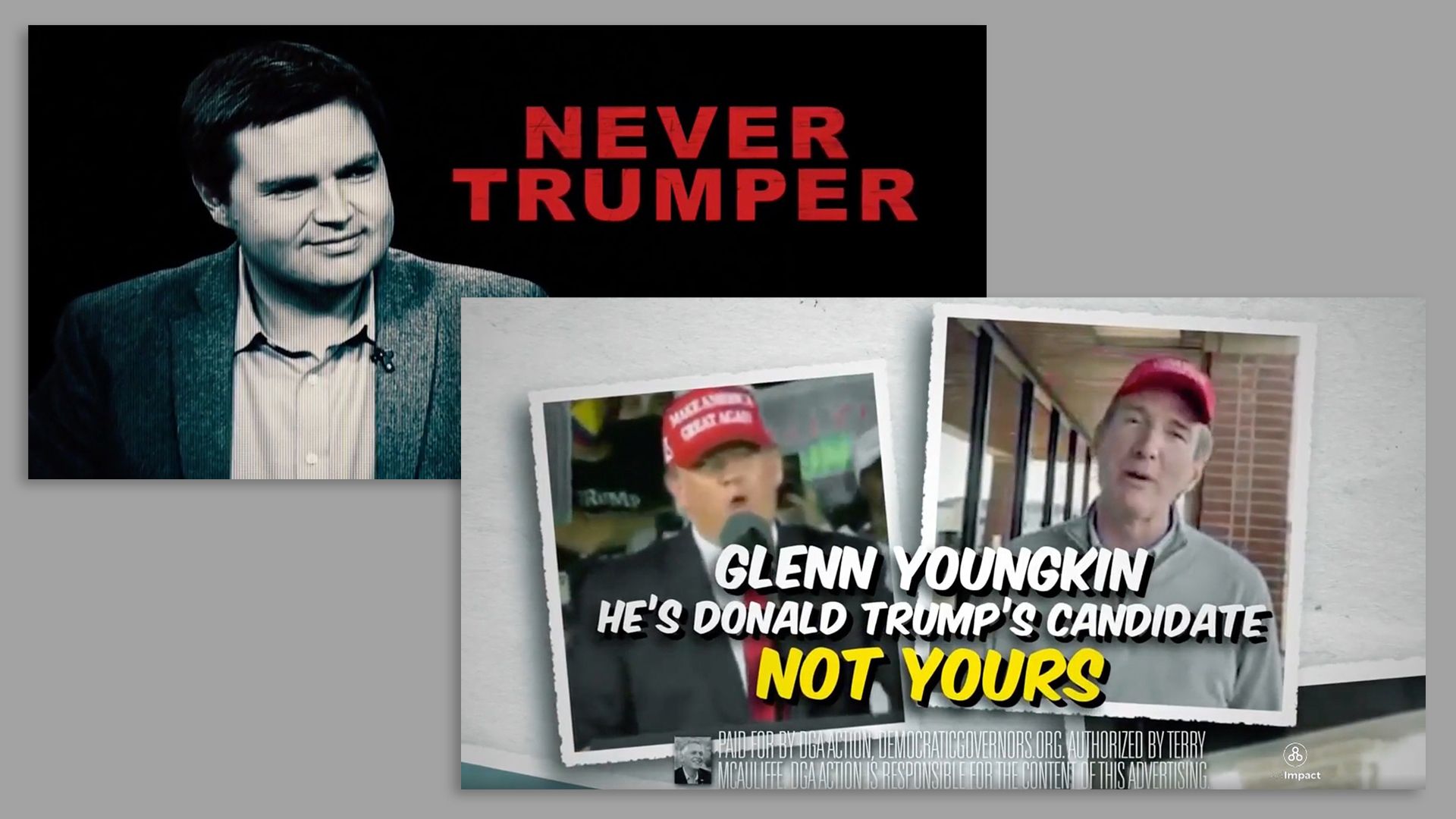 Donald Trump is a TV star again — in political ads being run by both parties.
Why it matters: Records show millions of dollars have been spent on ads invoking Trump's name nearly a year after he lost his re-election campaign. It's more evidence of how polarizing and motivating a figure the former president remains for Democrats and Republicans alike.
Trump is the central figure in campaign ads ranging from mayoral contests in Buffalo and Seattle to four different gubernatorial races, as well as heated GOP Senate primaries.
By the numbers: Since August, 36 campaigns and political committees have spent at least $13.5 million on 50 different television ads invoking his name, according to campaign finance records and data provided to Axios by the advertising intelligence firm AdImpact.
Millions more have been spent on digital ads on platforms such as Facebook, Instagram and Google.
Those numbers are guaranteed to spike approaching next year's midterms.
What they're saying: "Loyalty as well as opposition to President Trump looks like it will be a key test across both Dem and GOP primaries in 2022," said John Link, AdImpact's vice president of sales and marketing.
Driving the news: The latest buy comes from the Democratic Congressional Campaign Committee. It's airing an ad that tries to drive a wedge between Trump and Rep. Tom Emmer (R-Minn.), who chairs the House Republicans' campaign arm.
The ad highlights Emmer's recent dismissal of Trump's warning that Republicans won't turn out in midterm elections next year because of false claims about 2020 voter fraud.
The spot, "Not Invited," is set to air in the Palm Beach, Florida, market ahead of a Trump-headlined fundraiser next month for the National Republican Congressional Committee.
The most expensive Trump-focused ad campaign this year aired in California, where Gov. Gavin Newsom spent nearly $4.5 million on a pair of ads going after "Trump Republicans" seeking to recall him.
In Virginia, Democratic gubernatorial candidate Terry McAuliffe has relentlessly sought to tie Trump to his Republican opponent, Glenn Youngkin.
McAuliffe's campaign has spent nearly $3.5 million to put that message on TV. It also teamed up with the Democratic Governors Association on an ad that began airing last week, calling Youngkin "Donald Trump's candidate, not yours."
On Tuesday, the Lincoln Project, a group of anti-Trump Republicans, began airing a new spot that also called Youngkin "Donald Trump's candidate."
The other side: Trump also features heavily in new ads from the Club for Growth and the USA Freedom Fund, both of which are backing Republican Josh Mandel in Ohio's U.S. Senate primary.
Each group is spending about $450,000 on TV spots hitting Republican opponent J.D. Vance. Both groups' ads focus on past Vance criticism of Trump.
In Arizona, a super PAC backing Republican Senate candidate Blake Masters is taking a similar line of attack against GOP primary opponent Mark Brnovich.
"Saving Arizona" has spent just under $600,000 on a pair of ads accusing Brnovich, Arizona's attorney general, of breaking with Trump on immigration and voter fraud conspiracy theories.
Go deeper