"Pokémon Go" makers seek a hit with "Pikmin Bloom," a game made with Nintendo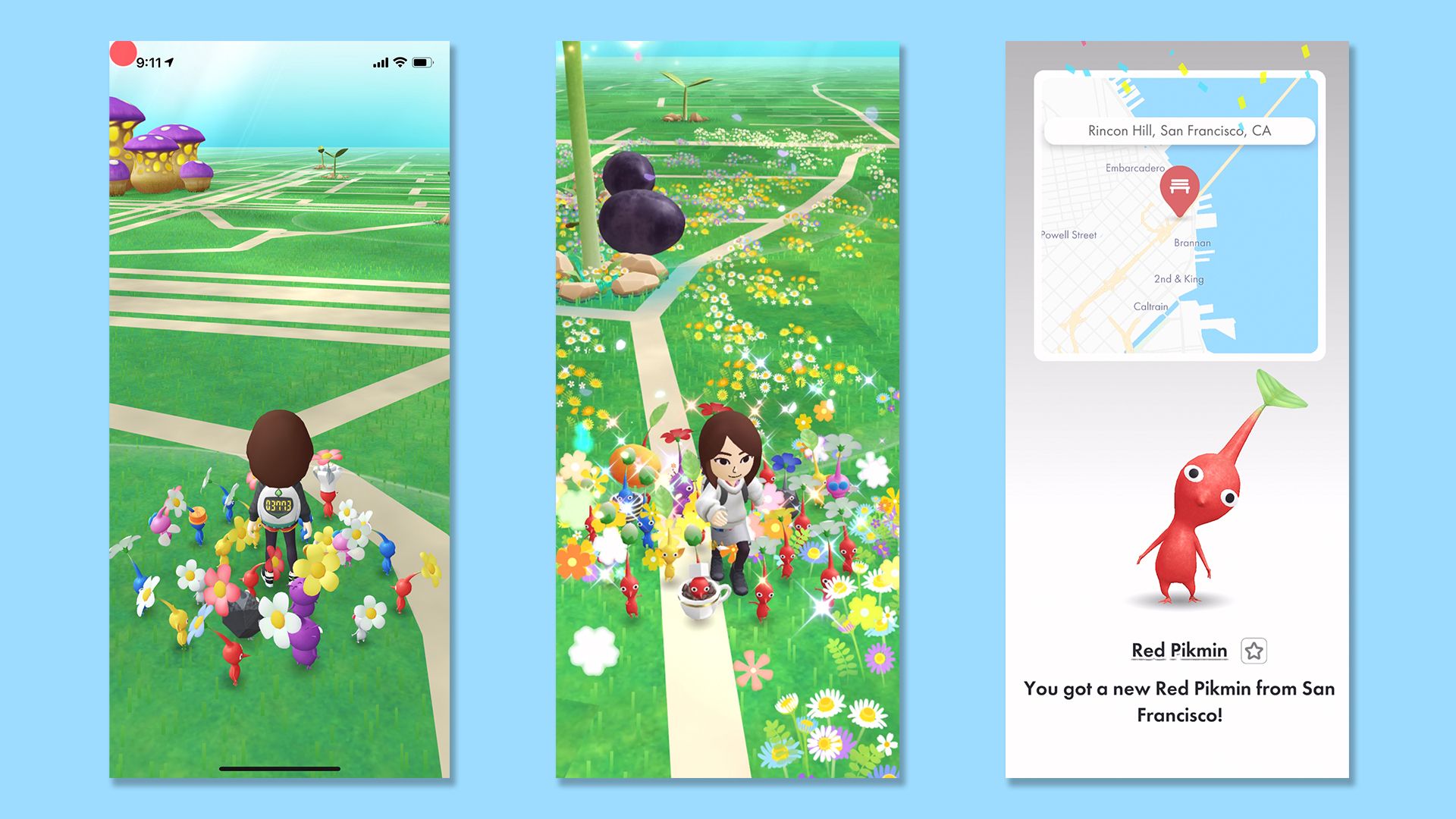 Augmented reality video game studio Niantic is beginning a worldwide roll-out for "Pikmin Bloom," the company's newest effort designed to make going outside more fun.
Why it matters: Niantic created a cultural phenomenon with 2016's "Pokémon Go," and has partnered with Nintendo to try to engineer another mobile gaming hit.
"Bloom" is launching on iOS and Android in Australia and Singapore today, with a continued worldwide rollout over the next couple of days, according to Niantic.
The details: "Pikmin Bloom" is sort of an outdoors virtual beautification game.
Players gather an entourage of Nintendo's colorful little plant-people called Pikmin by going for walks.
They can then use the Pikmin to help plant virtual flowers wherever the player goes--and lets players see flowers planted by others.
As with Niantic's other releases, "Bloom" taps a phone's map data and the player's location to use the real world as its playing field.
The app checks iOS and Android health systems to count players' steps. A Niantic rep told Axios that people who use wheelchairs can use a special iOS option to track movement.
The big picture: The success of "Pokémon Go" implied the future success of scores of location-based video games, but successors have struggled.
Niantic's own "Harry Potter: Wizards Unite" launched in 2019 and has had modest success, but the company plans to shut down its 2020 release "Catan" next month.
Microsoft's much-hyped 2019 "Minecraft Earth" shut down this year, as its creators cited the "current global situation" (read: pandemic and lockdowns) for making an outdoors-centric game a tough proposition.
What they're saying: Despite some under-performers in their category, Niantic thinks they've got something here.
"In places where 'Pikmin Bloom' is testing in soft launch, the app is doing well, especially in terms of player retention, which is one of the best indicators of how well a game will perform long term," Niantic founder John Hanke told Axios.
Our impressions: We've been walking around with "Pikmin Bloom" for a few days now, and it has indeed added extra delight to a mid-day stroll.
But with games like these, the test is whether it'll be fun days or weeks down the line, or if the novelty of sprinkling digital flowers down the sidewalk and gathering an ever-bigger Pikmin crew quickly wears off.
Go deeper