Say goodbye to the art market's anonymity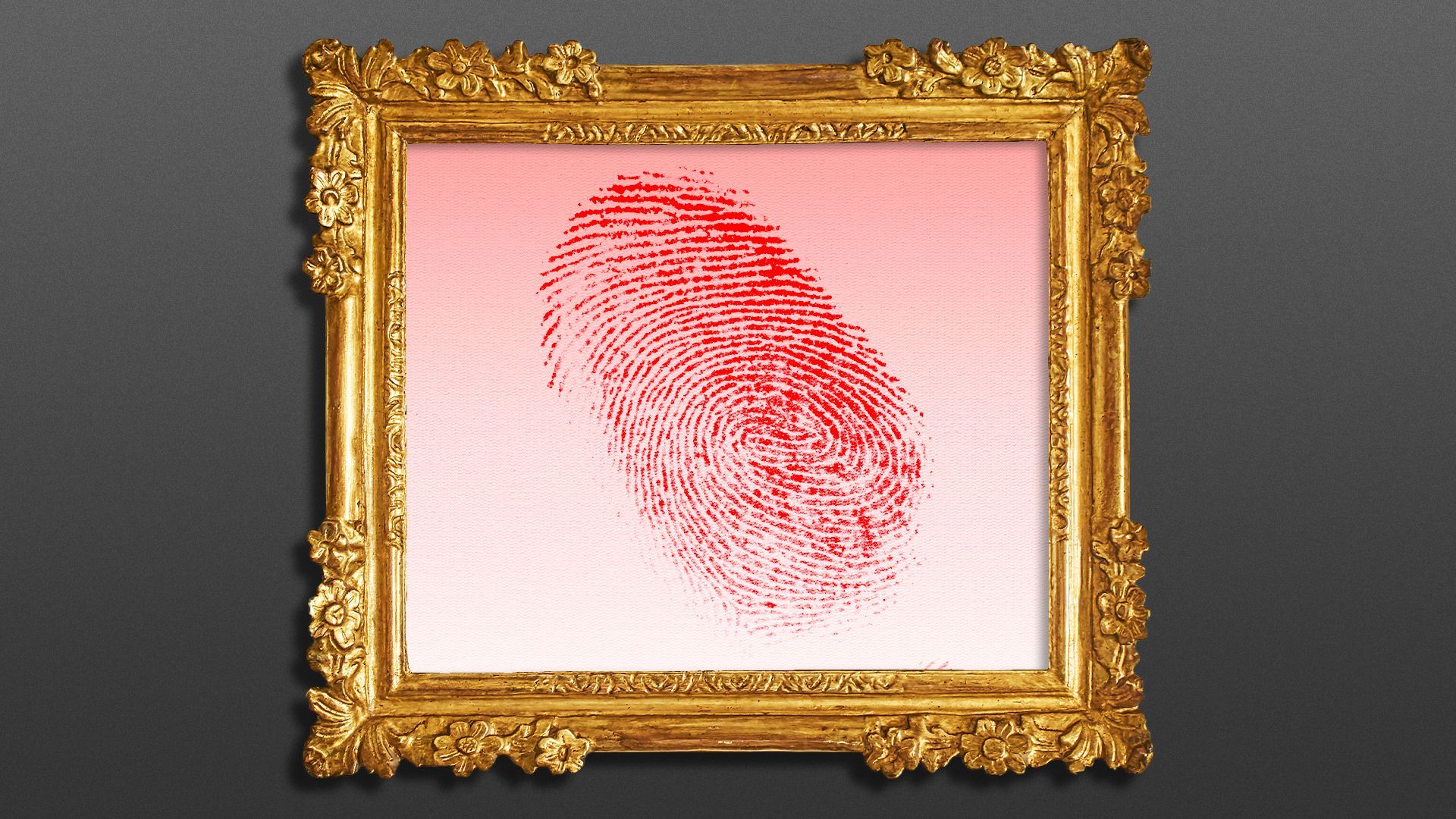 Arts and antiquities dealers in the U.S. will soon be stripped of much of the privacy and anonymity that has both defined the market — and enabled corruption.
Why it matters: Congress passed a bill that will go into effect in December, requiring these dealers to confirm the identities of buyers and sellers — not just that of intermediaries. The intent is to stifle the ability to use art purchases to launder ill-gotten money or evade taxes.
Regulatory changes — which have taken shape slowly since the Panama Papers were published in 2016 — are making it harder for criminals to hide money in markets like art, antiquities and real estate.
The new law catches the U.S. up with recent changes in Europe — and these regions together encompass nearly three-quarters of arts and antiquities sales.
Reality check: Money always finds its way to the path of least resistance, and those with cash to stash can still cherry-pick the jurisdictions where they make large transactions — if they have the means and connections.
One example: Last month's Pandora Papers included the story of English explorer Douglas Latchford, who reportedly used a web of offshore companies and trusts to traffic art and artifacts from Cambodian cultural sites (more on that here).
What they're saying: "Arts and antiquities is an industry that's accustomed to, and in many ways prizes, its privacy. The transparency that the rules are probably going to require may be a bit of a shock to the system," Eric Volkman, who co-leads Latham and Watkins' export controls, economic sanctions & customs practice, tells Axios.
"I don't think there's any doubt that at least at the margins the new rules will have an impact on illicit activity," he adds.
The big picture: It's not just arts and antiquities. In recent years the Treasury Department's Financial Crimes Enforcement Network (FinCEN) has beefed up the rules in banking and real estate around identifying the actual owner of assets, in an attempt to shine a light on who's behind dirty money.
"The big change that we're starting to see now is the professional service providers being held to account for their activities," Rachel Woolley, global head of financial crime at Fenergo, a compliance technologies provider, tells Axios.
For example, FinCEN expanded the Bank Secrecy Act in 2018 to require the financial institutions in its purview to identify accounts' "ultimate beneficial owners" — or the secretive owners behind the shell companies that hold assets. (This doesn't typically apply to the South Dakota trusts that the Pandora Papers pinpointed as tax havens).
Treasury is now focused on building a registry of beneficial owners that government and financial institutions can leverage to identify corruption, as Scott Rembrandt, deputy assistant secretary for strategic policy at Treasury spoke about at a conference earlier this month.
And in the world of real estate, FinCEN introduced a six-month experimental procedure in 2016 called "geographic targeting orders" (GTOs), which requires insurance companies to report certain all-cash purchases of homes — and the homes' beneficial owners.
What's next: NFTs, fintechs, and cryptocurrency firms are the next frontier for closer scrutiny.
Go deeper