A big EV push for Uber drivers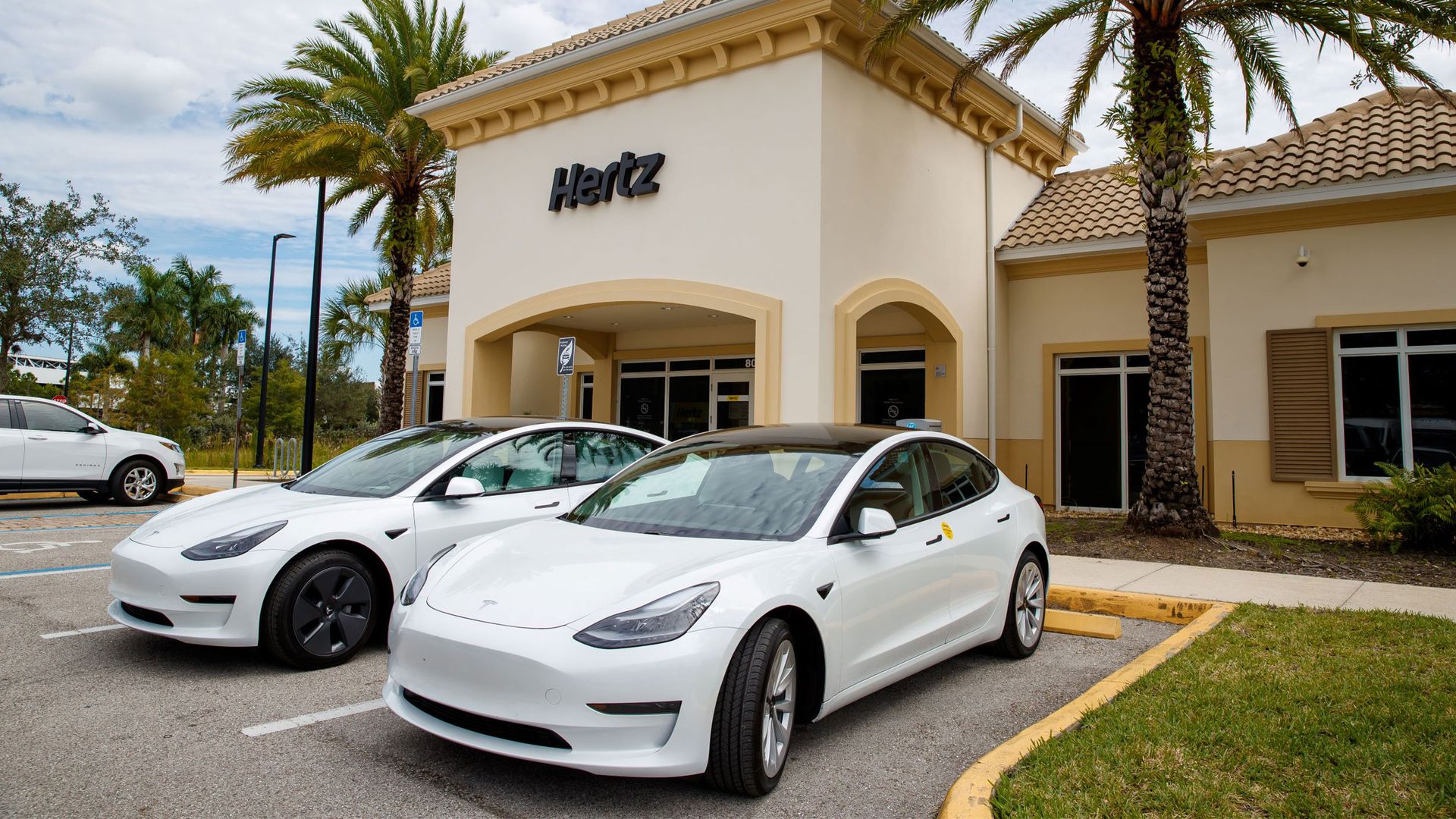 Half of the 100,000 Teslas that Hertz is adding to its rental fleet will be reserved for Uber drivers, many of whom can't afford to buy an electric car of their own.
Why it matters: Uber in 2020 pledged to convert its entire ride-hailing fleet in the U.S., Canada and Europe to electric by 2030. But doing so means convincing gig drivers to invest in a new — and likely more expensive — vehicle.
The deal with Hertz is a more affordable option for drivers, Uber says.
Catch up fast: Hertz made a splash Monday by announcing it will purchase 100,000 Tesla Model 3s by the end of 2o22.
What's new: The deal turns out to have huge implications for Uber and its green commitment, as the arrangement between Hertz and Uber — announced this morning — makes clear.
Hertz is setting aside up to 50,000 Teslas exclusively for rent by Uber drivers, the companies said.
Uber called it a "win-win" for drivers who rent their car: a chance to both increase their take-home pay and reduce their environmental impact.
Because ride-share vehicles tend to rack up more miles than the average car, they're more harmful to the environment.
When ride-share drivers go electric, their carbon emissions savings is three to four times greater than an average car owner, according to Uber.
Details: Starting Nov. 1, Uber drivers will be able to rent a Tesla from Hertz in Los Angeles, San Francisco, San Diego or Washington, D.C., with other cities to follow.
Uber expects to have "a couple thousand" rented Teslas on its network by the end of the year, scaling to 50,000 by 2023.
The rentals will start at $334 a week, then fall to $299 or lower as the program gets underway, an Uber spokeswoman said. The rental fee includes insurance and maintenance.
The cost will be comparable to renting a gasoline vehicle, Uber says, because of the incentives drivers will earn to make the switch to an EV.
EV drivers will get an extra $1 for every trip up to $4,000 annually, for example, and can earn more when riders choose Uber's slightly more expensive "Green" or "Comfort" options, the company said.
There are other reasons for Uber drivers to go electric. EV maintenance costs are lower because they have fewer parts and don't need oil changes.
The regenerative braking systems of EVs last longer than ordinary brakes.
With a range of 262 miles to 353 miles — depending on their Tesla's battery size — ride-hail drivers should have plenty of juice to complete a shift.
What to watch: Owning an electric vehicle is still often more expensive than owning a traditional gas-powered vehicle.
Companies like Uber, Hertz and Tesla will be watching closely to see what policymakers do to bring down the cost of EV ownership.
Go deeper