Hot commodities: Pools made from shipping containers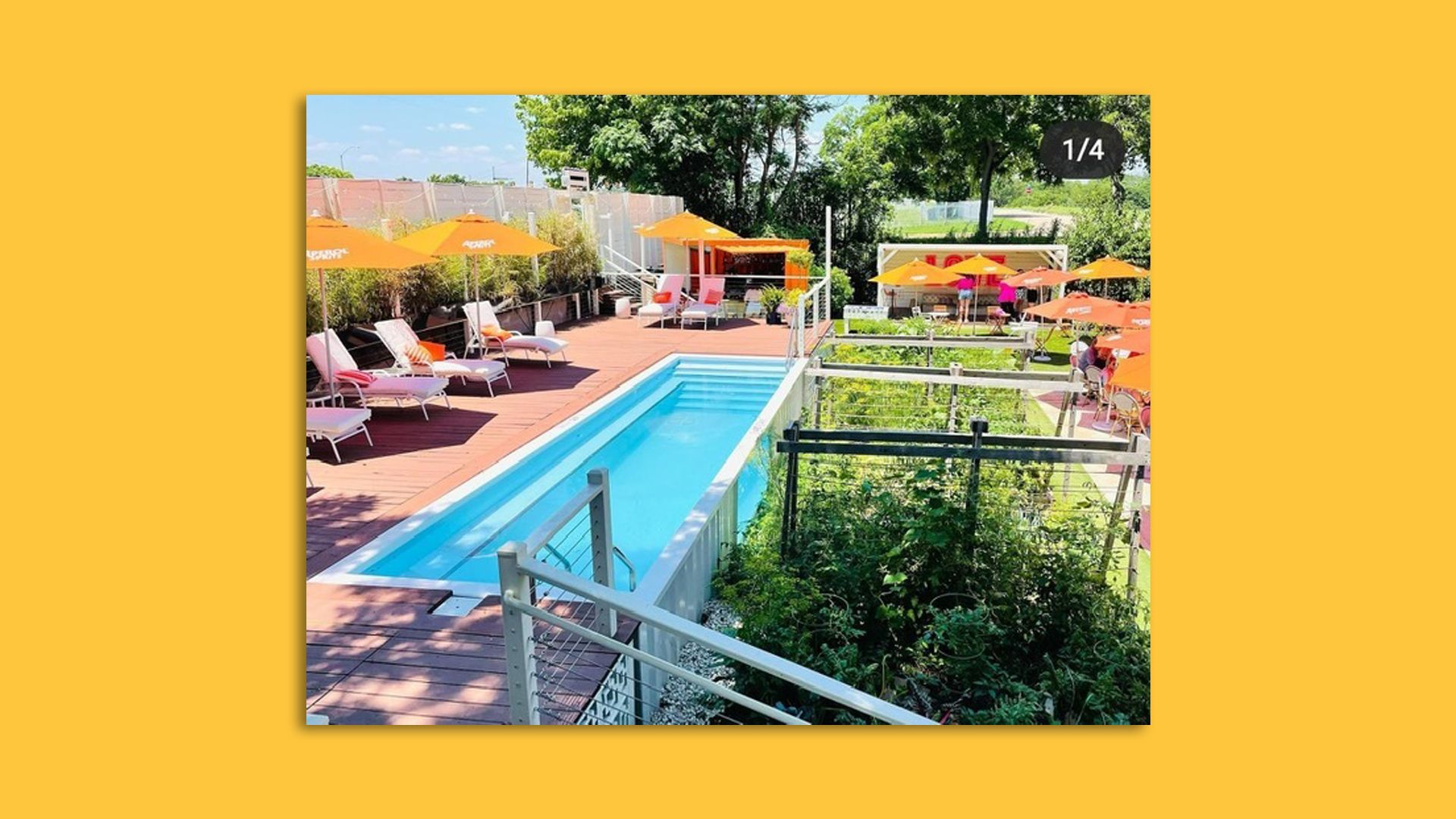 Demand for swimming pools made out of recycled cargo containers is through the roof, and the few companies that offer them can barely meet demand.
Why it matters: For all the news about pandemic-induced cargo backups at sea, many shipping containers only make one-way trips from Asia to North America, and those tend to be repurposed for housing and industrial uses — or, increasingly, for fun.
Driving the news: Work-from-home rules have contributed to record demand for new swimming pools. Refurbished shipping containers tend to be less expensive than traditional high-end pools — and they're more durable, portable and eco-friendly, builders say.
While prices are on the rise, a modular cargo pool can cost about $60,000 for an 8-by-40-foot model, which — while high — is often cheaper than an equivalent in-ground pool.
The container pools are lowered by crane into a customer's yard, where they sit at ground level or just below it.
The pools can easily be picked up and relocated when the owner moves.
They're considered "plug-and-play," meaning that virtually all they need on arrival is gas, electricity and water.
"Our pools can be installed in a matter of a few hours, so that means you can be swimming the same day that it arrives at your home," says Tom Pappas of Steelwater Pools, which was founded in 2018 and is based in North Carolina.
Manufacturers like Pappas select containers that have only been used once and have zero (or minimal) dents.
Interest has "really taken off over the last year and a half," Pappas says.
Where it stands: The weeks between now and the end of the year tend to be the most popular for ordering pools, "because it's a nice time to plan for spring delivery, and it's a pretty fun thing to announce on Christmas morning that a pool is coming," said Loni Greff of Tangle Pools, a Canadian container pool builder.
Prices for this type of pool are going up — and not just because the cargo containers themselves are more expensive.
"The pool equipment shortage is absolutely bonkers," says Kurt Witten of Seventeen Pools, which exclusively builds pools from shipping containers. "Two years ago, you could get a pool heater, no problem, and now trying to find a pool heater is almost impossible."
Demand is so high that "it's to the point now we're just turning down a lot of people, because we're about eight months out on our builds," Witten tells Axios.
The intrigue: Shipping container pools are very much a luxury niche item, and their sleek and unusual look is viewed as hip and chic.
"What people stepping into this type of pool versus a concrete pool say is they want something more modern," says Greff of Tangle Pools, which sells about 40 a year.
"They're very contemporary-looking," Pappas agrees. "They have a small footprint, so you can fit them just about anywhere. Most of them are [in] private residences, but we've done them for hotels, restaurants, bars."
At Modpools, they're built to a "lifestyle depth" of 4-foot-8, which "seems to be the sweet spot where adults can hold a drink" and hang out with children but is "still a good swimmable depth," says Paul Rathnam, the company CEO.
Caveat emptor: Several Modpools customers have complained about shoddy workmanship and poor customer service.
"From the get-go, they just could never deliver what they promised," says Elisabeth Roberts, who maintains a website dedicated to her nightmare experience with Modpools, which involved — in part — a cracked window in the front of her pool.
Rathnam tells Axios that the problem was not covered by Roberts' warranty and was attributable to "user error."
The bottom line: Many customers report excellent experiences with shipping container pools, which can be widely customized in size and amenities.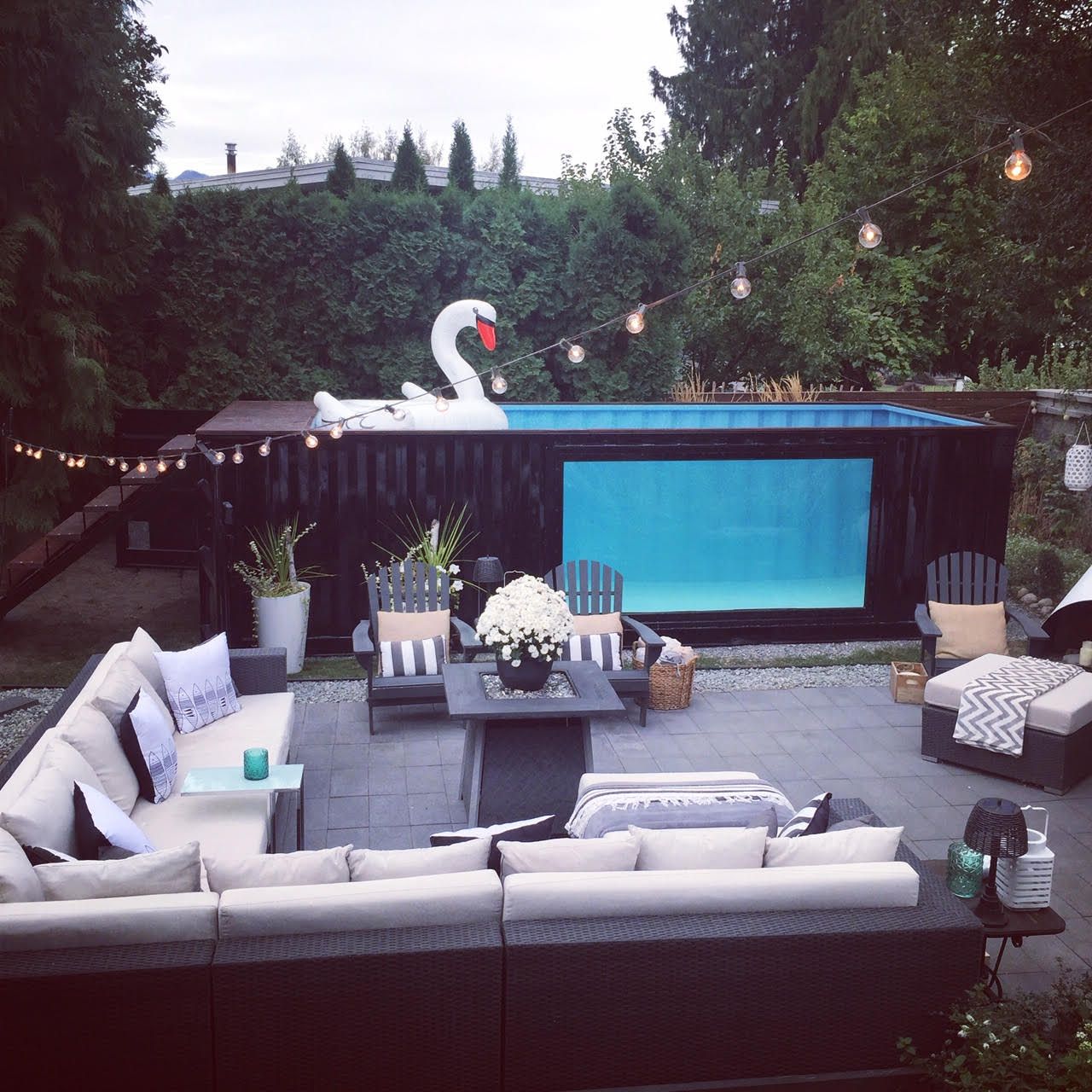 Go deeper