How Hertz's big Tesla deal could boost EV adoption for everyone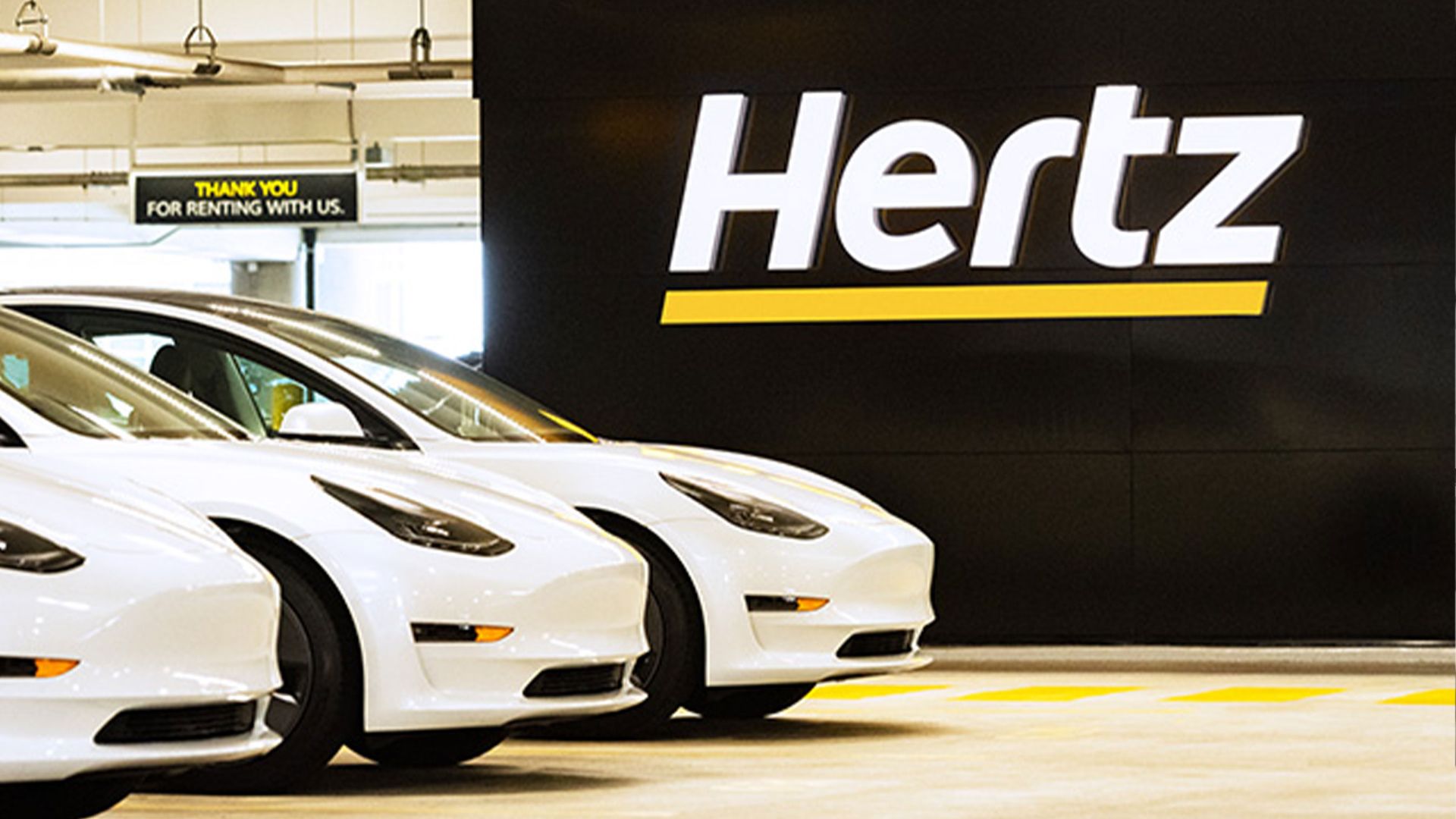 People who are on the fence about buying an electric vehicle — or who can't afford one — can now rent one from Hertz.
Driving the news: The giant rental car company said Monday it is adding 100,000 Teslas to its fleet as the first step in a major shift toward electrification.
The order represents $4.2 billion in revenue for Tesla and is the carmaker's biggest-ever order, Bloomberg reported. Tesla's market cap reached $1 trillion following the deal.
The vehicles will account for more than 20% of Hertz's global fleet. And Hertz is also adding thousands of charging stations to its rental locations and hiring seven-time Super Bowl champ Tom Brady to pitch EVs to consumers.
Why it matters: Broader availability of electric cars on rental lots could give the EV movement a needed boost by allowing cautious consumers a no-risk way to try before they buy.
The big picture: President Biden wants half of all new cars sold to be electric by 2030, and many carmakers are making the pledge to switch away from gasoline-powered vehicles by the middle of the next decade.
But consumer demand remains low, with battery-electric vehicles accounting for less than 5% of auto sales.
Yes, but: Consumers are getting more curious about plug-in models.
"Consumer confidence and acceptance of EVs is growing gradually," says Michelle Krebs, executive analyst for Cox Automotive, adding that the opportunity to try one for a few days could snag more interest.
Surveys show that when people gain experience with new technologies, they become more accepting, she said.
For example, luxury car owners with driver-assist systems like adaptive cruise control are much more accepting of autonomous vehicles than those who've never experienced the technology.
What they're saying: "Electric vehicles are now mainstream, and we've only just begun to see rising global demand and interest," Hertz interim CEO Mark Fields said in a statement.
What's next: Consumers will be able to rent a Tesla Model 3 at Hertz airport and neighborhood locations in U.S. major markets and select cities in Europe starting in early November, with availability growing through 2022.
They'll have access to 3,000 Tesla Supercharger stations, besides the Hertz-installed chargers.
But EVs take some getting used to and features like regenerative braking could be confusing to drivers getting acclimated to their rental car late at night in an airport garage.
Hertz said it will offer help to educate customers about their EV through the Hertz mobile app.
Of note: Teslas are already popular on the peer-to-peer car rental site, Turo, CEO Andre Haddad tells Axios.
Some are booked by travelers and others by potential buyers looking for an extended test drive.
Many Turo hosts maintain small fleets of Teslas and EVs to keep up with demand.
Go deeper