Google's Jigsaw introduces VR simulator for police de-escalation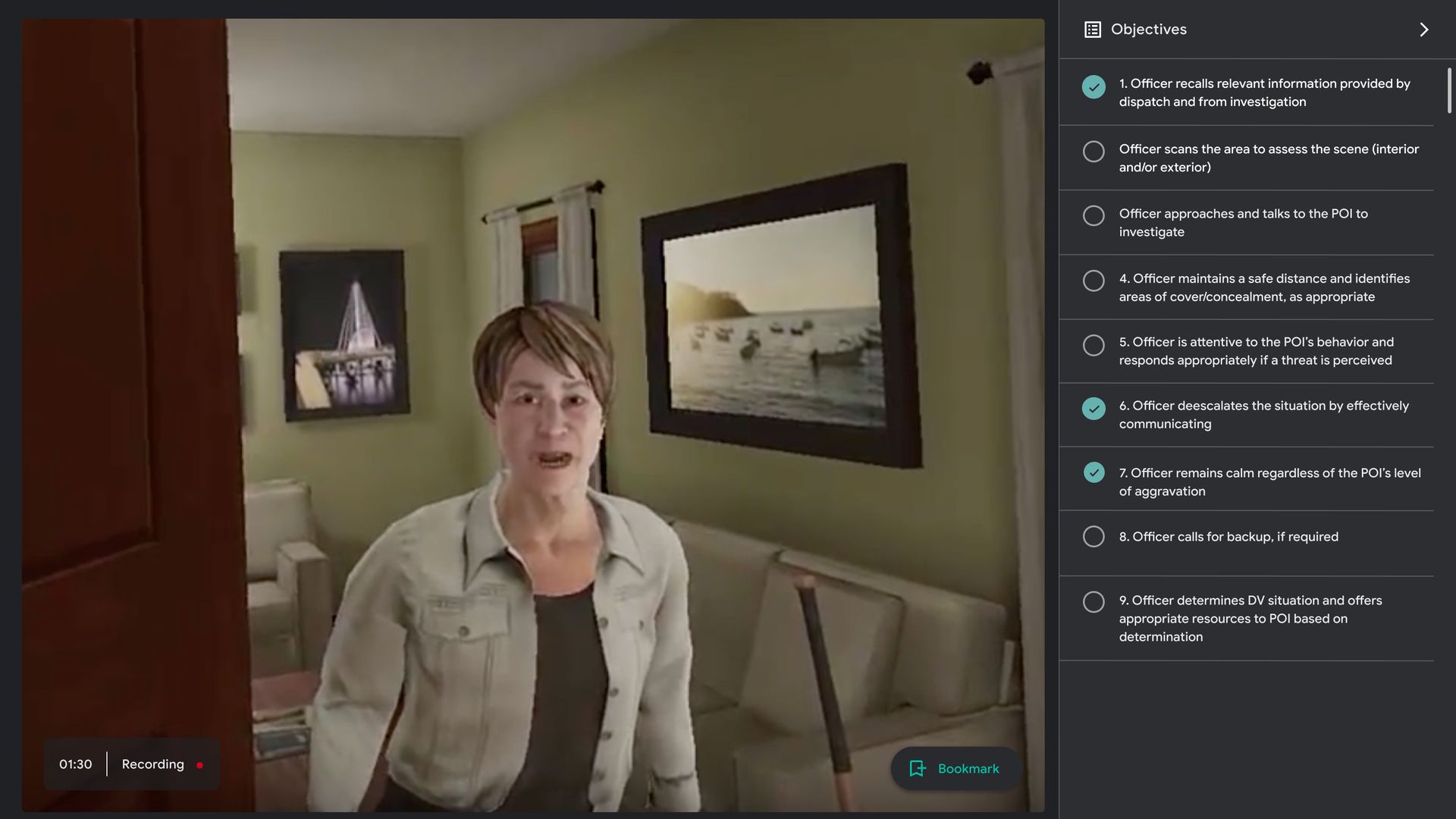 Jigsaw, a technology incubator within Google, is rolling out a VR simulation platform designed to help train law enforcement on de-escalation techniques.
Why it matters: De-escalation training is increasingly popular but it's often costly. Jigsaw's VR product Trainer could help provide adaptable de-escalation practice on a tighter budget.
What's happening: De-escalation training aims to help police officers defuse a situation during a stop or investigation without resorting to violence by purposefully bringing down the level of confrontation, says Christy Lopez, who co-leads Georgetown Law School's Program on Innovative Policing.
A 2020 study found one form of de-escalation training helped police in Louisville dramatically reduce use-of-force incidents and injuries to citizens and officers.
In June, the New York Police Department announced it would train all all 35,000 of its officers in de-escalation.
Yes, but: As of June, more than 20 states still don't require officers to receive de-escalation training, and there's often a long waiting list for departments that do want to undertake the training, which in its most extensive format requires role players and trainers acting our emergencies.
How it works: Axios was given a demo of Trainer by Kevin Rabsatt, lead software engineer at Jigsaw and the chief developer of Trainer, and his team at Jigsaw's offices in New York.
In Trainer's VR space, I played the role of a police officer dispatched to the site of a reported domestic disturbance. I could hear the crackle of the dispatcher's voice in my ear, and knocked on the door of the home.
I was greeted by an upset woman, and had to talk her down, mindful to keep my tone calm and not crowd her in the virtual space — two techniques that are a key part of de-escalation.
In a normal Trainer exercise, instructors can use the platform to check whether an officer hit assigned objectives, including maintaining a safe distance and remaining calm.
Our thought bubble: Even with the graphics, which are closer to a video game than real life, the experience felt stressful and unpredictable.
"When you use the technology, every time it's reacting to you and your movements, and so each time those moments are different," says Robin Engel, director of the IACP/UC Center for Police Research and Policy.
"That flexibility is what makes it feel like a real-life scenario."
What's next: Jigsaw will share the Trainer platform with a number of academic and civil society groups who will help further develop the system, test its efficacy and aim to potentially incorporate it into a formal police training program.
Go deeper