First look: Jill Biden's troops trip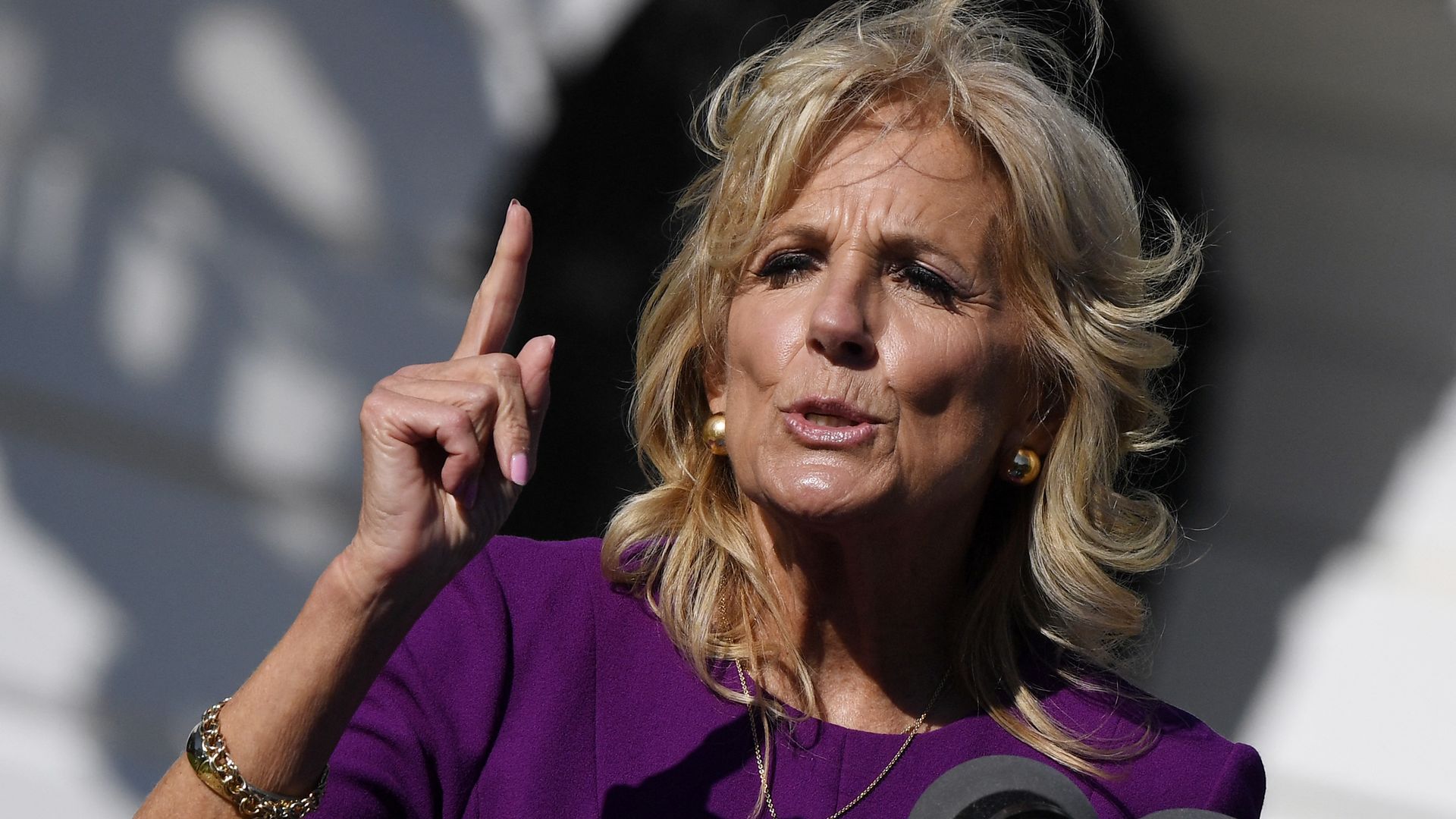 First lady Jill Biden on Monday will visit the military base that's home to pilots and aircrews who helped conduct the airlift out of Kabul to thank the service members and their families for their support in ending the 20-year war in Afghanistan.
Why it matters: When she stops at the crews' home at Joint Base Charleston in South Carolina, the first lady will be their most high-profile member from the Biden administration since the airlift ended on Aug. 31.
President Biden and his national security team were heavily criticized for the chaos surrounding the evacuation, which included leaving American citizens behind and the deaths of 13 U.S. service members in a suicide bombing.
Jill Biden will use the trip to highlight resources available for the service members and their families relating to mental health and beyond.
The last official to visit the base following the airlift was Army Gen. Mark Milley, chairman of the Joint Chiefs of Staff.
The details: Biden is expected to visit with the 437th Air Wing at the tail end of a trip taking her to Michigan and South Carolina on Sunday and Monday. Axios is accompanying her for the visits.
The 437th provided over 30 air crews to support the airlift. Some were among the last people to evacuate from Kabul.
Joint Base Charleston is home to two dozen C-17 transport aircraft, which were predominantly used in the mission. The first lady is likely to view some.
Biden also is expected to address the troops and their families.
The big picture: Jill Biden's stepsons, Beau and Hunter Biden, served in the U.S. military. She's been involved in military initiatives since her time serving as second lady.
A major pillar of her platform is the "Joining Forces" initiative, which she began with first lady Michelle Obama and relaunched as first lady herself this year.
The relaunch focuses on military family employment and entrepreneurship, as well as ensuring families receive quality child care.
The first lady has been thanking troops at bases across the country.
The visit to the base is part of a larger trip that began Sunday in Michigan.
The first lady and Surgeon General Vivek Murthy visited the Saginaw Chippewa Indian tribe in Mount Pleasant, Michigan, where they held a listening session focused on youth mental health.
On Sunday night, Biden was scheduled to deliver remarks at the Yeshiva Beth Yehudah's annual dinner in Detroit.
Before her stop at Joint Base Charleston, the first lady was set to visit the Medical University of South Carolina Hollings Cancer Center, part of her focus on Breast Cancer Awareness Month.
Go deeper: "Generals contradict commander."
Go deeper