Anti-abortion activists' Supreme Court dreams are coming true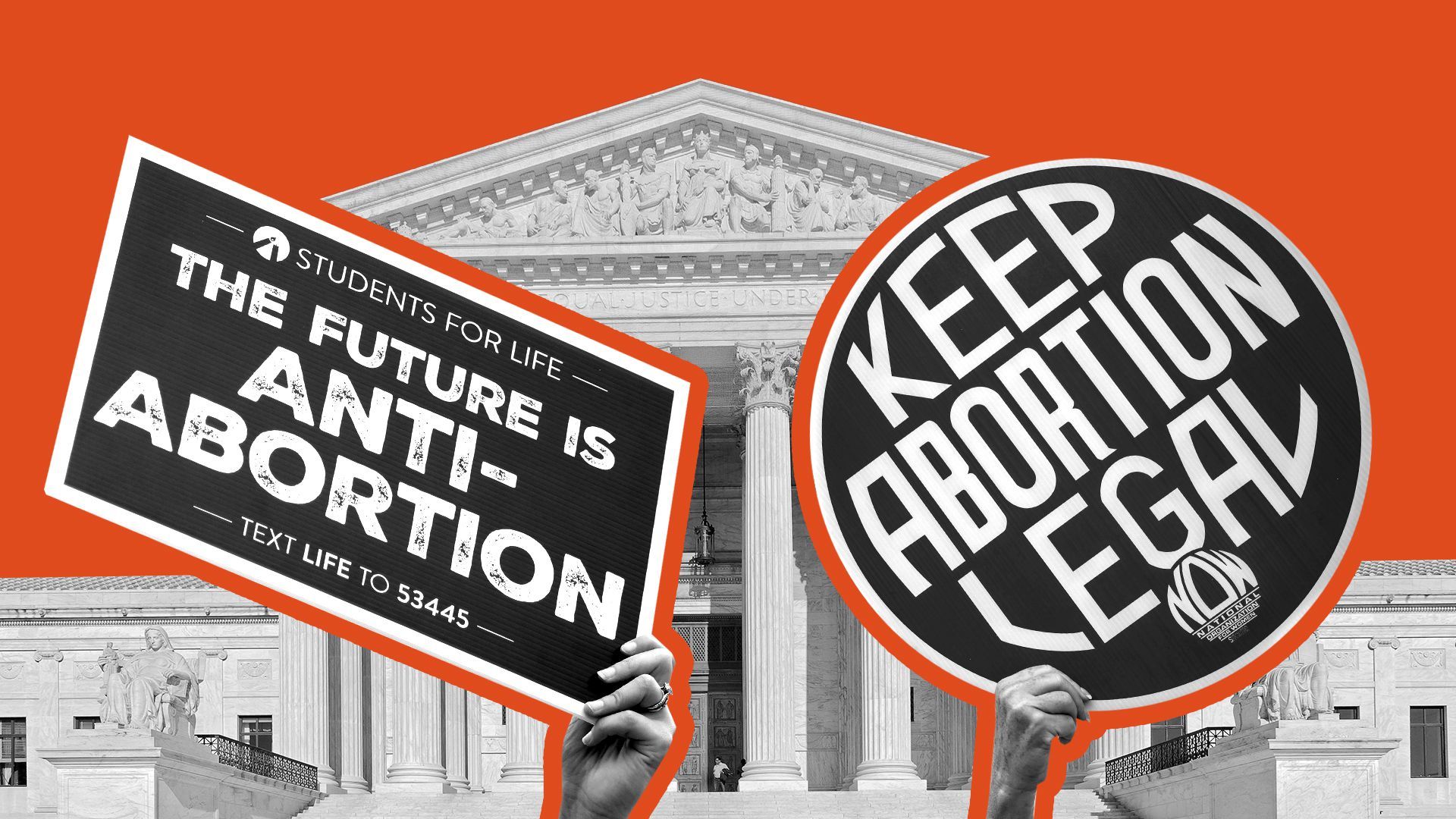 This is the moment the conservative legal movement has been building toward for decades: The solidly conservative Supreme Court is about to hear two major abortion cases within a month of each other.
Why it matters: All of this is likely to end with significant new restrictions on abortion and a clear path for Republican-led states to win the next big abortion cases, too — the culmination of a long and bitter fight for control of the judiciary.
Driving the news: The court on Friday agreed to hear part of a challenge to Texas' highly unusual abortion ban. Oral arguments will be Nov. 1 — a dramatically accelerated timeline that compresses into just a few days a process that normally takes months.
One month later, on Dec. 1, the court is set to hear arguments in a separate case, challenging Mississippi's ban on abortion after the 15th week of a pregnancy.
The big picture: Mississippi's law and Texas' law are structured quite differently, and the two cases raise different legal questions. But between them, they present the court with a whole lot of ways to rule in favor of tighter abortion restrictions.
And with such a staunch conservative majority, the court seems virtually certain to take at least one of those options.
"This is the most significant moment in two generations," said Mallory Quigley, a spokeswoman for the Susan B. Anthony List, an anti-abortion advocacy group.
That moment has arrived largely because conservative state legislatures kept passing new anti-abortion bills year after year, even when they were mostly being struck down in the courts, to keep the controversy alive — while Republicans in Washington maintained a laser focus, especially during the Trump administration, on taking control of the judiciary.
"The court that we have now is the result of the long-game political strategy of the pro-life movement," Quigley said.
Details: Roe v. Wade and subsequent Supreme Court precedents say that states cannot ban abortion before the point at which a fetus is considered "viable," typically around 22 weeks. Mississippi, however, banned abortion after 15 weeks.
The state has asked the court to uphold that ban, and also to go further and overturn Roe.
Texas banned abortions after the detection of a fetal heartbeat, which typically happens at around six weeks — before some women even know they're pregnant.
While Mississippi's law is a straightforward government regulation, Texas allows any private citizen to sue any other private citizen who helps facilitate an abortion.
Even many conservative legal experts believe the court will ultimately strike down Texas' ban simply because of its vigilante enforcement structure. The Nov. 1 hearing will focus only on whether the Justice Department can challenge Texas' law, not on the merits of that challenge or the merits of a six-week abortion ban.
Between the lines: The high court has twice refused to stop Texas' law from taking effect while it works its way through the courts. The first time was a 5-4 decision, with Chief Justice John Roberts joining the court's liberals.
Roberts has voted to uphold states' abortion restrictions in the past. He may well join a ruling in Mississippi's favor. But the other conservative justices can win without him, if he's not on their side — or even if he is, but wants to move more incrementally than they do.
What might now look like the mildest option on the table — upholding Mississippi's 15-week ban, but declining to overturn Roe, and ruling against Texas — would be an enormous loss for abortion-rights advocates, because it would open the door for states to start proposing earlier and earlier bans, ultimately making them extremely hard to obtain in most GOP-led states.
Go deeper