Obama stumps for McAuliffe, urges Virginians not "to go back to the chaos"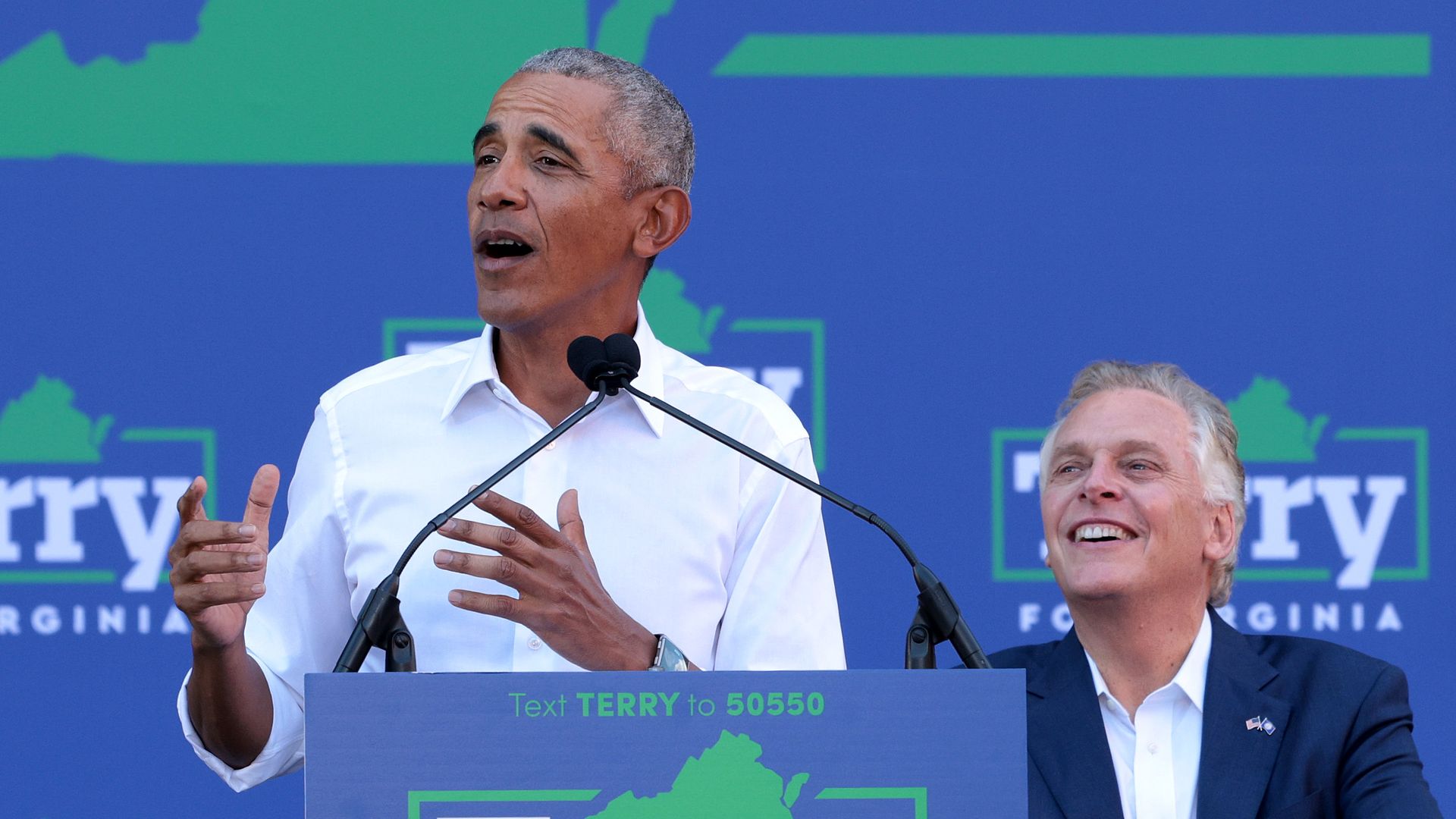 Former President Barack Obama framed a Nov. 2 gubernatorial race as a bellwether for the Democratic Party and the country, telling a crowd at a campaign event for Terry McAuliffe on Saturday that "I believe you, right here in Virginia, are going to show the rest of the country and the world that we're not going to indulge in our worst instincts."
Why it matters: With just over a week to go before Election Day in the Commonwealth, McAuliffe is bringing out the big guns. The 44th president appeared on the campus of Virginia Commonwealth University to urge supporters to get to the polls.
"Don't be sitting on the couch!" Obama told those gathered.
Obama's former vice president is also hitting the trail this week. President Biden will appear with McAuliffe on Tuesday at a park in Arlington.
The details: Obama didn't shy away from taking aim at GOP gubernatorial hopeful Glenn Youngkin.
"You can't run ads telling me you're a regular ol' hoops-playing, dish-washing, fleece-wearing guy, but quietly cultivate support from those who seek to tear down our democracy," said Obama, referencing the tightrope the former businessman has been walking as he tries to remain loyal to Donald Trump to please his conservative base while not alienating the increasingly Democratic-leaning suburbs in Northern Virginia.
"We're not going to go back to the chaos that did so much damage," Obama added, again tying Youngkin to the 45th president. "We're going to move forward with people like Terry leading the way."
Go deeper: Glenn Youngkin's play: Forever- and Never-Trumpers
Go deeper