Nonpartisan Wisconsin audit finds 2020 election "largely safe and secure"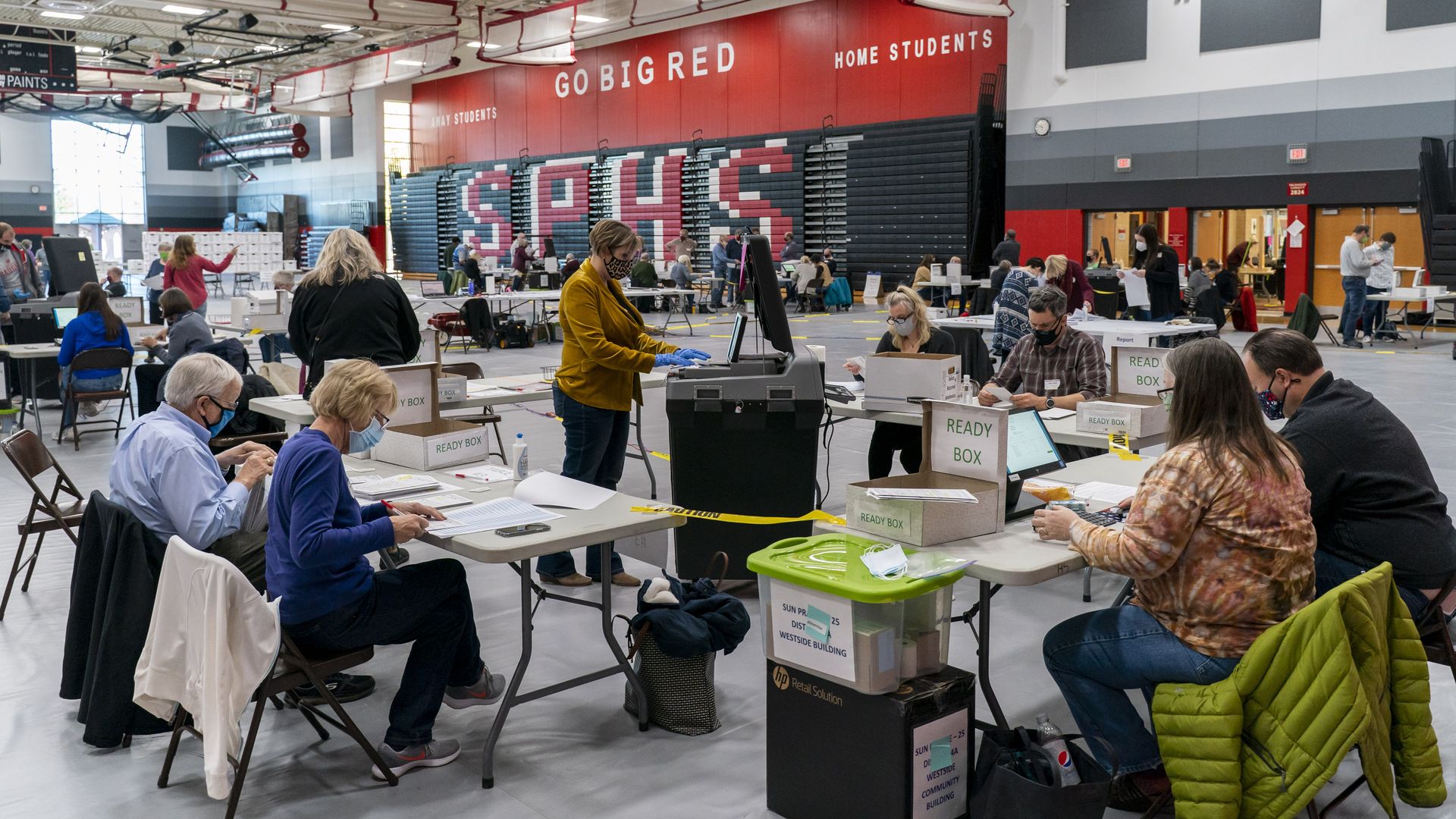 A nonpartisan audit of the 2020 presidential race results in Wisconsin found no evidence of widespread voter fraud and determined the swing state's election had been "largely safe and secure."
Why it matters: The results further undermine former President Donald Trump's false claims of widespread voter fraud throughout the country.
Details: The report, released on Friday by the state's Legislative Audit Bureau, is the result of interviews with the Wisconsin Elections Commission staff; surveys of all 1,835 municipal clerks and 72 county clerks; analysis of voter registration data; the physical review of "14,710 certificates that accompanied absentee ballots returned to clerks in 29 municipalities throughout the state, [and review of] the results of 175 statutorily required tests of electronic voting equipment that clerks in 25 municipalities completed" before the general election.
Auditors also reviewed all 45 sworn or written complaints about the November 2020 general election that had been filed with WEC through late May of this year.
Auditors identified 24 people who may have had two active voter registrations and shared with WEC those names, including four who might have actually voted twice.
The report made 30 recommendations to the WEC for further safeguarding future elections.
Those recommendations included improved maintenance of voter registration records, in part by cooridinating with the state's Department of Transportation, Department of Health Services and Election Registration Information Center.
What they're saying: "Despite concerns with statewide elections procedures, this audit showed us that the election was largely safe and secure," said Republican state Sen. Robert Cowles, who co-chaired the Joint Legislative Audit Committee. "It's my hope that we can now look at election law changes & agency accountability measures in a bipartisan manner based on these nonpartisan recommendations."
"My Republican legislative colleagues and I remain committed to using the audit's findings as a blueprint to bring necessary reforms where needed," said state Rep. Samantha Kerkman, the other co-chair, in a statement on Friday with Cowles.
What's next: The WEC will release a new report on which recommendations have been implemented by March 31.
Go deeper