Debut flight of NASA's next big rocket delayed until 2022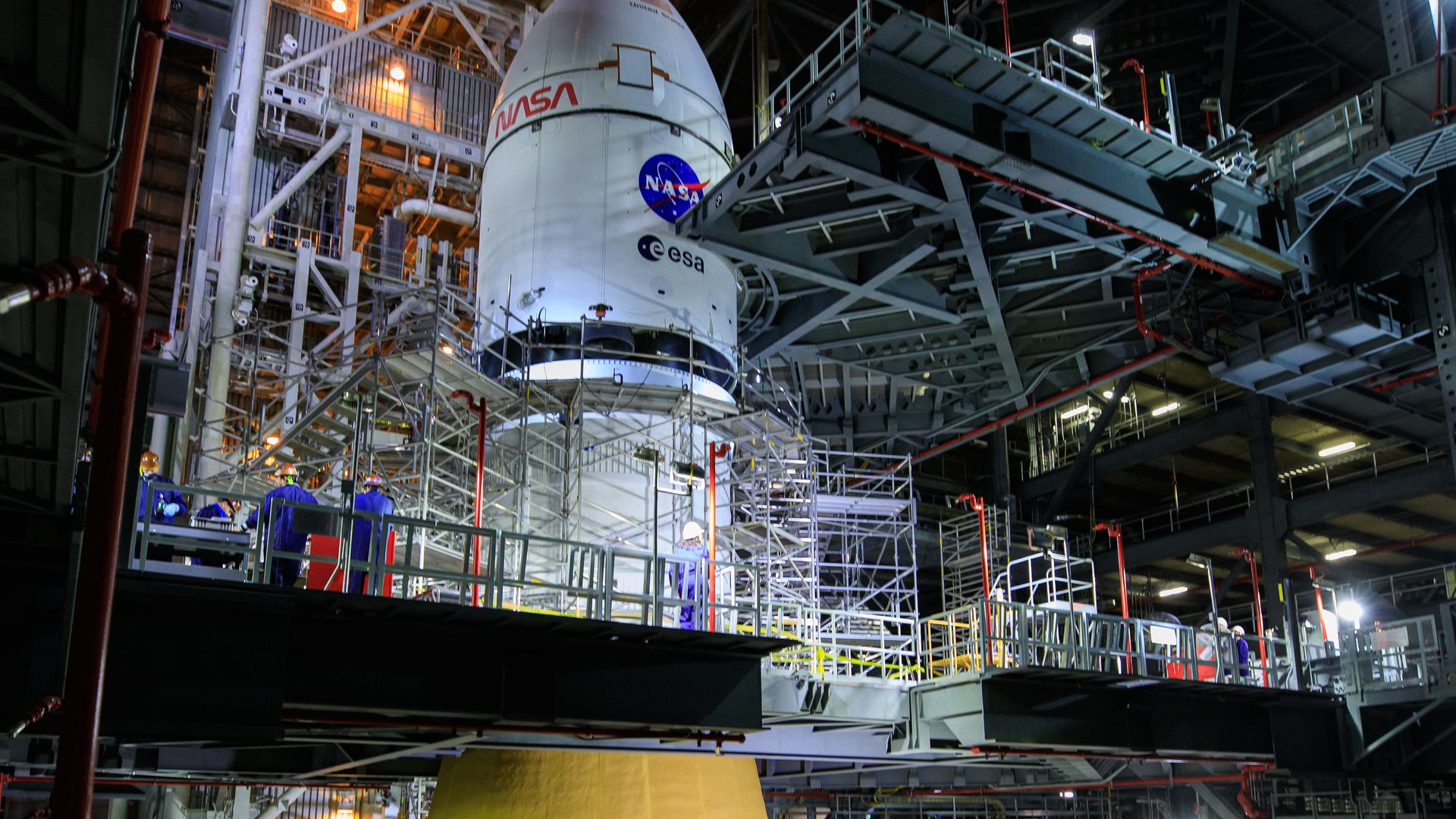 NASA's Space Launch System rocket won't make its first flight until early next year, the agency announced today.
Why it matters: The SLS is a key piece of technology needed to bring NASA astronauts back to the surface of the Moon in the coming years, and this first flight will mark a major milestone for the program.
Driving the news: NASA announced Friday that the rocket won't make its first flight — called Artemis 1 — until early 2022, delaying the debut, which had been expected this year.
The SLS could take flight as soon as February, depending on how a dress rehearsal of the launch goes in January, as well as other testing.
There are also potential launch windows in March and April.
"We've conducted a series of simulated missions, and I can promise you that we are on track to fly. This team will be ready when our flight hardware is ready," Mike Sarafin, the mission's manager, said during a press conference.
How it works: The SLS will take flight for its first launch with an uncrewed Orion capsule atop it.
The rocket will send the capsule on a journey around the Moon and back to Earth, giving it a full test run before a crewed launch can take place, expected to occur in 2023.
The first human landing on the Moon as part of the Artemis is expected to happen in 2024.
Yes but: It's not clear that NASA will be able to meet that 2024 deadline.
At the moment, the spacesuits needed for that landing are behind schedule, according to a report.
The agency is also caught up in a lawsuit brought by Jeff Bezos' Blue Origin protesting NASA's decision to award a contract to SpaceX to build a lander that will bring astronauts to the lunar surface.
Resolving that lawsuit could take time and might delay that 2024 landing even more.
Go deeper: Tune in to Axios on HBO on Sunday, Oct. 24, at 6 p.m. ET/PT to catch an interview with NASA Administrator Bill Nelson where he discusses Artemis. Watch on HBO and HBO Max.
Go deeper