Experts predict an easier COVID winter this year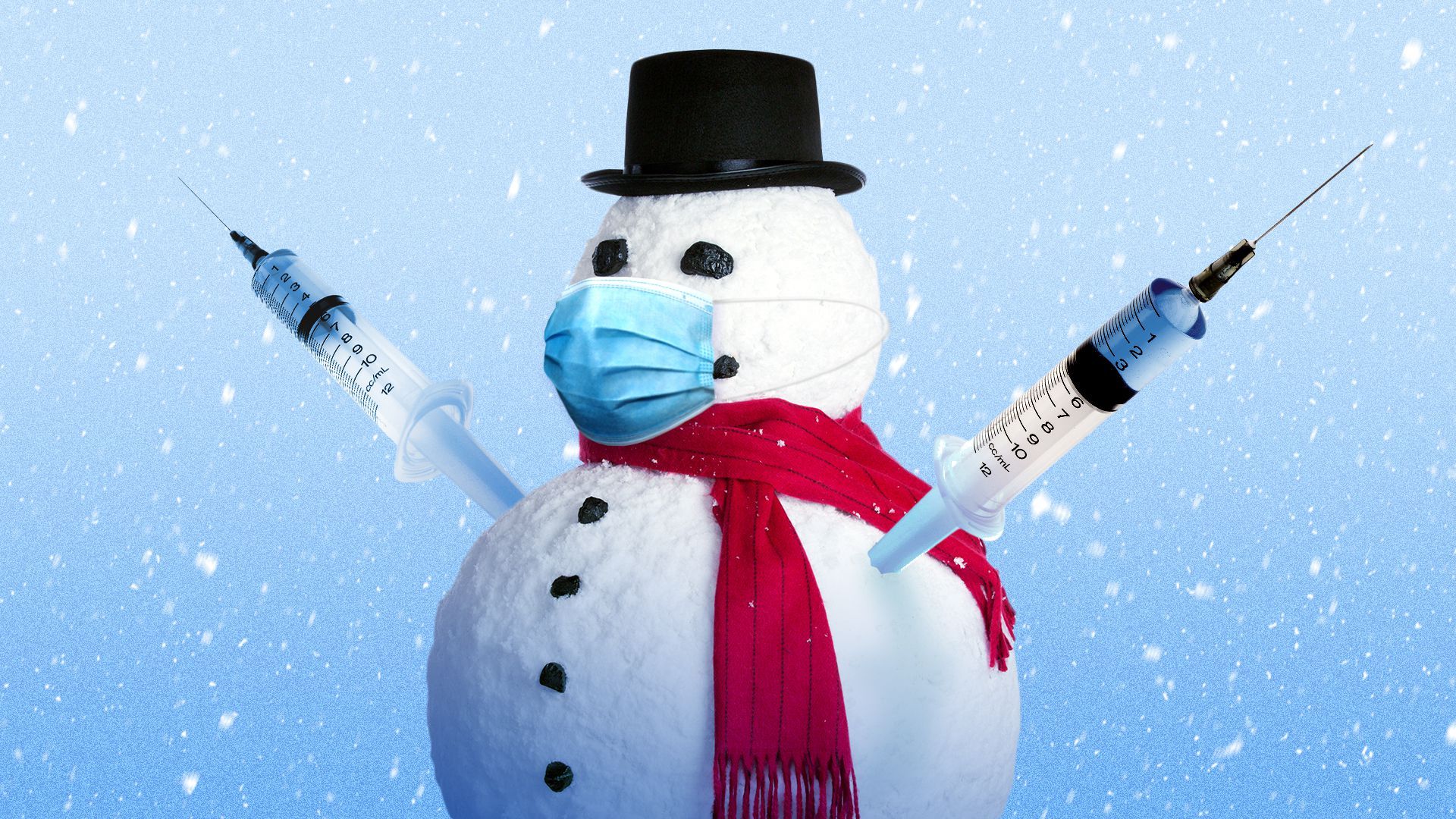 This winter probably won't bring another crushing COVID wave, experts say.
Why it matters: Last winter was the deadliest phase of the pandemic, and many Americans are braced for cold weather to once again usher in a surge in cases and deaths. But there are good reasons to think this year won't be nearly as bad.
What they're saying: "I sort of think we're in a version of what our reality is going to be for the foreseeable future," Bob Wachter, chairman of the University of California, San Francisco Department of Medicine, told Axios.
"Maybe it gets 10 or 20% better, maybe it gets 10 or 20% worse. But I can't see it getting 90% better or 90% worse," he said.
State of play: A critical mass of Americans have been vaccinated — some even boosted — or have some natural immunity after having the illness. And vaccines for kids are expected soon.
That should protect against the sort of wide resurgences of severe illness the U.S. experienced last winter, said Justin Lessler, who helps run the University of North Carolina's COVID-19 Scenario Modeling Hub. Its models predict a steady drop in COVID cases through March.
It's possible that an another new variant will emerge, but "even if we do see some resurgences due to a more transmissible variant or people relaxing in their behaviors, I'd be very surprised if we saw surges to the level of last winter," Lessler said.
But, but, but: That's not to say we're out of the woods yet. We'll still see localized outbreaks and will have to continue taking precautions throughout the winter.
NIAID director Anthony Fauci told CBS' "Face the Nation"  last weekend it's "just too soon to tell" whether holiday gatherings should still be limited again this year.
While vaccines are expected to be approved for kids soon, there are still questions about how many parents will want to get their kids vaccinated. They may not be rolled out in time to get fully vaccinated before the holidays.
What we're watching: As Lessler points out, even the most optimistic models "aren't projecting us to getting back to levels we were seeing in early July until mid-March and that's a long time off."
Experts are also warning about the dual threat of increased risk for a bad flu season mixed with the ongoing COVID pandemic.
The bottom line: "I think as we enter the holidays and think about how to protect our families, it's important to remember we still have this long road ahead of us," Lessler said.
Go deeper