Texas urges Supreme Court to leave abortion ban in place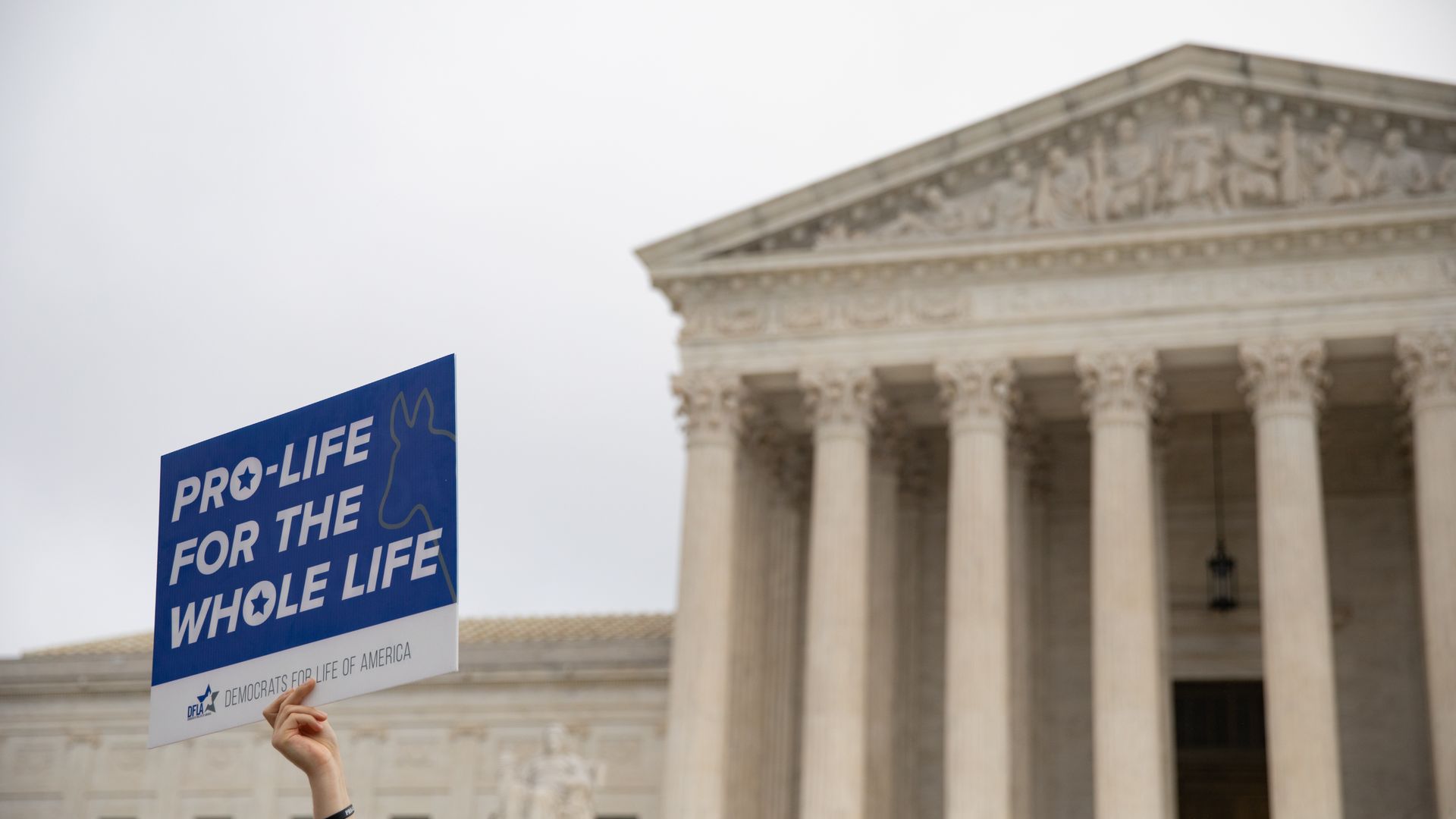 Texas on Thursday asked the Supreme Court to keep in place a law that bans abortions after an embryo's cardiac activity is detected, which can be as soon as six weeks and before many people know they are pregnant.
Driving the news: Texas Attorney General Ken Paxton is asking the high court to ignore the Justice Department's emergency request that they temporarily block the law while federal courts consider its constitutionality since it "lacks standing because it has not been injured by SB 8."
Paxton also argues that the DOJ lacks standing because it is suing the state, adding that "Texas executive officials do not enforce SB 8," so "there is therefore no state executive or judicial official who can be enjoined" to stop enforcing the law if a temporary injunction is granted.
The big picture: The court, which currently has a 6-3 conservative majority, previously allowed the law to go into effect but did not rule on its constitutionality.
Context: Instead of being formally enforced by the state, the law encourages private citizens to sue anyone who assists pregnant people with getting an abortion.
Chief Justice John Roberts has called the Texas law's enforcement "not only unusual, but unprecedented."
Catch up quick: Earlier this month, a three-judge panel for the 5th U.S. Circuit Court of Appeals denied the DOJ's initial emergency request to suspend the ban.
In response, the DOJ on Monday asked the Supreme Court to temporarily block the law while federal courts consider its constitutionality.
The department argued that the ban is "plainly unconstitutional" because it violates Roe "by banning abortion long before viability — indeed, before many women even realize they are pregnant."
Between the lines: In its request, the DOJ also raised the possibility that the Supreme Court could take up their case (U.S. v. Texas) before lower courts reach a decision.
Paxton said that if the court does decide to take up the case and hear arguments, it should consider overturning the 1973 landmark case Roe v. Wade, which legalized abortions in the U.S., and the 1992 case Planned Parenthood v. Casey, which upheld the right to get an abortion.
What's next: The Supreme Court could either grant or reject the DOJ's application, or it could decide to take up the entire case.
If they decide to hear the case, it would mean the court would hear two major abortion cases this term that would challenge Roe, including Dobbs v. Jackson Women's Health Organization, a challenge to a Mississippi law that bans nearly all abortions after the 15th week of pregnancy.
Read Texas' response:
Go deeper