CDC director approves boosters for Moderna and J&J and mix-and-match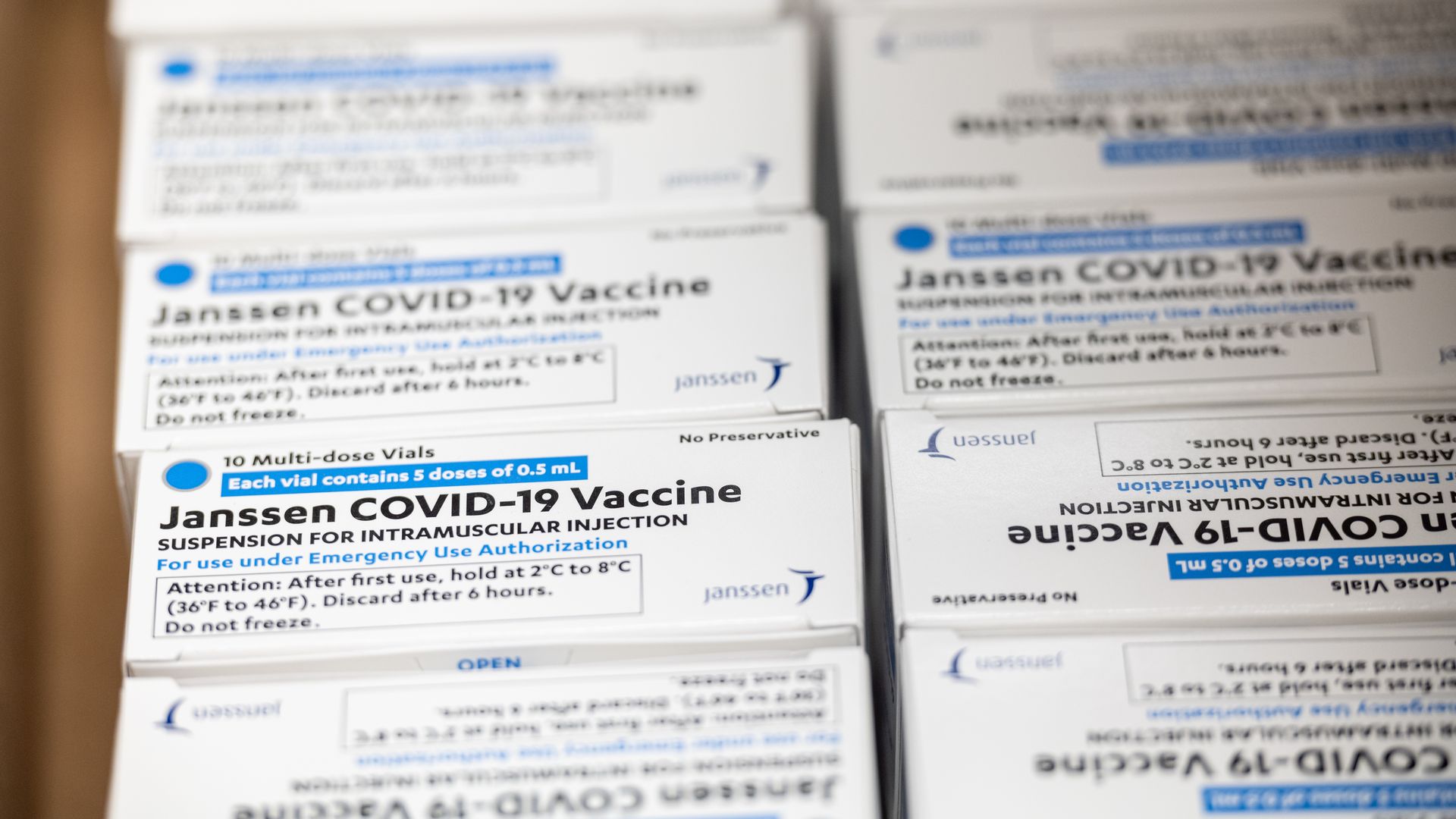 The Centers for Disease Control and Prevention director Rochelle Walensky expanded the eligibility for COVID-19 booster shots on Thursday night, hours after the CDC's independent advisory panel recommended booster doses of the Moderna and Johnson & Johnson vaccines and allowed people to mix-and-match doses.
The big picture: The CDC's expansion aligns with the Food and Drug Administration authorization Wednesday night which said people could switch to whichever vaccine they wanted for their booster shot.
"The evidence shows that all three COVID-19 vaccines authorized in the United States are safe — as demonstrated by the over 400 million vaccine doses already given," Walensky said.
"They are all highly effective in reducing the risk of severe disease, hospitalization, and death, even in the midst of the widely circulating Delta variant," she added.
Details: Boosters for Moderna's two-dose vaccine and J&J's single-dose shot may be taken by Americans over 65, as well as those over 18.
Dosing for the Moderna booster will be less than its two-dose regimen and will be permitted six months after the second shot. J&J will be allowed after two months.
The Food and Drug Administration authorization Wednesday night meant people can pick whichever vaccine they wanted for their booster shot and authorized boosters for certain populations.
Still, the Advisory Committee on Immunization Practices panel weighed the challenge in allowing younger people to for a booster qualify based on increased exposure to risk, despite lack of data.
Sarah Long, a committee member also at Drexel University College of Medicine raised concerns on the contentious topic of opening up booster eligibility to all adults.
"I can't say I am comfortable that anyone under 50, otherwise healthy, needs a booster at this time," she said in the meeting Thursday.
The panel also heard safety updates about the rare risk of inflammatory heart problems such as myocarditis among recipients of Moderna and Pfizer-BioNTech vaccines, especially in men ages 18 to 24.
Serious side effects after all vaccines are extremely rare, five separate updates on vaccine safety showed.
What's happening: There's also been debate whether once again the agency has acted too slowly in mixing-and-matching guidance for those who received J&J.
"We have to acknowledge we're in a situation where we don't have as much data as we would like. But we still have to make practical decisions and I think there's as much data to support mixing and matching as there is for boosters in general," John Whyte, chief medical officer of WebMD, tells Axios.
For months, small samples of preliminary booster data suggest neutralizing antibodies from an mRNA shot like Moderna would increase 76 times and 35 times with Pfizer as opposed to only four times with another J&J shot.
Editor's note: This story has been corrected to show the Moderna booster will be permitted after the second shot, not the third.
This story has been updated to show the CDC director approved the use of Moderna and J&J boosters.
Go deeper