Carmakers rush to build batteries for electric vehicles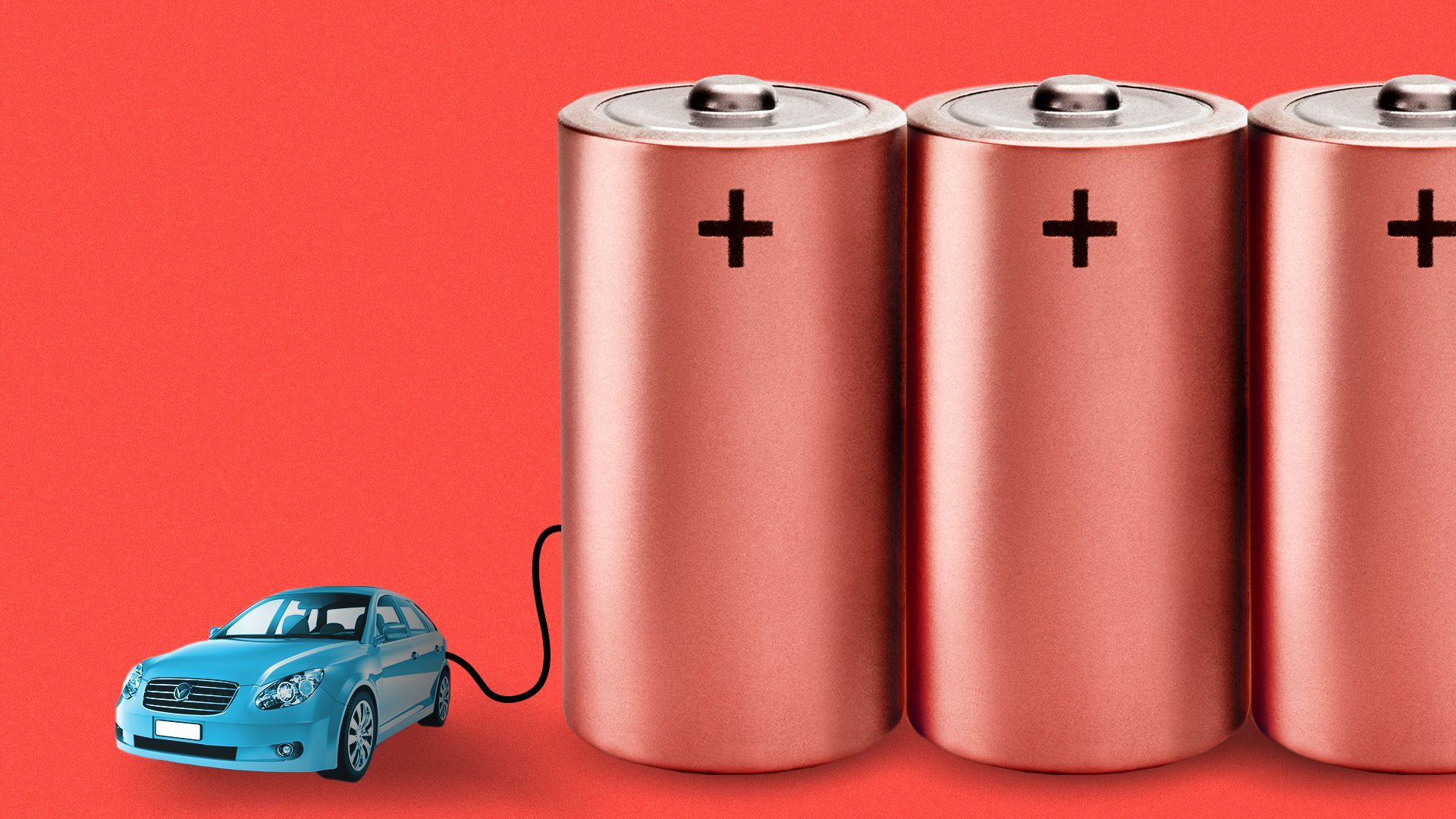 Almost every week, another major automaker announces a billion-dollar-plus investment in battery manufacturing, and with it, thousands of new American jobs.
Why it matters: Eyeing President Biden's climate agenda, carmakers are racing to create a domestic battery supply chain to support their aggressive rollout of electric vehicles by the end of the decade.
They want to avoid another crisis like the current semiconductor shortage, which forced them to slash vehicle production because they can't get enough computer chips from Asia.
Driving the news: This week, Toyota and Stellantis (Chrysler and Jeep's parent) joined the chorus of automakers planning to build giant battery factories in North America.
The moves follow other U.S. battery manufacturing commitments, by Ford and General Motors, as well as Korean battery suppliers SK Innovation and LG Chem.
For now, these moves are ahead of demand. But forecasters predict the EV shift will occur quickly as more plug-in models are introduced and governments increase requirements for zero-emissions vehicles to fight climate change.
When those pieces fall into place, the world's carmakers are likely to be in an all-out war to secure battery metals and other materials needed to produce them.
By the numbers: Americans purchase about 17 million vehicles a year, and Biden's goal is for half of them to be electric by 2030.
Each 30-gigawatt battery factory is enough to power about 300,000 vehicles, notes Kristin Dziczek, vice president at the Center for Automotive Research.
That means it would take at least 30 battery factories — employing about 2,000 workers each — to meet Biden's 50% target (not accounting for the fact that half of cars sold in the U.S. are imported.).
There are a total of 19 existing or planned cell manufacturing plants in the U.S., but not all of them are on the scale of Tesla's gigafactory in Nevada.
Yes, but: By 2030, the U.S. is still expected to account for less than 14% of global battery capacity, compared with China's 66%.
And despite pouring billions of dollars into battery cell production, the industry isn't doing nearly enough to prepare for a historic shift to electrification, experts say.
Among those sounding the alarm is Tesla co-founder J.B. Straubel, who said on a recent podcast that automakers' ambitions to go all-electric ignore the complex realities of EV production.
"I don't think they've done the math fully [on] what that entails on the supply chain and tracing it all the way back, literally all the way back to the mines," said Straubel, who is CEO of battery recycler and cathode manufacturer Redwood Materials.
"You need to do that, or else, you know, you haven't really solved it."
"It has the feeling to me of kind of like a giant overbooked flight. All these people are like, 'Oh, this is great. We're all gonna go to that new place. ... Let's all get on the plane and go'," without building the aircraft, the runway or the air traffic control system.
The big picture: Automakers jumped into electric vehicle production with both feet in 2021, especially in North America and Europe.
Globally, the industry plans to spend $330 billion on EVs, up 40% from last year, notes Alix Partners, which tracks investments on a five-year rolling basis.
What's new is the effort to build battery cells in-house, instead of importing them from Asia, said John Loehr, a managing director in the consulting firm's automotive and industrial practice.
"Five years ago, the industry would have thought it natural to buy batteries — just like seats, electrical components and mufflers."
What to watch: While battery manufacturing plants get built at a record pace, the big question is how the U.S. will fill in the other gaps in the supply chain.
Go deeper