Biden seeks to reboot U.S. sanctions policy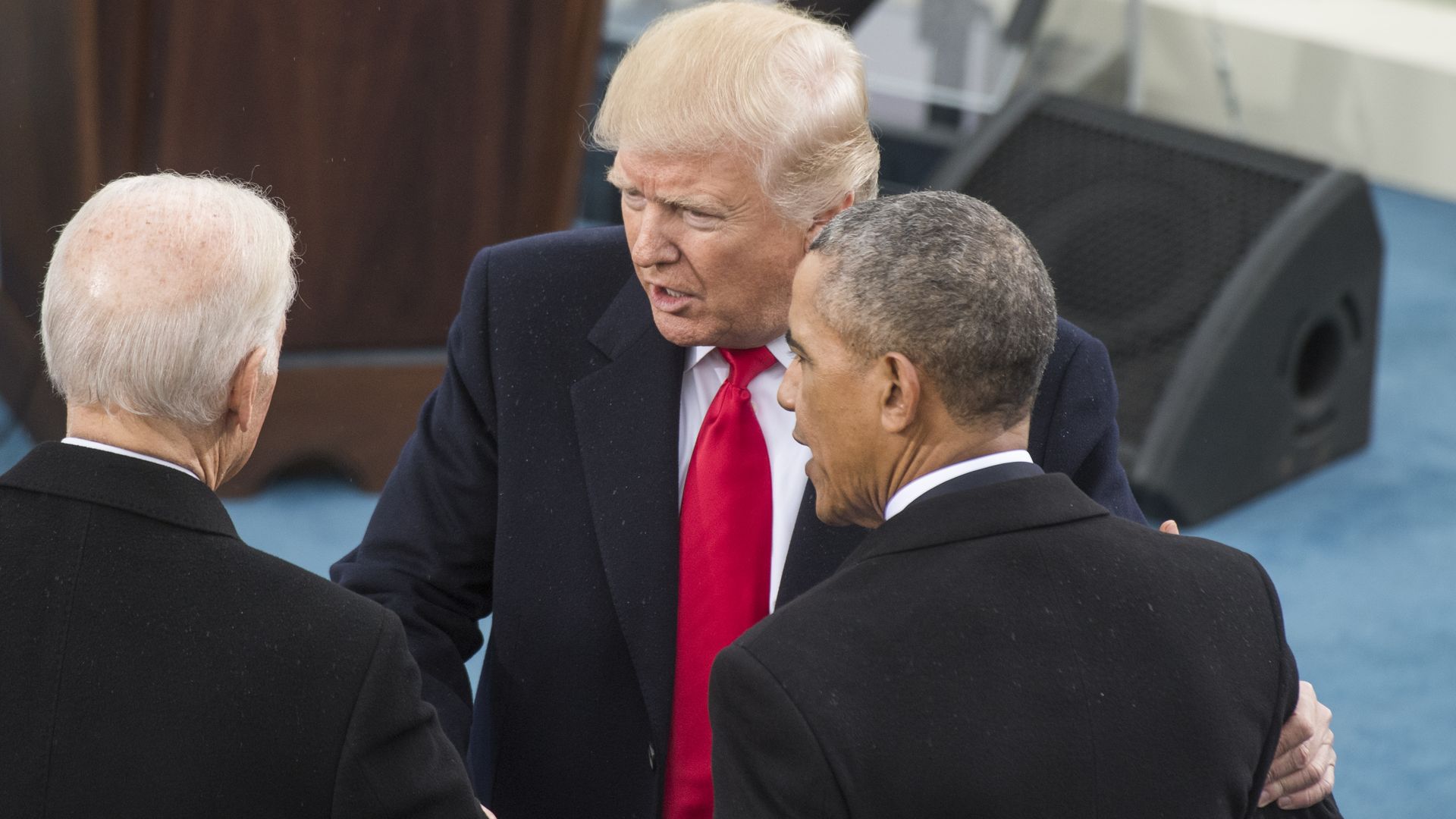 The Biden administration is rethinking the U.S. approach to sanctions after four years of Donald Trump imposing and escalating them.
The big picture: Sanctions are among the most powerful tools the U.S. has to influence its adversaries' behavior without using force. But they frequently fail to bring down regimes or moderate their behavior, and they can increase the suffering of civilians and resentment of the U.S.
A new Treasury report finds that sanctions designations have increased 933% since 2000, spiking particularly dramatically under Trump.
Experts worry overuse of sanctions will ultimately weaken the tool as countries and businesses find new workarounds.
Driving the news: The Treasury's review determined that sanctions must be calibrated more carefully to limit their humanitarian costs and coordinated more closely with allies to maximize effectiveness.
It also emphasized that sanctions must be tied to specific policy objectives and circumstances under which they'd be lifted.
What they're saying: "Sanctions are a tool, they're not the end in themselves. If the tools are not used in service of a broader diplomatic approach, you may well inflict pain but you won't achieve your goal," former Treasury Secretary Jack Lew said today, speaking on a panel alongside Deputy Treasury Secretary Adewale Adeyemo, who led the policy review.
Lew bemoaned the fact that imposing sanctions is often framed as "tough" and lifting them (or even including humanitarian carveouts) as "weak" — the kind of outlook that results in failed policies remaining in place, and potentially in sanctions hurting civilians more than regimes.
Worth noting: Biden has been much less inclined to impose new sanctions than his predecessor, but he seems in no rush to lift long-standing sanctions on Cuba.
Sanctions are too often imposed out of an impulse to "do something" in response to some malign activity, Daniel Fried, who served as sanctions coordinator during the Obama administration, tells Axios.
Such circumstances may call for sanctions on individuals in and around a regime, rather than whole industries and economies, he says.
Fried argues that sanctions succeeded in getting Iran to the nuclear negotiating table, but that the Trump administration's subsequent "maximum pressure" approach was more "symbolic punishment" than policy tool.
Breaking it down: "It is not the objective of sanctions to deny sick people medicine and hungry people food. It is the goal of sanctions to cut off resources to create general economic pain," Lew said. "One is a byproduct of the other."
That's a rare acknowledgment of an uncomfortable truth: Whatever their effectiveness in the longer term, U.S. sanctions often hurt innocent people here and now.
Zoom in: One country the Biden administration has targeted for new sectoral sanctions is Belarus, where dictator Aleksandr Lukashenko rigged an election last year and violently suppressed the ensuing protests.
Opposition leader Sviatlana Tsikhanouskaya lobbied for those sanctions, arguing that they were the strongest available tool to pressure Lukashenko, but also conceding to Axios that they would hurt Belarusian civilians and may not bring down the regime.
The bottom line: The Biden administration wants to apply those sort of moral, strategic and geopolitical calculuses to its sanctions policies. That doesn't mean there will be easy answers.
Go deeper