White House unveils plan to "quickly" vaccinate kids ages 5–11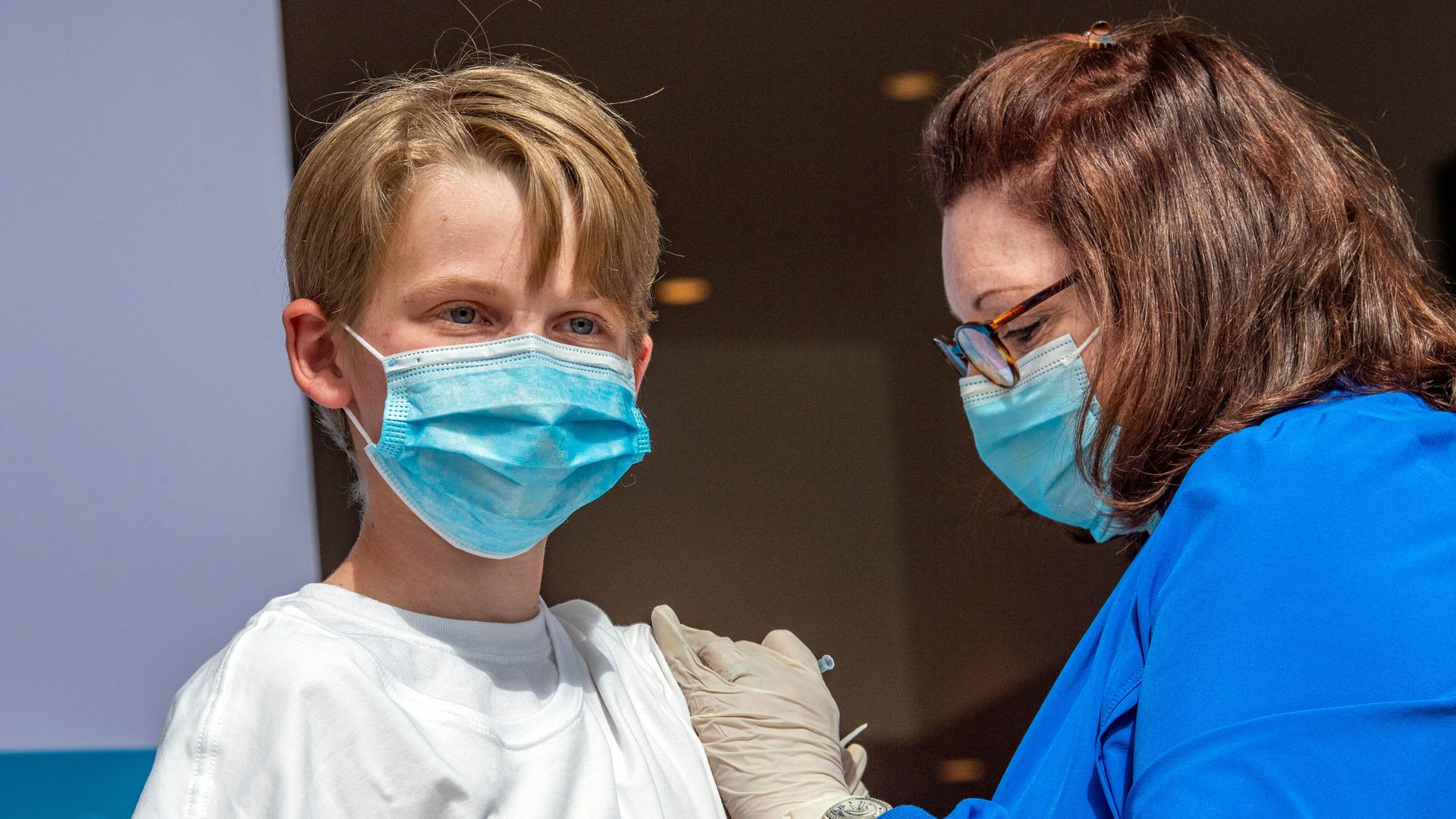 The White House on Wednesday released its plan to vaccinate children between the ages of 5 and 11, pending authorization from the FDA of the first COVID-19 shot for that age group.
The big picture: The White House said it has secured enough vaccine supply to equip more than 25,000 pediatric and primary care offices, hundreds of school and community health clinics, and tens of thousands of pharmacies to administer the shots.
The White House added that the Department of Health and Human Services will "conduct a national public education campaign to reach parents and guardians with accurate and culturally-responsive information about the vaccine and the risks that COVID-19 poses to children."
The Biden administration will also partner with more than 100 children's hospital systems across the U.S. "to set up vaccination sites in November and through the end of the calendar year."
The White House "worked with Pfizer to modify the packaging of the pediatric doses to make it easier for pediatricians, family doctors and other providers to provide vaccines to children. And these vaccine doses will be shipped with all the supplies needed to vaccinate kids, including smaller needles," Jeff Zients, White House COVID-19 response coordinator, said during a press briefing.
State of play: "The Biden Administration is announcing a plan to ensure that, if a vaccine is authorized for children ages 5–11, it is quickly distributed and made conveniently and equitably available to families across the country," the White House said.
"The start of a vaccination program for children ages 5–11 will depend on the independent FDA and CDC process and timeline, but our planning efforts mean that we will be ready to begin getting shots in arms in the days following a final CDC recommendation."
"These steps will be critical in ensuring that we are staying ahead of the virus by keeping kids and families safe, especially those at highest risk."
The White House added that the plan will "rely heavily on states, Tribes, and territories to help implement a smooth rollout."
What they're saying: "We know millions of parents have been waiting for COVID-19 vaccine for kids in this age group. And should the FDA and CDC authorize the vaccine, we will be ready to get shots in arms," Zients said, adding that the U.S. has secured enough supply to vaccinate every single child in the country.
By making the vaccine accessible, "we will ensure that vaccinations for kids ages 5–11 are easy, convenient and accessible to every family," Zients added.
"We have a lot of reasons to be hopeful. The same vaccine technology has proven to be very effective with adults and adolescents. It's been tested in carefully run trials over the course of months. And now we've got our nation's top scientists carefully reviewing the data on its safety and effectiveness," Surgeon General Vivek Murthy said.
"We are all hoping that this process will culminate with the option to vaccinate our children ages 5–11. And if that option becomes available, we will be ready to ensure that everyone has both the information and the access they need to protect their families," Murthy added.
Between the lines: Murthy said the White House is releasing its plan ahead of an official FDA authorization to assure parents that "we share their concerns about the health and wellbeing of their children and we do have plans" to start the vaccine rollout "as soon as that decision is rendered."
Of note: Coronavirus cases in children have been increasing since the start of the school year, Axios' Tina Reed reports.
What to watch: The FDA's independent advisory committee is expected to meet on Oct. 26 to consider authorizing the Pfizer-BioNTech vaccine for children aged 5–11.
The CDC's independent advisory committee will meet on Nov. 2–3.
Go deeper: Axios Today podcast: Pediatricians face a new COVID reality
Go deeper