First look: Smithsonian exhibition explores visions of the future(s)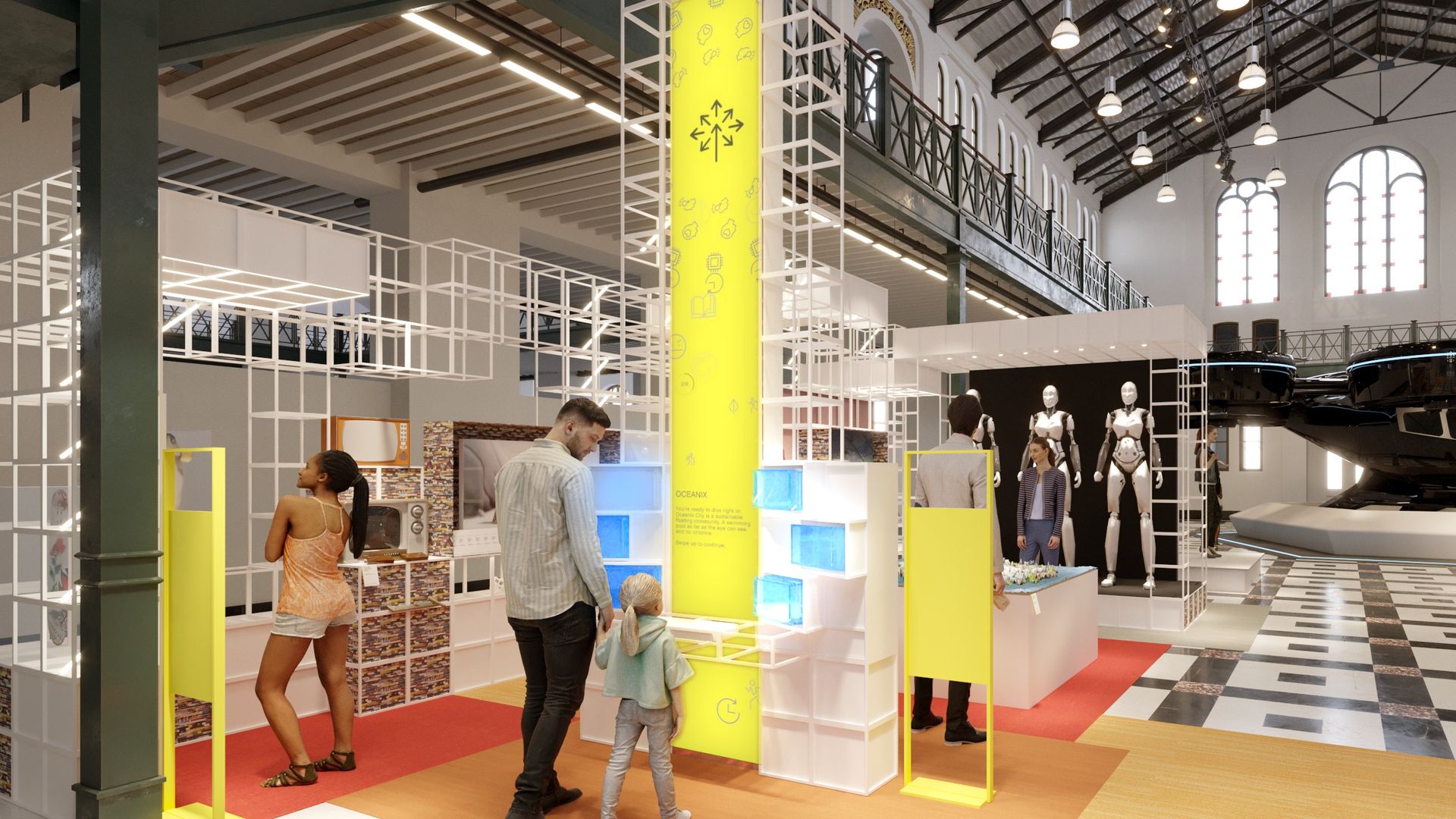 "FUTURES" — a multimedia museum experience that teases out possibilities for the future — will open Nov. 20 at the Smithsonian Institution in Washington, D.C.
Why it matters: At a moment when public attitudes towards the future can lean toward the dystopian, "FUTURES" aims to open up visitors to various scenarios that they can help create through their choices.
What's happening: Axios was given a first look at "FUTURES: Beacons," a part of the overall exhibition, which will be on view at the Smithsonian's Art + Industries Building (AIB).
The name is specifically plural, says David Tracy of the architectural studio LAB at Rockwell Group, which designed the "Beacons" with support from the investment company Softbank Group and the Institute for the Future (IFTF).
"It's not 'the future' — it's 'futures,'" he says. "It suggests there are many possible paths that a future can take."
How it works: To that end, the exhibit will be marked by 10-foot-tall installations called beacons that function as touchstones for visitors making their way through the experience, while "giving people the tools to reflect on a very personal level about the future that they want to see for themselves" and the larger world," says Brad McDonald, director of creative media at AIB.
LAB at Rockwell Group has layered together some of the emerging technologies already shaping the future — including ultrasonic haptic controls that allow users to gesture in mid-air to select choices on a screen — to engage visitors in what futurists call "specificity training."
The bottom line: "By specifically imagining oneself in a future, you can start to tease out whether that's a future you want to make real or be a part of," says Tracy.
Go deeper