John Deere strikers want to reclaim labor's lost bargaining power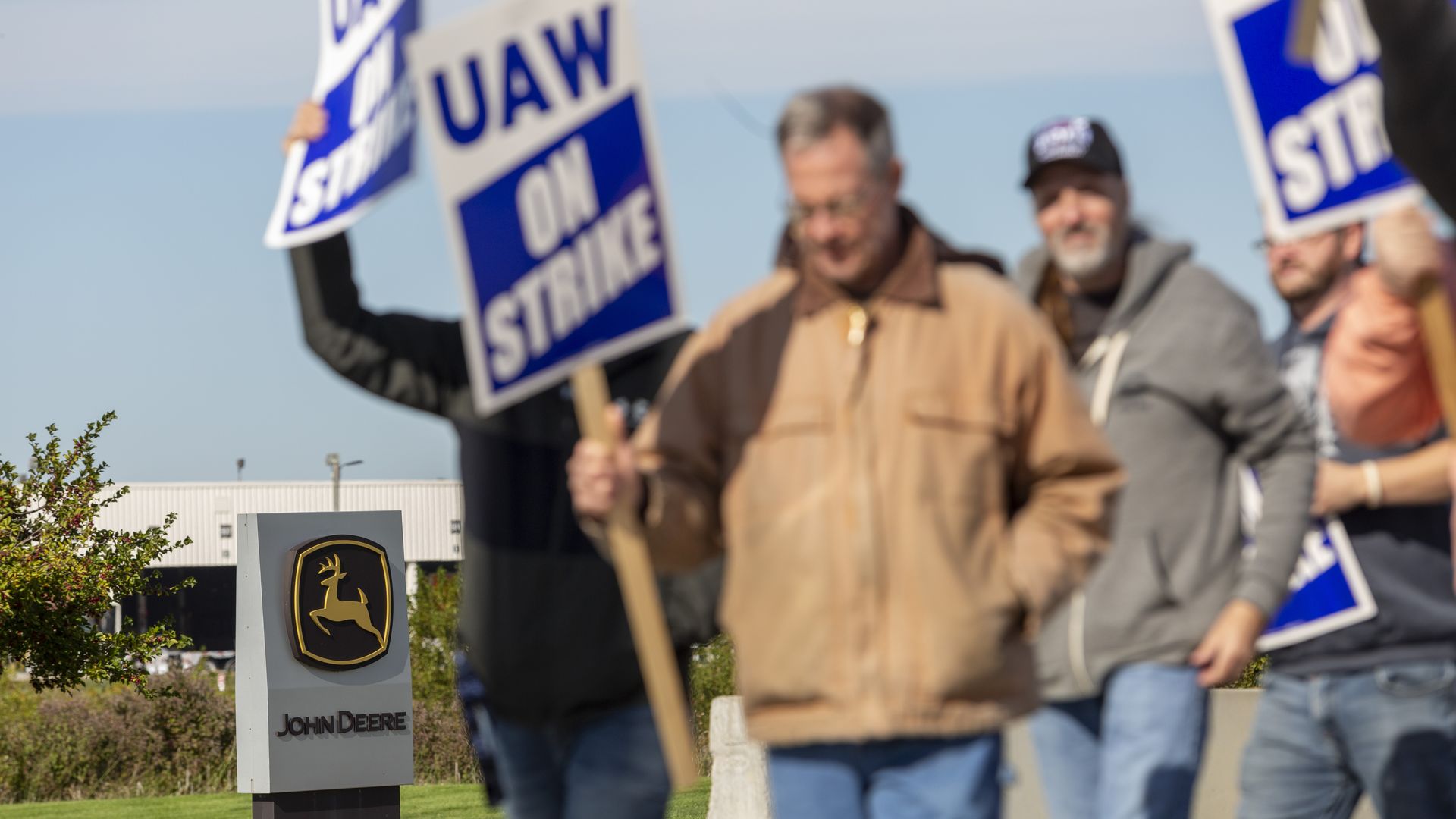 The strike at John Deere is the biggest of the pandemic era, with 10,000 workers on the picket line calling for better pay and benefits.
Why it matters: The walkout could deal a blow to an economy rattled by a supply chain crisis that executives don't want to see get worse — one of the economic tailwinds behind the strikers.
What they're saying: "There is pressure for John Deere to move closer to where the workers are," in terms of contract negotiations, says David Swenson, an economics professor at Iowa State University.
It's critical harvest time, with farmers who were already dealing with a short supply of farm equipment and parts before the strike.
"Ensuring that farmers are able to harvest their crops, that's paramount to our food and energy security, as well as those farmers' livelihood," says Kristen Owen, an analyst who covers Deere & Co. at Oppenheimer.
The backdrop has also shifted in workers' favor. It isn't 1986, the last time John Deere workers walked off the job.
Then: A farm economy in turmoil trickled down to the farm equipment maker. Its inventory was bloated and demand was so lackluster that a single plant was enough to supply the whole industry, says William Blair industrials analyst Larry De Maria, who looked back at news coverage at the time.
The strike lasted 6 months. "When workers finally got a contract, it was weak," says Swenson.
Now: The agricultural sector is thriving. Farmers are more willing to shell out money for new equipment than they have been in years, so demand is robust.
All of it helps deliver the record profits John Deere executives told Wall Street to expect this year. Workers want a piece of that.
The big picture: Finding workers to backfill the 10,000 strikers is a herculean effort, a dynamic helping empower union members around the country.
The bottom line: The strike is "part of a broader trend for labor to reclaim some of its lost bargaining power over the past 30 years," says De Maria, who adds it will help set the tone for unions with contracts up in the near-term.
John Deere executives and union leaders are back at the negotiating table as of yesterday, a UAW spokesperson said in an email.
Go deeper