Hot holiday toys may not be as scarce as predicted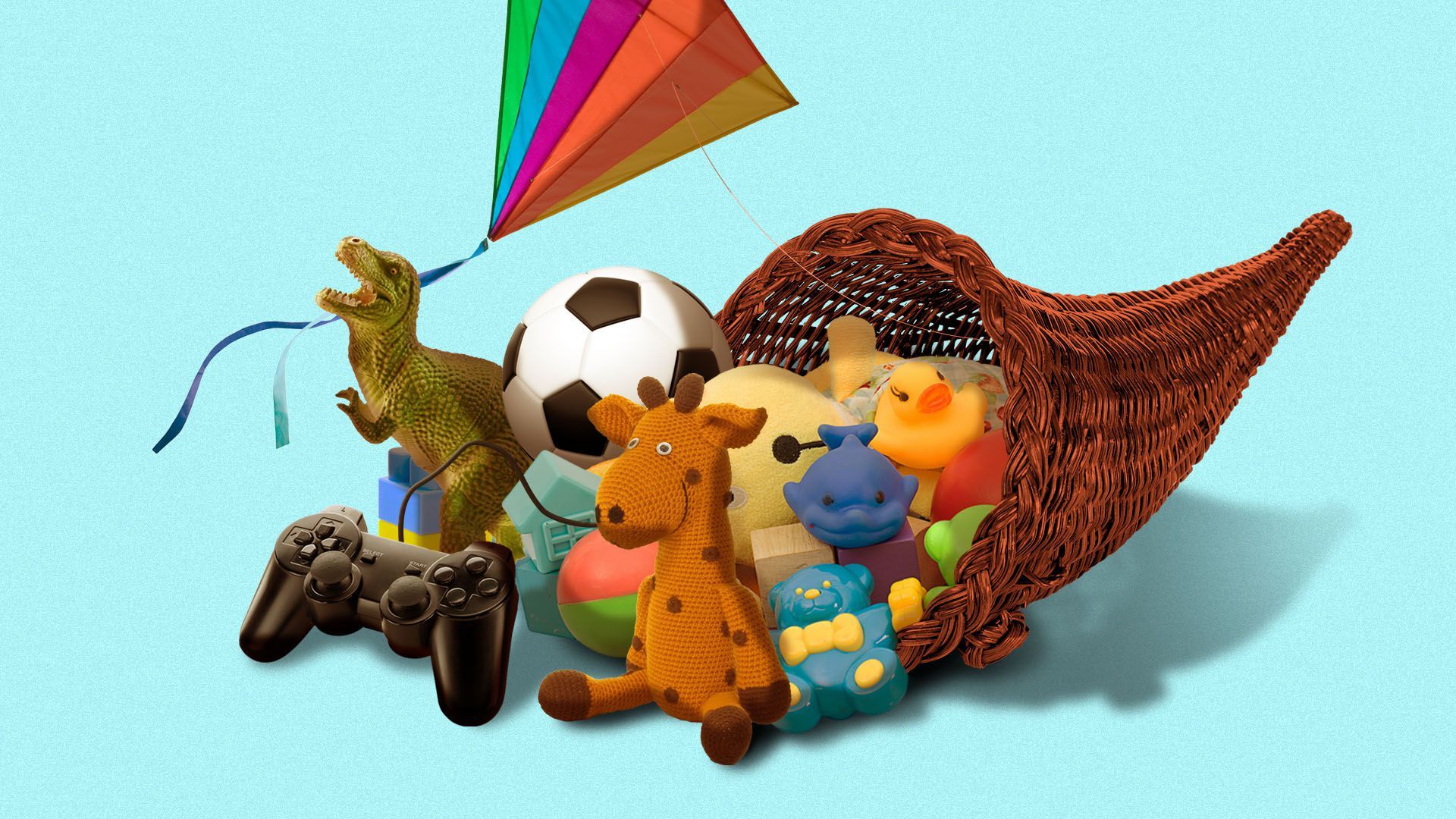 Good news for fretting parents: The doomsayers who've been sounding the alarm about 2021 holiday toy scarcities are being tempered by sanguine optimists.
Why it matters: While shopping early is definitely a good idea, fears of empty shelves and online shortages are probably overblown, given how skilled the toy industry has grown at managing global supply chains and pandemic-fueled demand for its products.
What they're saying: "I actually happen to think it's going turn out to be a better Christmas than some are painting it," Linda Bolton Weiser, managing director and senior research analyst at D.A. Davidson, tells Axios.
"Some are painting it like there's going be no toys, and I just don't think it's that extreme, because the companies have dealt in many years with different supply chain challenges."
Barron's notes that "December outages of hit toys are nothing new" and says that predictions of "Charlie Brown Christmas trees surrounded by few boxes and bows" are "decidedly overblown."
"Our conversations with retailers, manufacturers, shippers, and Wall Street forecasters indicate that businesses are learning to cope with bottlenecks," Barron's says.
Where it stands: Toy sales have been on fire lately: NPD reports that the industry's sales increased by 15% — to $22.45 billion — in the first half of 2021 compared with the same time period in 2020. (They were up 28% vs. the same period in 2019.)
For toymakers, the pressure is on: "Roughly half of all retail toy sales come in the weeks leading up to Christmas," per the Wall Street Journal. "Toys that arrive too late won't sell until they are heavily discounted after the holidays."
Prior crises — like a major dock workers' strike in 2015 — helped teach toymakers important management lessons.
"They figured out ways," says Bolton Weiser. "They got their stuff on the top of the [container] ship, they took steps to accelerate the unloading."
Some experts — including toy company executives — have warned that toy prices will rise because of short supplies, but yea-sayers scoff, saying that cutthroat competition will prevent it.
Yes, but: Who knows whether to expect a best-case or worst-case scenario.
"There's really no way for us or manufacturers to predict what items or categories will sell out when — and which items will be restocked in time for the holidays once they do sell out," says Maddie Michalik, senior editor of the Toy Insider.
Her best advice is "to assume that everything is selling out" and grab what you want when you find it.
Among the three biggest toy retailers, "Amazon has fewest out-of-stocks of the hottest toys, followed by Walmart, and then Target," says Bolton Weiser.
The bottom line: As the holiday shopping season wears on, pickings grow slimmer. "The objective of both retailers and the toy companies is to have very little inventory left on Dec. 26," Michalik says.
Go deeper