Civil rights groups sue Oklahoma over law banning critical race theory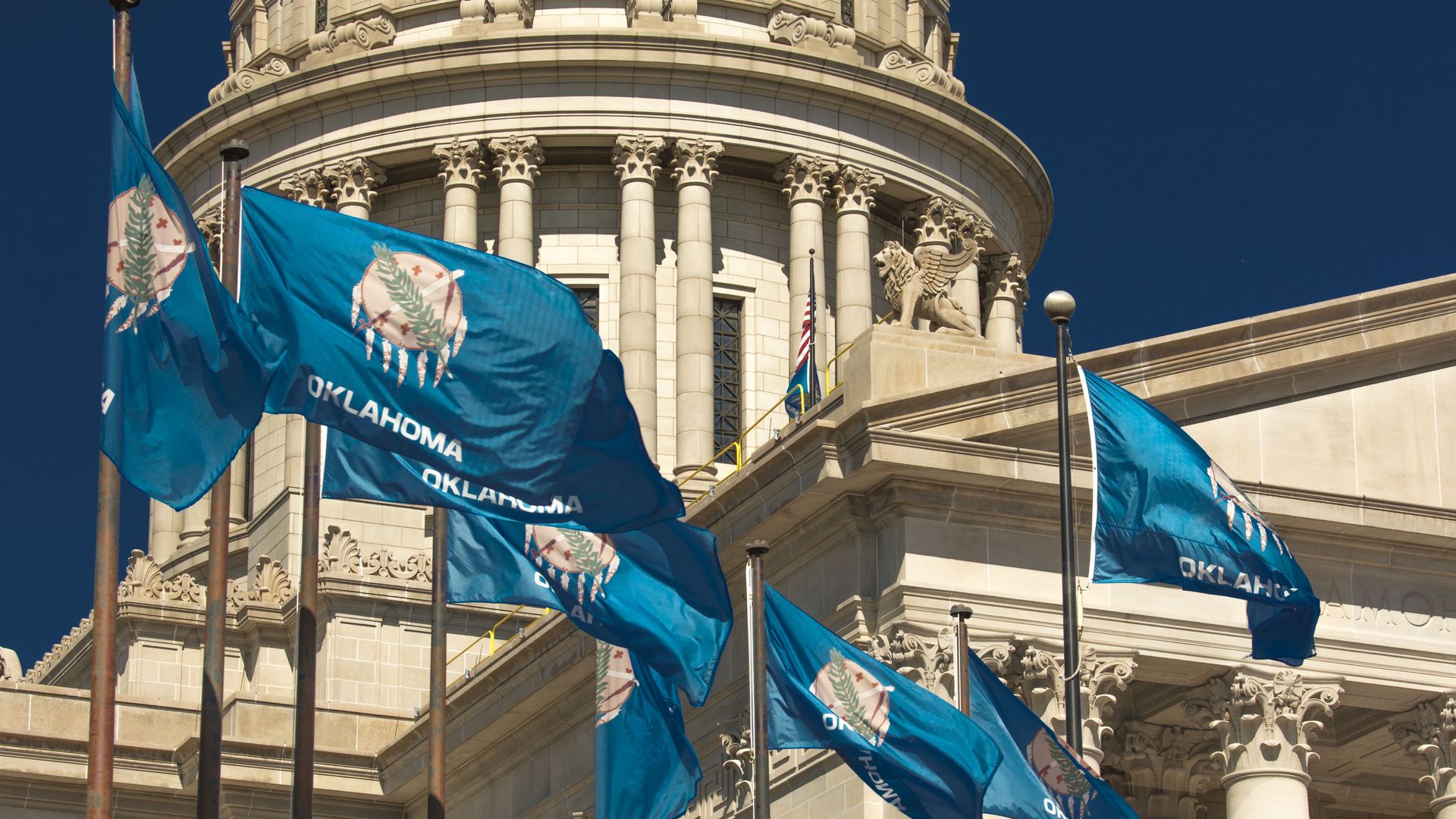 A group of civil rights organizations is suing Oklahoma over a law that restricts discussion of race and gender in public schools.
Why it matters: The law is one of several Republican-led attempts to ban critical race theory (CRT), a concept that links racial discrimination to the nation's foundations and legal system.
The rights groups' challenge is the first federal lawsuit to argue that one of these statewide bans is unconstitutional in all circumstances, according to the ACLU, which filed the suit with the Lawyers' Committee for Civil Rights Under Law on the plaintiffs' behalf.
They're also requesting that the court temporarily halt enforcement of the bill.
Details: The measure, which passed on party lines and became law in May, bars discussion of concepts including ...
"[A]n individual, by virtue of his or her race or sex, is inherently racist, sexist or oppressive, whether consciously or unconsciously."
"[M]eritocracy or traits such as a hard work ethic are racist or sexist or were created by members of a particular race to oppress members of another race."
Republicans claim it prevents racism and sexism, but the lawsuit alleges that it chills First Amendment rights and "intentionally targets and denies access to equitable, culturally relevant teaching and ideas," according to the ACLU.
As a result of the bill's passage, school districts have instructed teachers to no longer use terms like "diversity" and "white privilege" in their classrooms, the ACLU says.
Some districts have removed literary works such as "To Kill a Mockingbird" from their list of anchor texts, the organization added.
What they're saying: The anti-CRT law "is an unvarnished attempt to silence the experiences and perspectives of Black, Indigenous and LGBTQ+ people, and other groups who have long faced exclusion and marginalization in our institutions," Genevieve Bonadies Torres, associate director of the Educational Opportunities Project with the Lawyers' Committee, said in a statement.
"We bring this case to vindicate the rights of Oklahoma teachers and students and to protect the integrity of our educational institutions," added ACLU of Oklahoma legal director Megan Lambert.
The big picture: The lawsuit comes a year after Oklahoma's Education Department required schools in the state to teach the Tulsa Race Massacre for the first time, according to CNN.
The law could impact the way the massacre — as well as the state's history of violence against Native Americans, residential boarding schools and racial segregation — is taught in the classroom.
Go deeper