Biden's carbon emissions-cutting pledge faces tough climb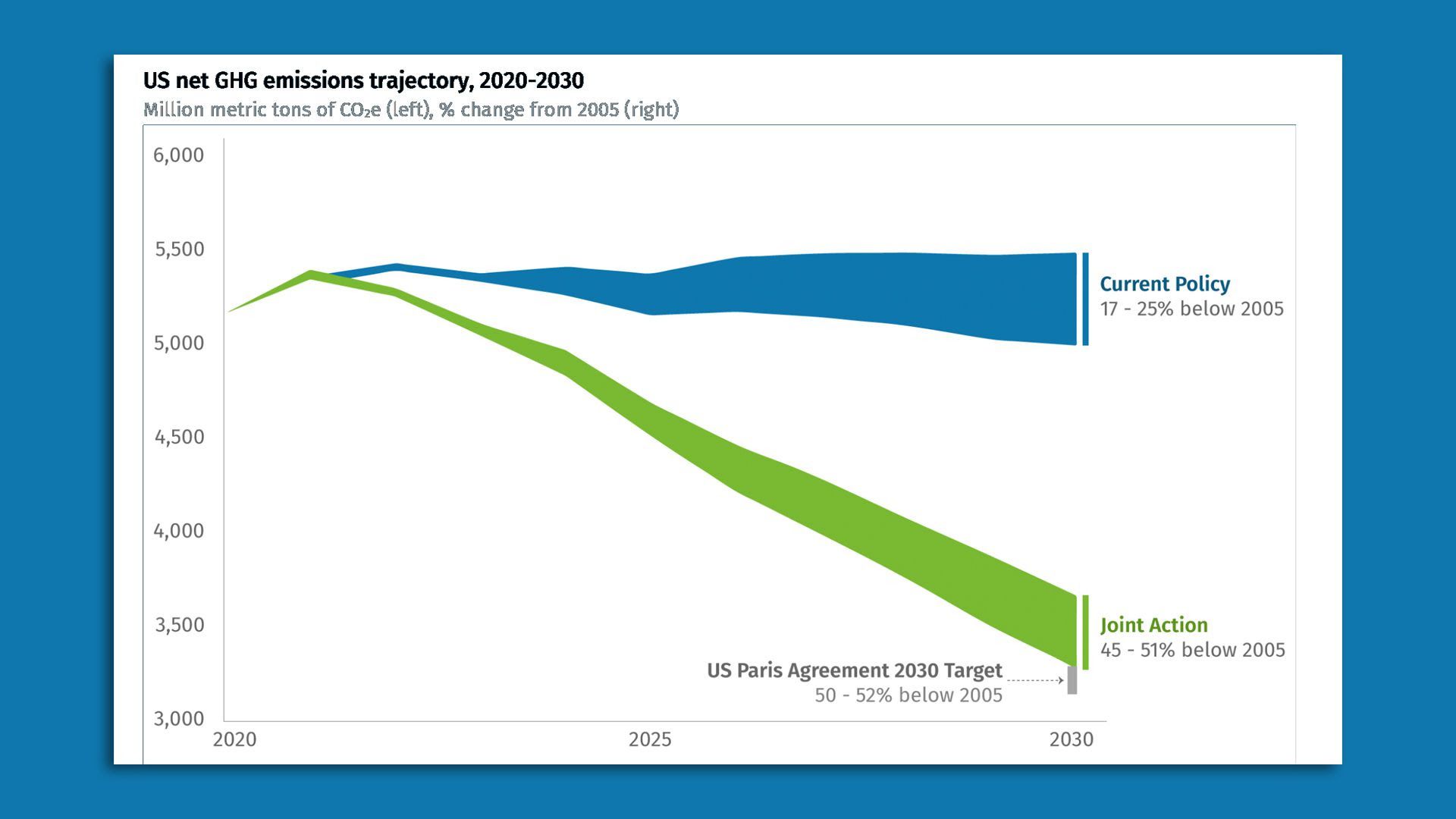 The verdict is in: President Biden's U.S. emissions-cutting pledge isn't a fantasy, but the path to meeting it is very difficult and relies on forces outside of White House control.
Driving the news: The Rhodium Group just released an analysis of policy combinations that could close the gap between the current U.S. trajectory and Biden's vow under the Paris Agreement to cut emissions in half by 2030.
Why it matters: It's the most detailed analysis I've seen of what's needed to translate the pledge into policy specifics — and it's quite a lot.
It arrives ahead of the United Nations climate summit, where U.S. officials trying to spur tougher action abroad will try to show the domestic promises aren't built on sand.
The big picture: This topline takeaway is either a glass-half-empty or half-full:
"Assuming leaders in the White House, key agencies, state capitals, and corner offices have the political will to act ambitiously, and both the congressional infrastructure bill and budget package become law, we find that reducing emissions 50% by 2030 is within reach."
Congress is "critical" to meeting the goal.
By the numbers: The gap between what's projected under current policy and achieving the target is 1.7-2.3 billion metric tons of CO2-equivalent emissions in 2030. How much is that?
On the lower end of the range, "required reductions from current policy are roughly equal to all transportation sector emissions in the U.S. today."
On the upper end, it's akin to "zeroing out emissions from the entire state of Florida every year for the next nine years."
How it works: Another takeaway is that while transportation is the biggest source of U.S. emissions, the biggest opportunities this decade are from speeding up electric power sector transformation.
In their "joint action" scenario — a matrix of executive, congressional, state, local and corporate moves — about 40% of the cuts are from power.
Zoom in: The pathway includes a dozen new steps from Congress, including a major extension and expansion of clean energy tax credits.
On the executive branch side, the list includes a suite of steps like new tougher vehicle mileage standards; it also delves into state policies that drive cuts.
The intrigue: It doesn't include Democrats' proposed Clean Electricity Performance Program or fees on methane emissions, given the high political hurdles in Congress.
Go deeper