Obama says Powell exemplified what America "can and should be"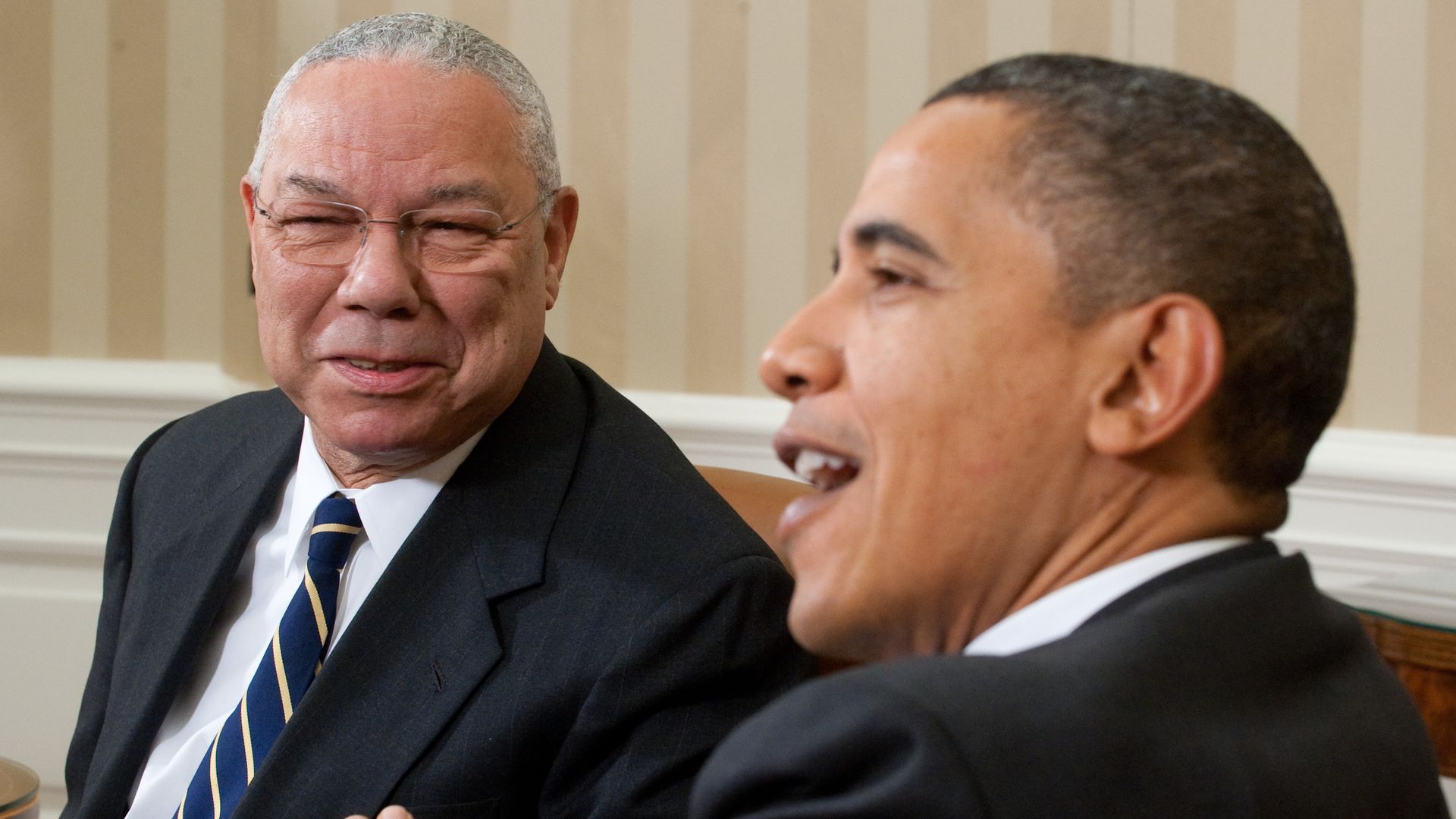 Former President Obama called Colin Powell an "exemplary soldier and an exemplary patriot" in a statement honoring the former general following his death from COVID-19 complications on Monday.
Why it matters: Powell, the first Black U.S. secretary of state, was known as a Republican but played a critical role in helping Obama get elected in 2008.
What he's saying: "Years ago, when he was asked to reflect on his own life, General Colin Powell described himself as 'first and foremost a problem-solver,'" Obama said. "It was true, of course. But he was far more than that."
Powell helped shape American policy for decades, he added. "And although he'd be the first to acknowledge that he didn't get every call right, his actions reflected what he believed was best for America and the people he served."
"He never denied the role that race played in his own life and in our society more broadly," Obama noted. "But he also refused to accept that race would limit his dreams, and through his steady and principled leadership, helped pave the way for so many who would follow."
In 2008, Powell endorsed Obama for president.
"At a time when conspiracy theories were swirling, with some questioning my faith, General Powell took the opportunity to get to the heart of the matter in a way only he could," Obama said.
"'The correct answer is, he is not a Muslim; he's a Christian,' General Powell said. 'But the really right answer is, "What if he is?" Is there something wrong with being a Muslim in this country? The answer's no, that's not America,'" Obama recounted.
"That's who Colin Powell was," he added. "Michelle and I will always look to General Powell as an example of what America — and Americans — can and should be if we wish to remain the last, best hope of earth."
The big picture: Powell was fully vaccinated, his family said. He had undergone treatment for a type of blood cancer that can weaken the immune system.
"We have lost a remarkable and loving husband, father, grandfather and a great American," his family said.
Powell is survived by his wife, Alma Vivian Powell, and three children.
Go deeper