Joby Aviation has designed an aircraft for today's systems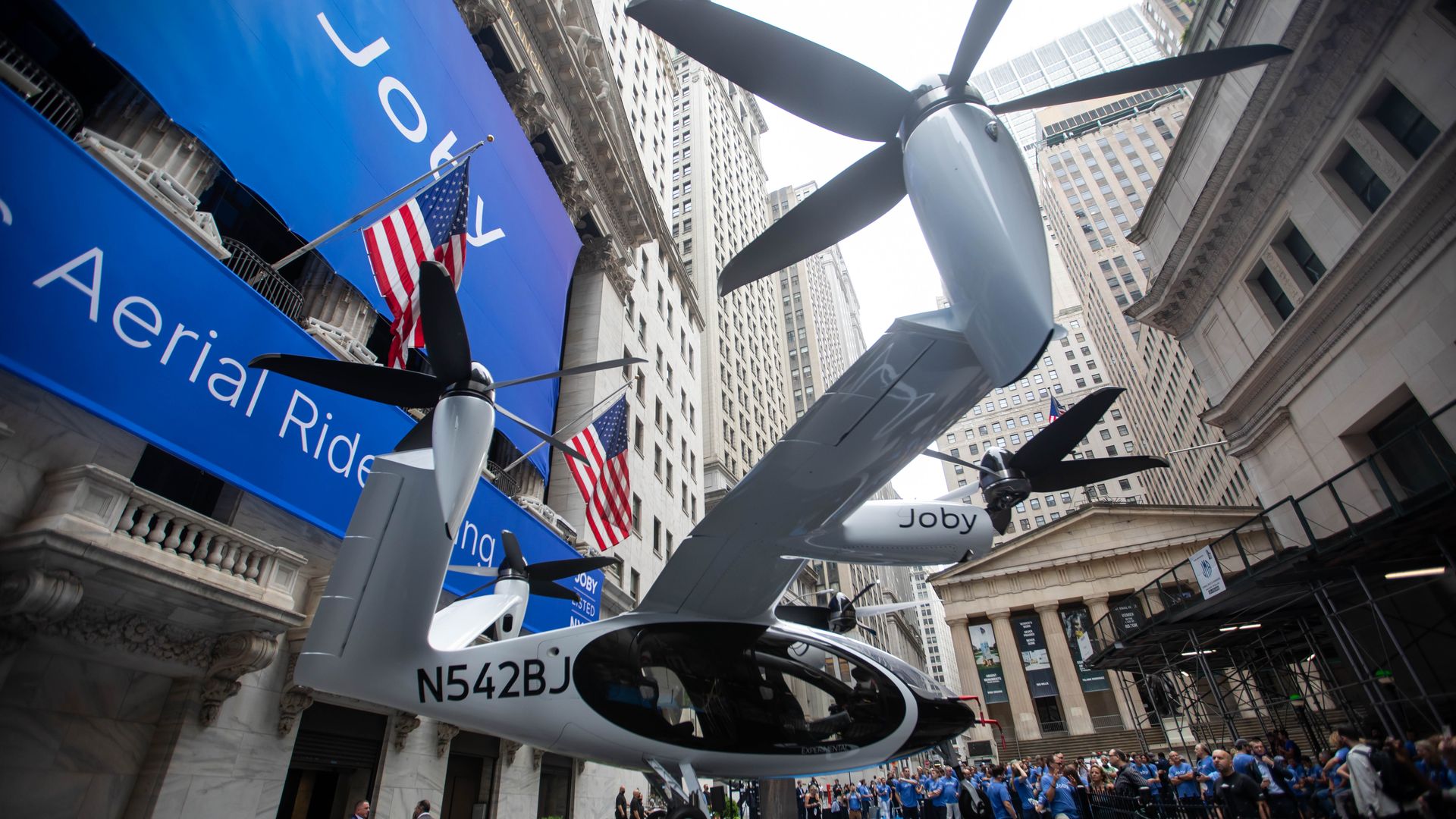 Joby Aviation, which is working to certify its electric vertical take-off and landing air taxi (eVTOL), is simultaneously thinking within and outside the box.
Why it matters: First, the plane looks like the result of a merger between a helicopter and dragonfly. Second, and here is where the traditional part comes in, Joby is designing its plane and planning its flight operations for today's air traffic system, rather than waiting for the FAA to certify new "vertiports" where eVTOL aircraft can land and take off vertically.
Pilots for Joby would have the same types of flight certificates they do now, provided under what are known as Part 135 rules, opening the company up to a larger talent pool.
Between the lines: This approach gives Joby a leg up on the competition, as does its takeover of Uber Elevate, which will allow it to show up on the Uber app as an aerial trip option for users, while also operating its own air taxi app.
It wasn't until late last week, when I tried out the Joby flight simulator in Washington, that I realized what sets this company apart: Its aircraft design.
Details: As a pilot of small planes since I was 14 (I soloed on my 16th birthday), I jumped at the chance to fly Joby's full-scale flight simulator, which the company set up for journalists and policymakers in D.C.
Like many pilots of fixed-wing aircraft, I'm intimidated (actually, terrified) by the idea of piloting a helicopter. This is because the instincts needed to master one will quickly get you into trouble in the other.
A plane in the air naturally wants to keep flying straight and nearly level. A helicopter, not so much.
Thus I was delighted by the fact that Joby's plane may look like a helicopter hybrid, but it handles like an elegant, intuitive, fixed-wing aircraft — with some noteworthy exceptions.
How it works: In the simulator, I took off from Washington Reagan International Airport and climbed to about 500 feet. I then took my hands off the controls as instructed (an Airbus-like joystick in one hand, and a "speed" control — not a throttle — in the other), and was astonished that the plane just sat there, maintaining altitude, airspeed and its angle of attack.
I practiced forward flight, and a transition to a helicopter-like landing at the Pentagon heliport, under the guidance of Greg Bowles, Joby's head of government affairs.
The plane's redundancy is comforting, with multiple small, simple electric motors across the aircraft, making a single point of failure less impactful. Another safety feature is the flight software's prevention of any pilot inputs that would put the plane outside the envelope of safe flight, similar to how modern commercial aircraft work.
Joby's planes seat four, plus the pilot, whereas competitors like Beta Technologies will seat slightly more with six passengers, and fly farther, at about 250 nautical miles.
Between the lines: Joby's aircraft has already proved to have a range of 150 miles, and NASA sound testing has shown it has a far smaller noise footprint when compared to today's fleet of executive helicopters and small planes.
In other words, when air taxis fly between locations in urban areas, it's unlikely to provoke noise complaints.
Joby is working toward an airworthiness certification in 2023, with operations starting in 2024, that would allow it to operate its electric air taxi within the air traffic environment that exists today, Bowles said.
Joby views itself as an aircraft builder and airline, and will be operating air taxi operations with conventional Cirrus aircraft first, before integrating the eVTOL planes into its fleet, Bowles said.
Yes, but: It remains to be seen whether consumers will pay for electric air taxis in droves in order to drive costs down, or find them safe, and what markets will be best suited for them.
In its slide deck for analysts this past summer, Joby pitched Southern California as an ideal market. The company believes there's at least a $500 million market in the L.A. area alone.
Go deeper