Justice Department asks Supreme Court to block Texas abortion ban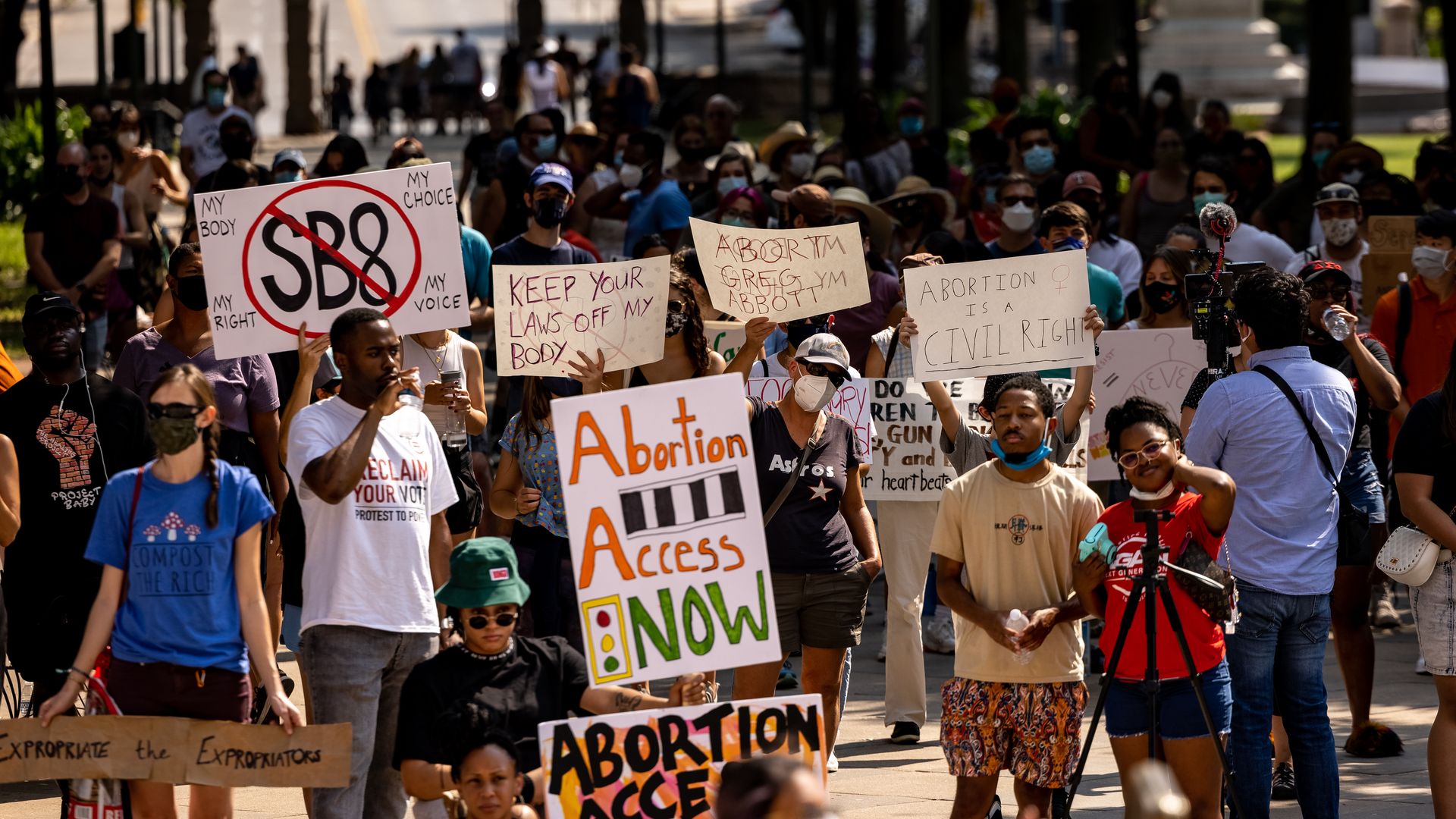 The Justice Department on Monday asked the Supreme Court to temporarily block Texas' near-total ban on abortions while federal courts consider its constitutionality.
The big picture: The court last month allowed the ban to take effect, rejecting an emergency application by abortion-rights groups. The law bars the procedure after cardiac activity is detected, as early as six weeks into pregnancy.
It is the most restrictive abortion ban to be enforced since the Supreme Court's landmark Roe v. Wade ruling in 1973.
The DOJ called the law "plainly unconstitutional."
Driving the news: Last week, a three-judge panel for the 5th U.S. Circuit Court of Appeals denied the DOJ's emergency request to suspend the ban.
The intrigue: The Supreme Court has not yet ruled on the law's constitutionality.
Instead of being formally enforced by the state, the law encourages private citizens to sue anyone who assists pregnant people with getting the procedure.
What they're saying: The DOJ said in its application asking to reverse the 5th Circuit's decision that Texas has defied Roe v. Wade "by banning abortion long before viability — indeed, before many women even realize they are pregnant."
They cited the Supreme Court's decision in the 1992 case that upheld the right to an abortion, Planned Parenthood v. Casey, which states: "[A] State may not prohibit any woman from making the ultimate decision to terminate her pregnancy before viability."
"Thus far, S.B. 8 has worked exactly as intended: Except for the few days the preliminary injunction was in place, S.B. 8's in terrorem effect has made abortion effectively unavailable in Texas after roughly six weeks of pregnancy. Texas has, in short, successfully nullified this Court's decisions within its borders."
"Texas's insistence that no party can bring a suit challenging S.B. 8 amounts to an assertion that the federal courts are powerless to halt the State's ongoing nullification of federal law. That proposition is as breathtaking as it is dangerous."
The bottom line: Allowing the law to remain in place would "perpetuate the ongoing irreparable injury to the thousands of Texas women who are being denied their constitutional rights," the DOJ said.
Read DOJ's request below:
Go deeper:
Go deeper