Colin Powell dies from COVID complications at 84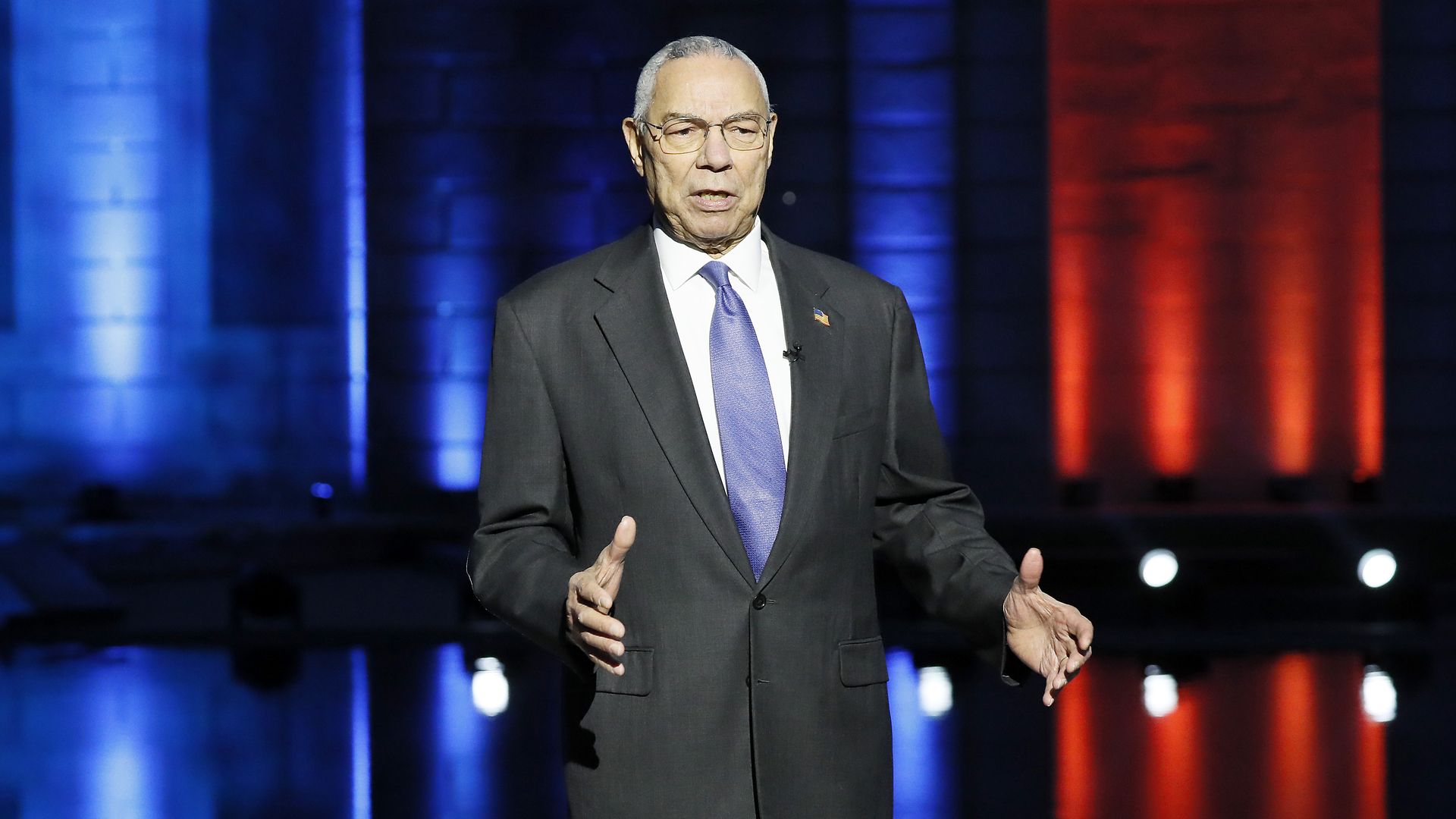 Colin Powell, the first Black U.S. secretary of state, died of complications from COVID-19, his family announced Monday. He was 84.
Driving the news: The Powell family said in a statement that he was fully vaccinated. He had undergone treatment for multiple myeloma, a type of blood cancer that can weaken the immune system, a spokesperson confirmed to Axios.
"We want to thank the medical staff at Walter Reed National Medical Center for their caring treatment," his family said. "We have lost a remarkable and loving husband, father, grandfather and a great American."
Powell is survived by his wife, Alma Vivian Powell, along with three children.
The big picture: Powell also served as national security adviser for former President Ronald Reagan from 1987 to 1989, becoming the first Black person to do so. Former President George H.W. Bush picked him to be the first Black chairman of the Joint Chiefs of Staff.
During his time as chairman, he oversaw numerous crises, including the U.S. invasion of Panama in 1989 and Operation Desert Storm in the Gulf War against Iraq.
Flashback: In 2003, Powell addressed the United Nations Security Council and spoke in favor of military intervention in Iraq. But it was later revealed that he used faulty intelligence when alleging that the Iraqi government possessed weapons of mass destruction.
Powell later called the speech a "blot" on his record, per CNN.
Of note: While known as a Republican, Powell played a critical role in helping get Democrats elected to the White House. He endorsed Barack Obama in 2008.
During the 2008 election, Powell donated to John McCain's campaign but did not support his pick for vice president, Sarah Palin, who he said was not "ready to be president of the United States, which is the job of the vice president."
During the 2016 election, Powell criticized the Republican Party, particularly then-candidate Donald Trump, for its rightward direction and endorsed Hillary Clinton. He also endorsed President Biden before the 2020 election.
In 2021, following the Jan. 6 Capitol insurrection, Powell revealed during a CNN interview that he had left the Republican Party: "I'm not a fellow of anything right now."
"I'm just a citizen who has voted Republican, voted Democrat throughout my entire career, and right now I'm just watching my country and not concerned with parties."
What they're saying: "Laura and I are deeply saddened by the death of Colin Powell," former President George W. Bush said in a statement.
"He was such a favorite of Presidents that he earned the Presidential Medal of Freedom — twice. He was highly respected at home and abroad. And most important, Colin was a family man and a friend," he added.
"Jill and I are deeply saddened by the passing of our dear friend and a patriot of unmatched honor and dignity, General Colin Powell," President Biden said in a statement.
"Colin embodied the highest ideals of both warrior and diplomat. He was committed to our nation's strength and security above all," he added.
"Above all, Colin was my friend. Easy to share a laugh with. A trusted confidant in good and hard times. He could drive his Corvette Stingray like nobody's business — something I learned firsthand on the race track when I was Vice President."
"And I am forever grateful for his support of my candidacy for president and for our shared battle for the soul of the nation. I will miss being able to call on his wisdom in the future."
Go deeper