Updated Oct 19, 2021 -

World
Activists disrupt Beijing Winter Games flame lighting ceremony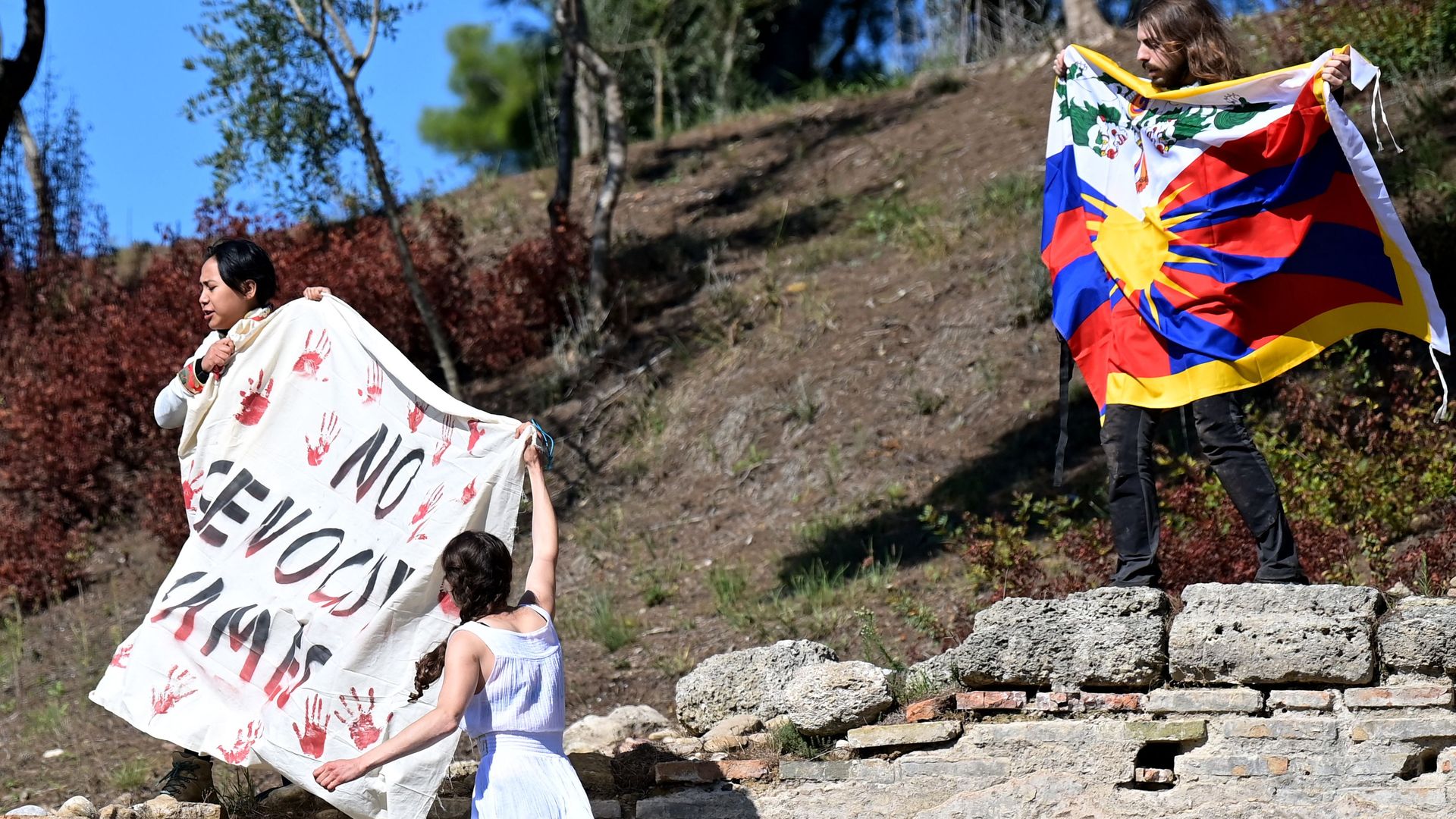 Three activists disrupted the flame-lighting ceremony for the Beijing Winter Olympics on Monday, protesting human rights violations in China.
Why it matters: There have been widespread calls to boycott the Games, including a coalition of 180 human rights groups that cites China's treatment of the Uyghur Muslims and Tibetans. However, a boycott is highly unlikely, per Axios' Jeff Tracy.
Details: The flame-lighting ceremony was held at the Temple of Hera in Greece.
Three protesters managed to reach the temple: one was carrying a Tibetan flag, the other two were carrying a sign that said "no genocide games," according to AP. They were detained by police.
One of the protesters asked, "[How] can Beijing be allowed to host the Olympics given that they are committing a genocide against the Uyghurs?"
Other protesters were present but detained before they could reach the site.
The big picture: A press conference organized by a separate group of activists in Athens on Tuesday denounced China's human rights violations as the Olympic torch heads to Beijing.
Even with tight COVID-19 restrictions and no global torch relay, activists who oppose the Beijing Olympics are still finding ways to make their voices heard.
What they're saying: In his speech on Monday, International Olympic Committee (IOC) President Thomas Bach said that the Olympics must be "respected as politically neutral ground," according to AP.
"Only this political neutrality ensures that the Olympic Games can stand above and beyond the political differences that exist in our times," Bach added, according to AP.
The organizers of Tuesday's press conference represent a united front of groups that have been targeted by Beijing's repressive policies, including Uyghurs, Hong Kongers and Tibetans.
"For over 2 years, we have urged the IOC, broadcasters, athletes, governments, sponsors to boycott the Genocide Games, but it is now up to the international community to take a stand in the face of an ongoing genocide," Zumretay Arkin of the World Uyghur Congress told Axios in a statement.
"With less than 4 months to the Beijing Olympics, the world must come together to condemn China for the ongoing Uyghur genocide in East Turkistan and the severe human rights violations in Tibet, Hong Kong, Southern Mongolia, and China," Hong Kong political activist Frances Hui told Axios in a statement.
Go deeper: New geopolitical fears surround 2022 Beijing Olympics
Go deeper