Virginia energy giant quietly boosts McAuliffe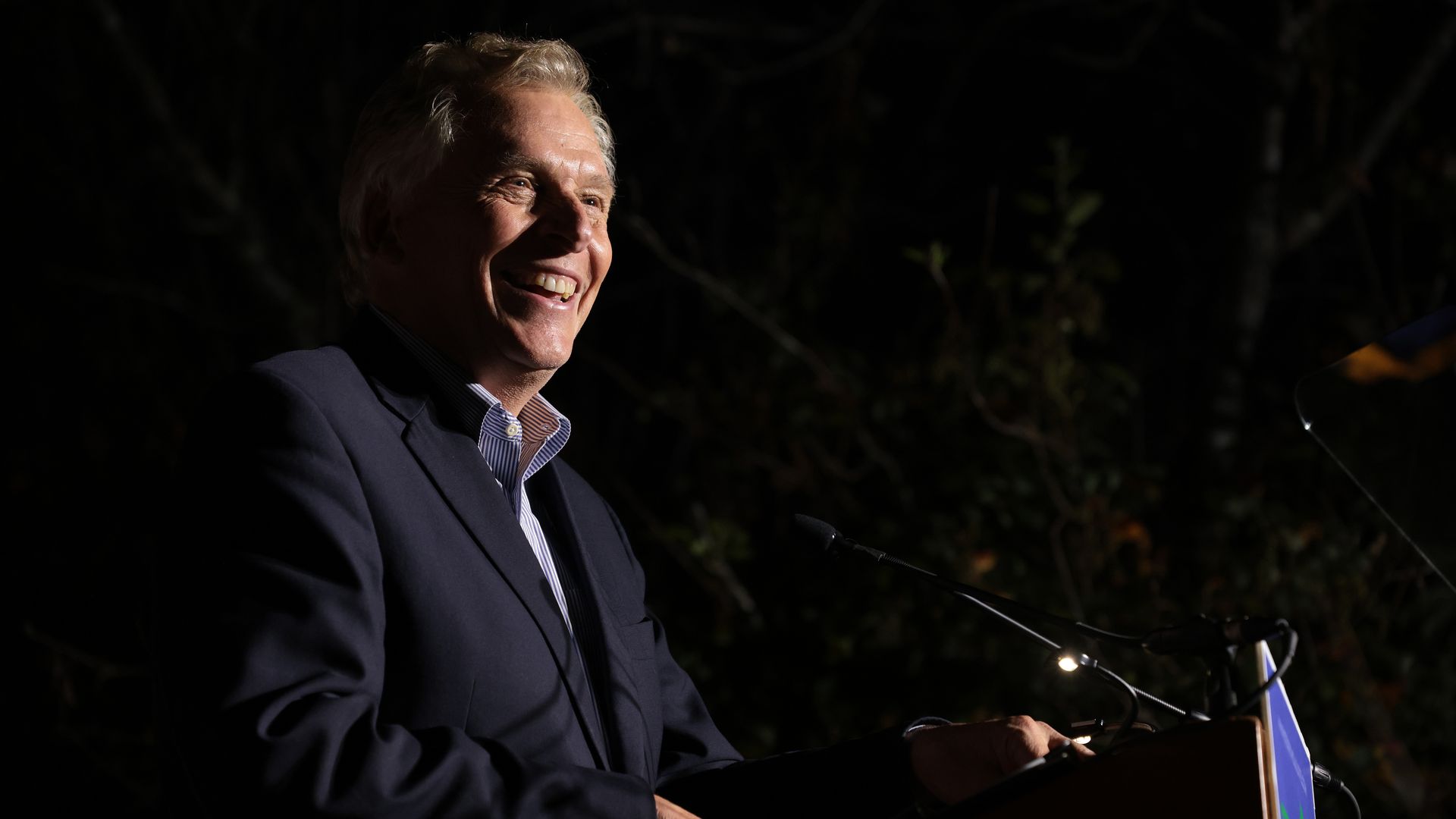 Virginia Democrat Terry McAuliffe has sworn off money from the Richmond company Dominion Energy. But the utility has found more subtle ways to back McAuliffe's gubernatorial bid, records show.
Driving the news: Dominion's political action committee has donated $200,000 to a murky political group called Accountability Virginia PAC, a group with ties to prominent Democrats that's been running ads attacking Republican candidate Glenn Youngkin from the right.
Dominion provided four cash infusions for Accountability Virginia totaling $250,000 from July through September, according to a quarterly financial report filed this month. It recalled one $50,000 payment in August.
It's the most the company has given to any statewide political committee in Virginia this year, according to disclosures on its website.
What they're saying: "Our company's political donations are disclosed monthly on the company website. We give in a bipartisan, transparent manner as our voluntary disclosures demonstrate and will continue to do so," Dominion spokesperson Rayhan Daudani said in an emailed statement.
Youngkin spokesperson Macaulay Porter called Dominion's donation an effort by McAuliffe and Virginia Democrats to "call in their special interest cronies to dump obscene amounts of money into shadowy organizations in order to protect their entrenched interests."
A McAuliffe campaign spokesperson did not respond to a request for comment.
Why it matters: Dominion's support for Accountability Virginia provides an avenue for the utility, historically one of the state's largest political donors, to back McAuliffe's candidacy even as the former governor himself refuses its financial support.
McAuliffe has said from the outset of the 2021 race that he would not accept Dominion contributions, a pledge he also made during his unsuccessful 2009 gubernatorial run.
Between the lines: Accountability Virginia PAC's messaging and tactics have nothing to do with energy or environmental policy, or even the general business climate in the state.
Instead, the group has run social media ads questioning Youngkin's commitment to gun rights.
The ads have largely targeted western Virginia, where Republicans are most heavily concentrated.
Despite hitting Youngkin from the right, all indications point to Democrats being behind the group.
Go deeper