Biden: "Being a cop today is one hell of a lot harder than it's ever been"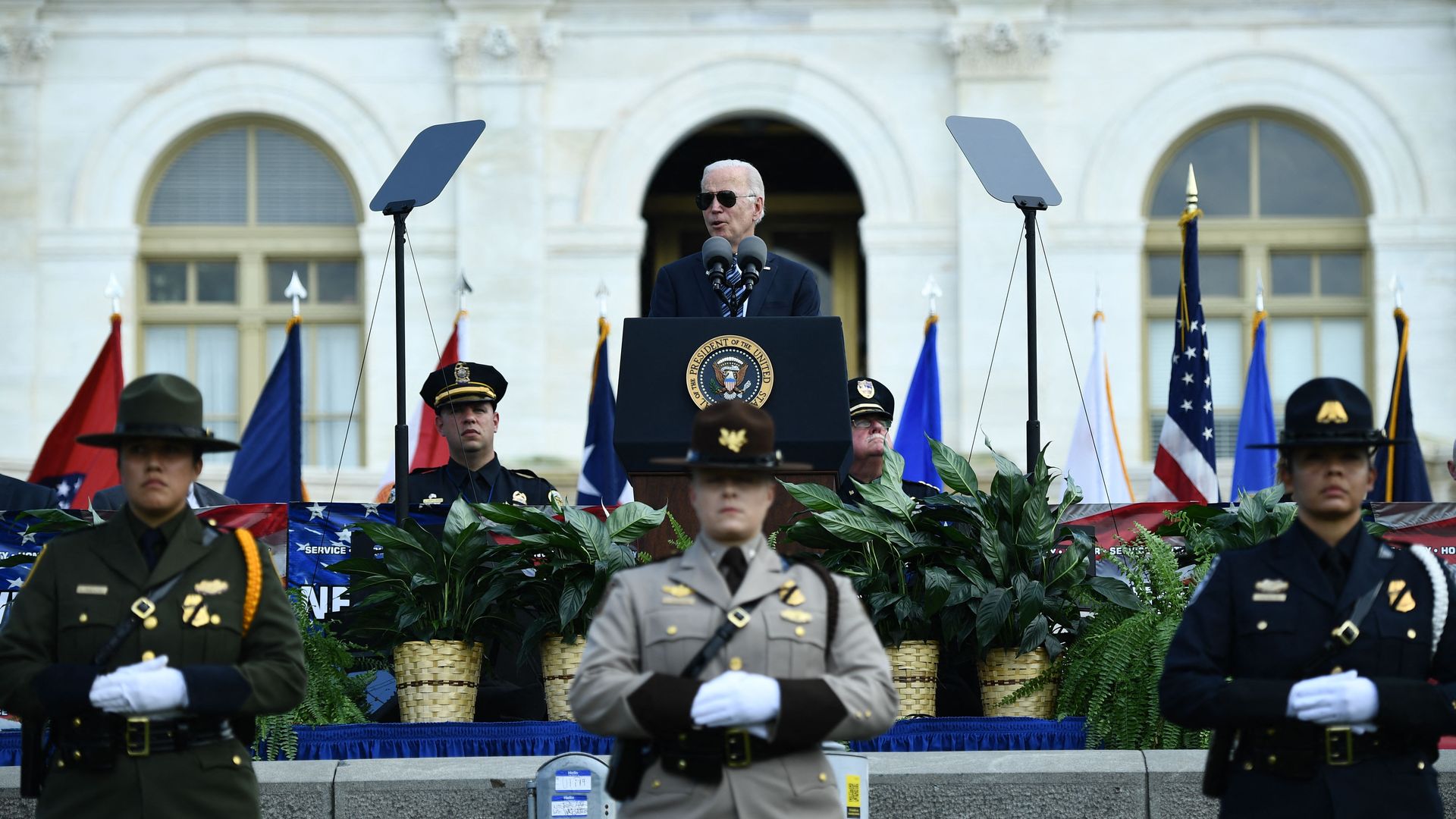 President Biden speaking at the U.S. Capitol on Saturday honored members of law enforcement who died in the line of duty in 2019 and 2020 and saluted those who are currently serving.
Driving the news: "We expect everything of you, and it's beyond the capacity of anyone to meet the total expectations. Being a cop today is one hell of a lot harder than it's ever been," Biden said.
Biden also saluted the officers who defended the Capitol during the Jan. 6 riot.
"Here nine months ago, your brothers and sisters thwarted an unconstitutional and fundamentally un-American attack on our nation's values and our votes. Because of you, democracy survived. But only because of you."
The big picture: Biden's remarks come after an attempt to pass a police reform bill, prompted by the death of George Floyd in May 2020, failed in Congress.
The president maintained Saturday that he seeks to amend aspects of the law enforcement system.
"To support our law enforcement officers requires that we invest in systems that provide adequate health care, counseling, drug prevention, housing, education and other social services in the community, so there is not the discord."
2020 was the deadliest year for law enforcement on record, Biden said.
What he's saying: "To the families of the fallen, who suffered enormous loss, understand your loss is also America's loss, America's loss, and your pain is America's pain," Biden said.
"We're waking up to the notion that unless we change the environment in which the job can be done, we're gonna have trouble having enough women and men come forward who want to do the job."
"Let us prevent the preventable tragedies. ... I believe with all my heart there's nothing you're unable to do if we equip you. We can unite this nation and fight our common foes, anger, resentment, hatred, extremism, racism, lawlessness, violence, joblessness, hopelessness."
Go deeper