Focus group: Child tax credit expansion divides swing voters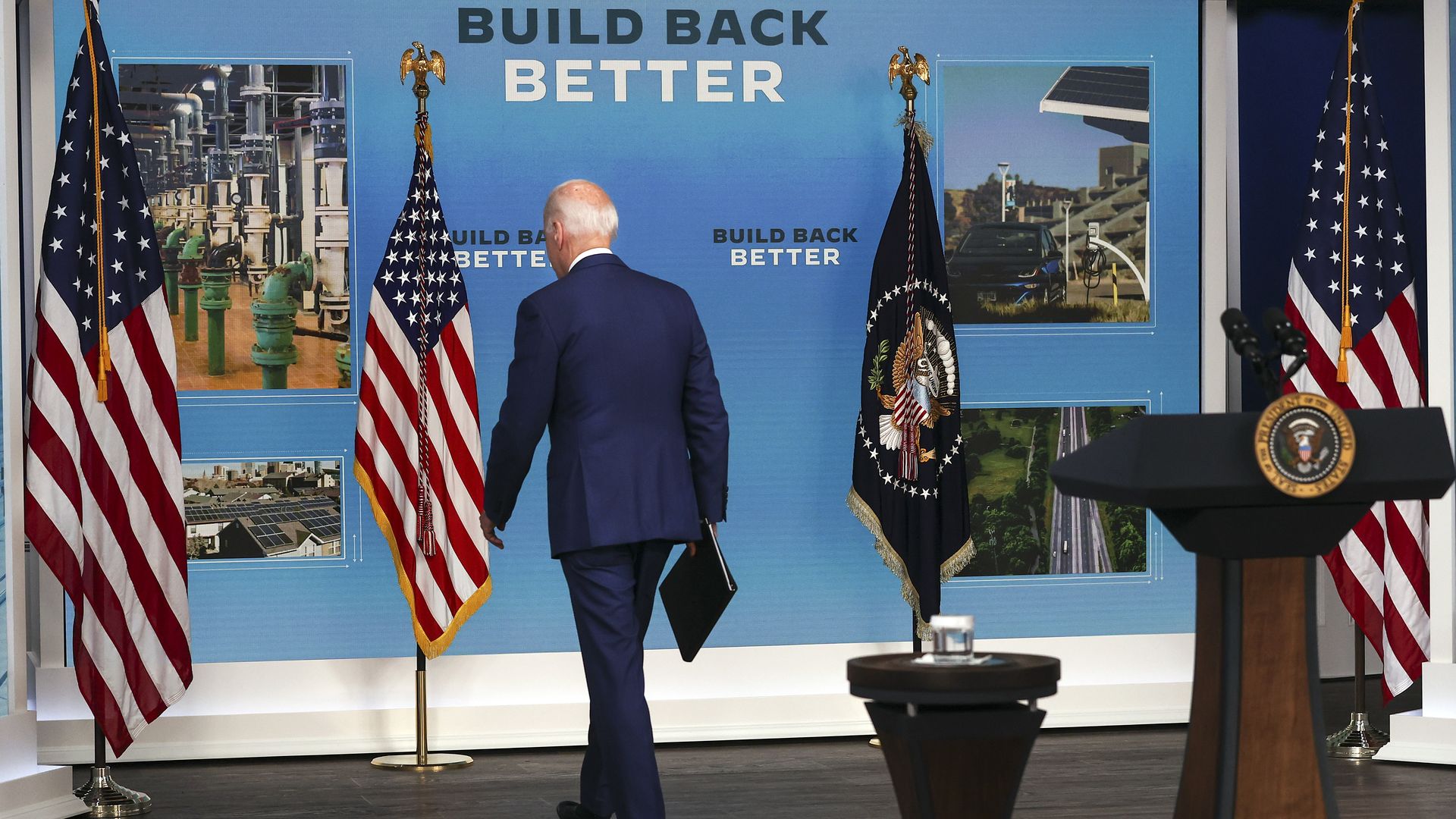 Some swing voters say the most important elements to preserve in Democrats' massive social spending package are the ones that would lower prescription drug costs, reduce pollution and make childcare or pre-K free or more affordable.
Yes, but: Considerably less popular among Trump-to-Biden voters: Extending the expanded child tax credit to 2025.
Driving the news: These were among the biggest takeaways from our latest Axios Engagious/Schlesinger focus group.
Why it matters: Democrats are weighing two competing approaches to trimming President Biden's original $3.5 trillion spending bill: Scale back the agenda to focus on a few big-ticket items, or spend much less on everything but keep many new programs.
These persuadable voters had some clear favorites.
How it works: The two focus groups conducted Tuesday included 12 men and women who live in key swing states and voted for Donald Trump in 2016 but flipped to Joe Biden in 2020.
While a focus group is not a statistically significant sample like a poll, the responses show how some voters in crucial states are thinking and talking about current events.
The big picture: Participants' answers underscored the trouble Democrats are having in getting Americans to connect the political debate to the actual menu of programs that are at stake.
Only four knew what the president was trying to push through Congress, and just one knew the plan name of "Build Back Better."
Details: All 12 participants supported having Medicare negotiate the price of prescription drugs, and 11 favored expanding Medicare to cover vision, hearing and dental.
Eleven supported clean energy and climate provisions and 10 said they were for universal pre-K and expanded child care.
But just four favored extending the pandemic-era monthly checks of up to $300 per child. The larger checks, started this spring under the American Rescue Plan, would otherwise run through the end of this year.
Between the lines: Despite the popularity of many of the programs, just three of the 12 said they want to see all of these items pass.
"We don't need all of those things. Some of those aren't cost effective, they're kind of ridiculous," said Jamie K., 36, from Michigan. Extending the child tax credit would be "throwing more money at people that we don't really need to throw" and "if we just raised the minimum wage, people could survive."
Shifa M., 24, from Texas, said the child tax credit "is just going to promote people to stay at home and not go to work because they're getting this free money handed to them."
Three voters said they know someone who's choosing not to work because of the child tax credit.
"They're going to take advantage of it, and they're going to take on more kids," said Jeff H., 53, from Georgia.
What they're saying: "Democrats risk alienating Trump-Biden voters next year if they extend the child tax credit beyond 2021," said Rich Thau, president of Engagious, who moderated the focus groups.
"The party's clean energy, Medicare, and childcare/pre-K proposals are much more popular."
The intrigue: Looking ahead to 2024, the focus group participants said given two hypothetical alternatives they would prefer President Biden stay the course and seek a second term, despite his sagging popularity, than pass the baton to Vice President Kamala Harris.
Only one said they could articulate Harris' role in the administration.
Asked about a hypothetical matchup between Harris and Trump, three said they'd vote for Harris, four said they'd go back to Trump, one said neither and four were undecided.
Go deeper