Definition of success at UN Climate Summit is in flux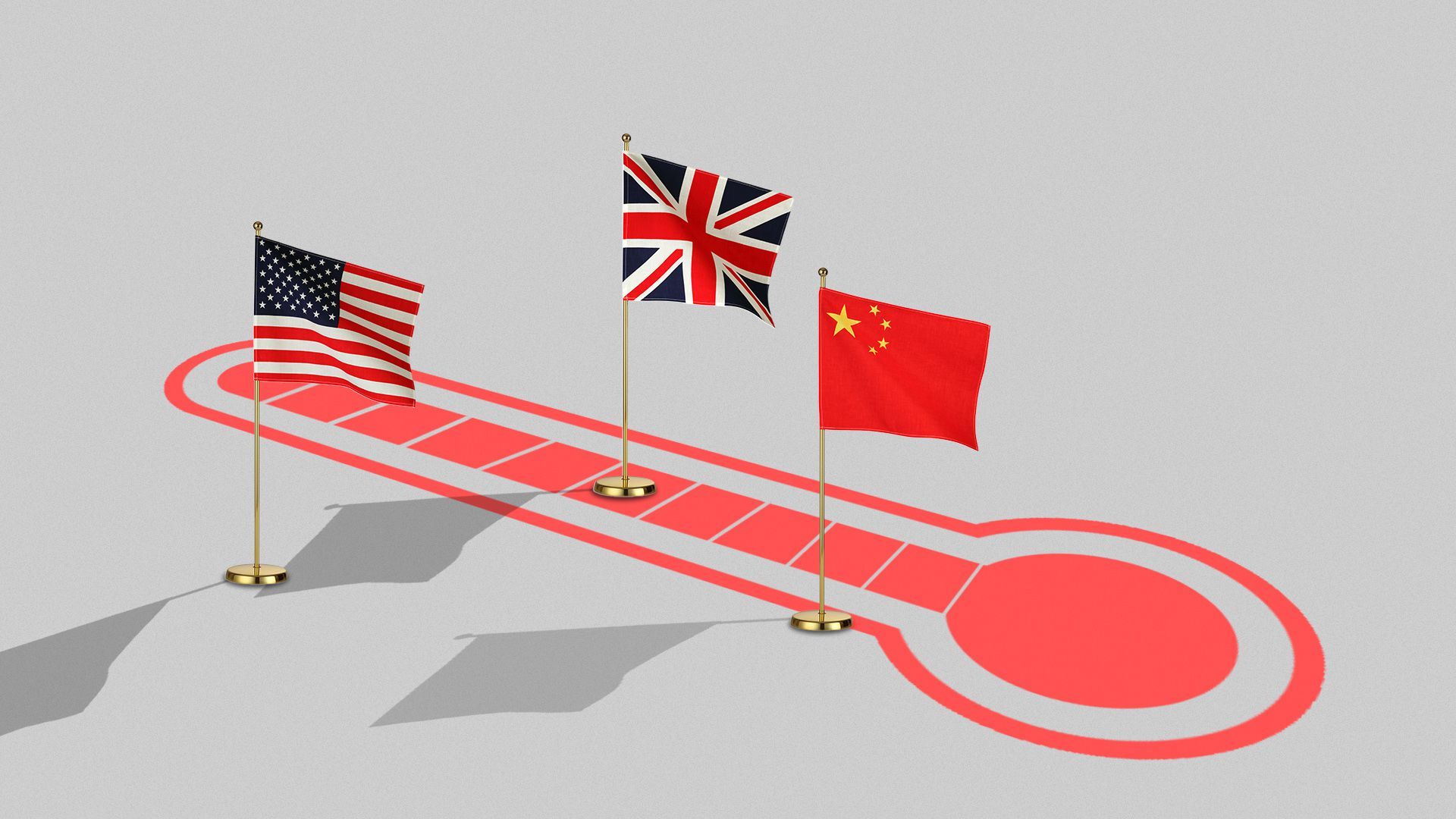 The UN Climate Summit in Glasgow is less than 20 days away, and diplomats have entered a crucial period when expectations are raised or lowered to guard against any blowback that might come from a particular outcome.
Driving the news: Officials in the U.S. and abroad are sending clear signals that the odds that COP26 will meet some of its most important goals are diminishing, for a variety of reasons both macro and micro in scale.
The latest: U.S. special climate envoy John Kerry raised eyebrows in an AP interview published Thursday when he said there will be "gaps" between the emissions pledges secured at COP26 and the cuts needed to meet the Paris Agreement's most ambitious temperature target.
This target would limit global warming to 1.5°C (2.7°F) above pre-industrial levels by 2100 — a threshold for avoiding some of the greatest harms.
But meeting it would require a 45% global cut in carbon dioxide emissions by 2030 — a staggering turnabout from current trends
What they're saying: "It would be wonderful if everybody came and everybody hit the 1.5 degrees mark now," Kerry told the AP. "That would be terrific. But some countries just don't have the energy mix yet that allows them to do that." It's one of several such warnings he's provided recently.
Kerry also blamed the Democrats' failure to pass robust climate legislation for slowing momentum and hurting U.S. credibility going into Glasgow.
White House press secretary Jen Psaki later said the president's climate agenda does not start or finish with COP26 and played down the ramifications for the summit of climate legislation.
Meanwhile... UN officials and UK leaders, including Prime Minister Boris Johnson, have also been saying that some of the summit's goals are in doubt. Johnson recently estimated there's a 60% chance of meeting a promised $100 billion annual commitment from industrialized countries to help developing nations cut emissions and adapt to climate impacts.
Yes, but: Tina Stege, climate envoy for the Marshall Islands, a low-lying island nation, told Axios there is still momentum heading into Glasgow, "with positions still evolving."
"The RMI and our close partners across vulnerable regions remain deeply committed to seeing 1.5-[degree] aligned plans... If there are gaps, then we need to address those head on," she said.
Be smart: Getting every nation to agree on a slate of policies is tough enough in the best of times. But there has never been a COP held amid the level of geopolitical strife and disruption present today, one veteran of international climate negotiations dating back to the 1990s tells Axios.
The response to COVID-19 widened the gap between rich and poor nations and generated distrust.
There's also a deepening energy crisis, and hostility between the U.S. and China, the top two greenhouse gas emitters.
These geopolitical factors alone argue against major breakthroughs at COP26, the source said, adding there's also a lack of clear deliverables to guide diplomats toward when entering the talks.
In Paris in 2015, for example, there was the Paris Agreement text for leaders to flesh out.
What we're watching: New emissions reduction commitments and climate finance pledges just ahead of the summit.
Go deeper