Freed Venezuelan opposition leader sees hope for elections breakthrough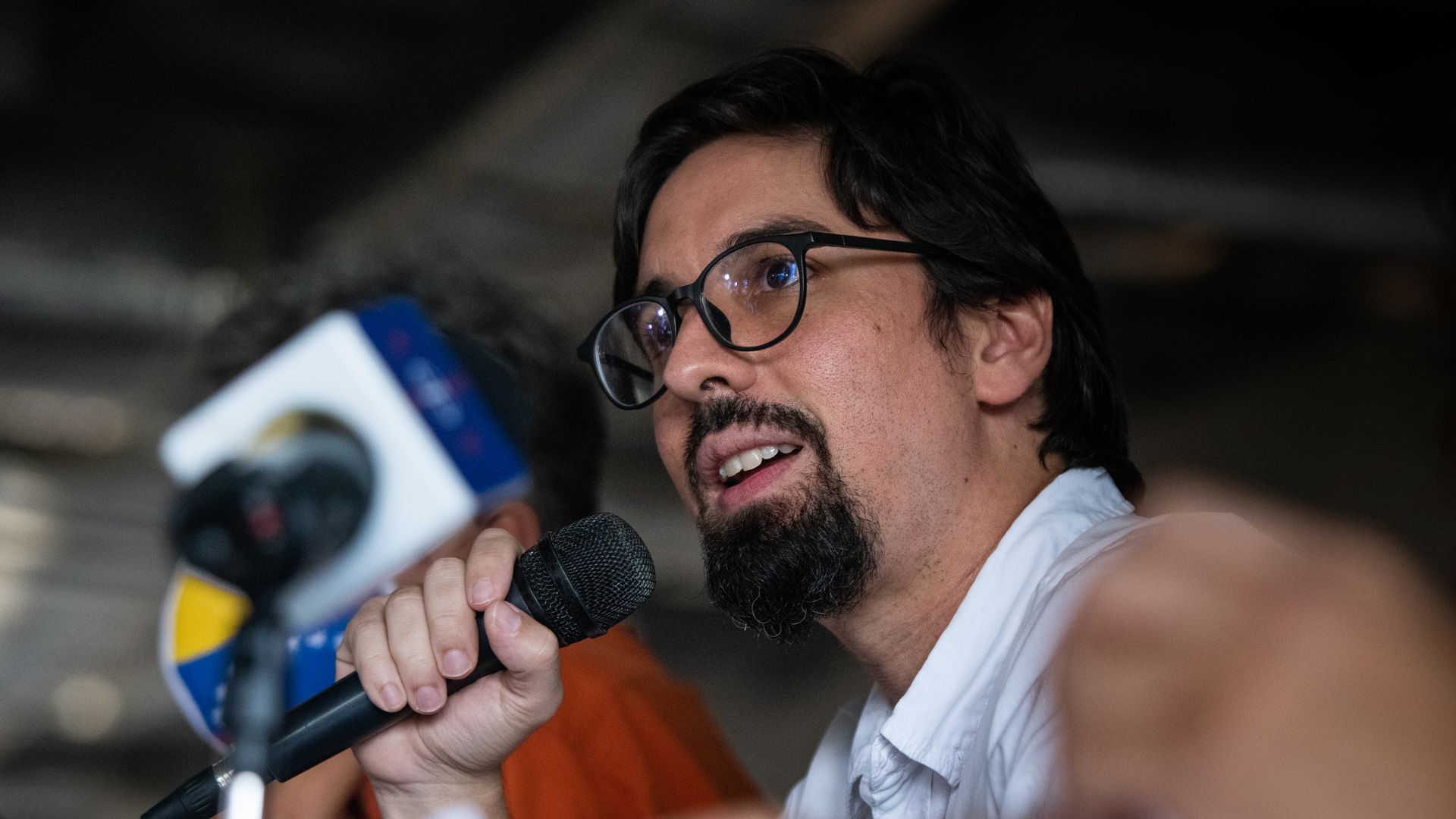 Venezuelan opposition leader Freddy Guevara has lost his freedom twice at the hands of Nicolás Maduro's regime, but he now sees a "window of opportunity" to bring about free and fair elections.
Why it matters: Guevara and other opposition delegates have been holding negotiations in Mexico with officials from Maduro's government since September. The opposition is pressing for free presidential elections, while Maduro's side wants sanctions relief and access to Venezuelan assets overseas.
Some of those assets are frozen, while others are held by the government of Juan Guaidó, whom the U.S. recognizes as Venezuela's legitimate interim leader.
What he's saying: Four previous sets of negotiations with Maduro since 2014 have collapsed, and the opposition "cannot guarantee that [the current talks] are not going to fail," Guevara told Axios in an interview.
Yes, but: "We are convinced we need to … attempt right now because we see a window of opportunity."
"We believe they need to happen and we need to try with good faith and effort, but without being naive," said Guevara, who was released from jail in August in order to take part in the talks.
The state of play: The negotiations, mediated by Norway, have already yielded agreements on humanitarian issues, such as child nutrition programs and the pandemic response. Now, Guevara says, "the main topics" will be on the table.
The opposition is specifically asking for the next presidential elections, not scheduled until 2024, to happen "as soon as possible," Guevara says, since the results of the 2018 election, which Maduro won, were not recognized by the opposition, the U.S. and most Western countries.
They're calling for reform of the National Electoral Council — which is fully controlled by the Maduro regime and has overseen a series of fraudulent elections — and for a new judicial system with independence from Maduro.
Maduro and his top lieutenants are under international sanctions, which they hope will be lifted. They also want the opposition to recognize the government as legitimate, and to access the overseas funds.
Guevara says now is the time for negotiations, while Maduro is under strong international pressure — including a U.S. indictment on drug trafficking charges and accusations of crimes against humanity.
Between the lines: The opposition has tried to generate new international momentum against Maduro after a nearly three-year stalemate, but Venezuela has become a relatively low priority in Washington, and backing for Guaidó in Europe has faltered.
The backstory: Guevara was arrested in July and accused of "terrorism" and "treason," among other charges. He was released a month later to replace Carlos Vecchio, Guaidó's ambassador to the U.S., at the negotiating table.
Maduro's delegates opposed Vecchio's participation, but the opposition said Vecchio would only step aside if Guevara was freed from imprisonment and allowed to replace him.
Guevara previously spent three years living inside the Chilean embassy while facing the threat of arrest by the government.
Meanwhile, the opposition is planning to take part in state and local elections in November after three years of boycotting all elections.
Guevara argued that, because these were not federal elections, they would not compromise the opposition's core position that the Maduro regime is illegitimate.
He said the opposition recognizes that the elections will be fraudulent, but believes they offer an opportunity to mobilize the Venezuelan population against Maduro.
What to watch: The opposition estimates that the negotiations will last approximately six months, according to Guevara.
Go deeper: The inside story of the failed uprising against Maduro.
Go deeper