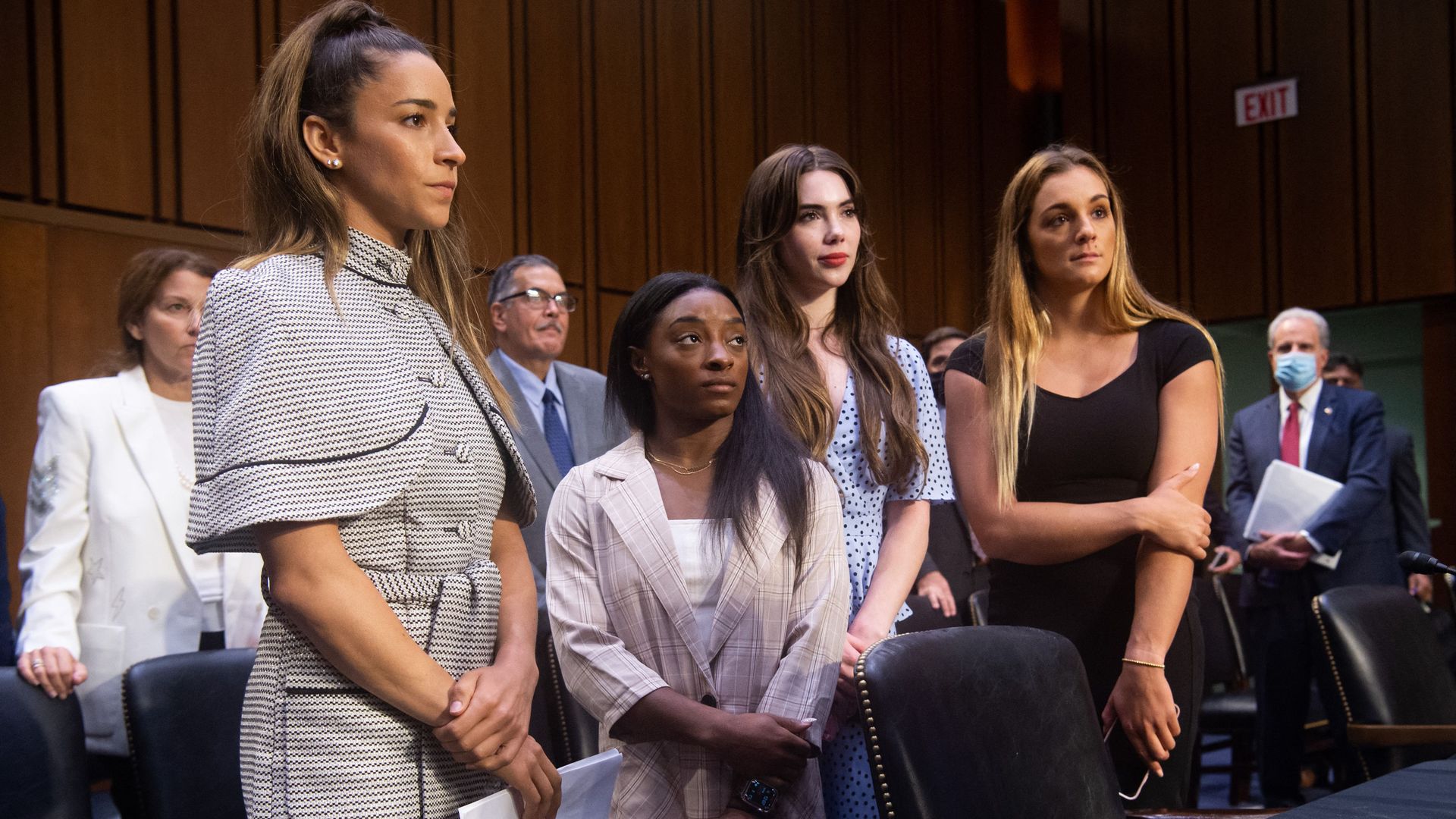 Four American gymnasts asked Congress to dissolve the U.S. Olympic & Paralympic Committee board of directors on Wednesday over its handling of the Larry Nassar sex abuse scandal, per the Wall Street Journal.
The big picture: Simone Biles, Aly Raisman, McKayla Maroney and Maggie Nichols allege in a letter to Sens. Richard Blumenthal (D-Conn.) and Jerry Moran (R-Kan.) that the USOPC learned of the Nassar abuse reports in 2015, around the same time as USA Gymnastics, but "took no investigative action," according to WSJ.
Why it matters: The gymnasts say that some USOPC officials who were active in 2015 and 2016 "remain in positions of influence and power."
Then-U.S. Olympic Committee chief executive Scott Blackmun ultimately resigned in 2018 in the wake of the scandal, but members who agreed to a generous severance package remain on the board, according to the gymnasts' letter.
Context: Moran and Blumenthal previously co-authored legislation in response to the Nassar scandal that is designed to protect athletes from abuse in U.S. Olympic and Paralympic sports.
The law, which is due to take effect at the end of October, will allow Congress to decertify national governing bodies, like USA Gymnastics, and dissolve the USOPC board, according to the OC Register.
Of note: All four testified in the U.S. Senate last month about the abuse, with Biles, a four-time Olympic gold medalist, accusing U.S. Olympic officials, in addition to the FBI and USA Gymnastics, of failing to stop the sexual abuse.
What they're saying: "We make this request after years of patience, deliberation, and unrequited commitment to learn from our suffering and make amateur sports safe for future generations," the gymnasts wrote, according to WSJ.
"We believe the Board's past actions demonstrate an unwillingness to confront the endemic problems with abuse that athletes like us have faced and a continued refusal to pursue true and necessary reform of the broken Olympic system."
Go deeper