Low vaccination rates exacerbate America's caregiving crisis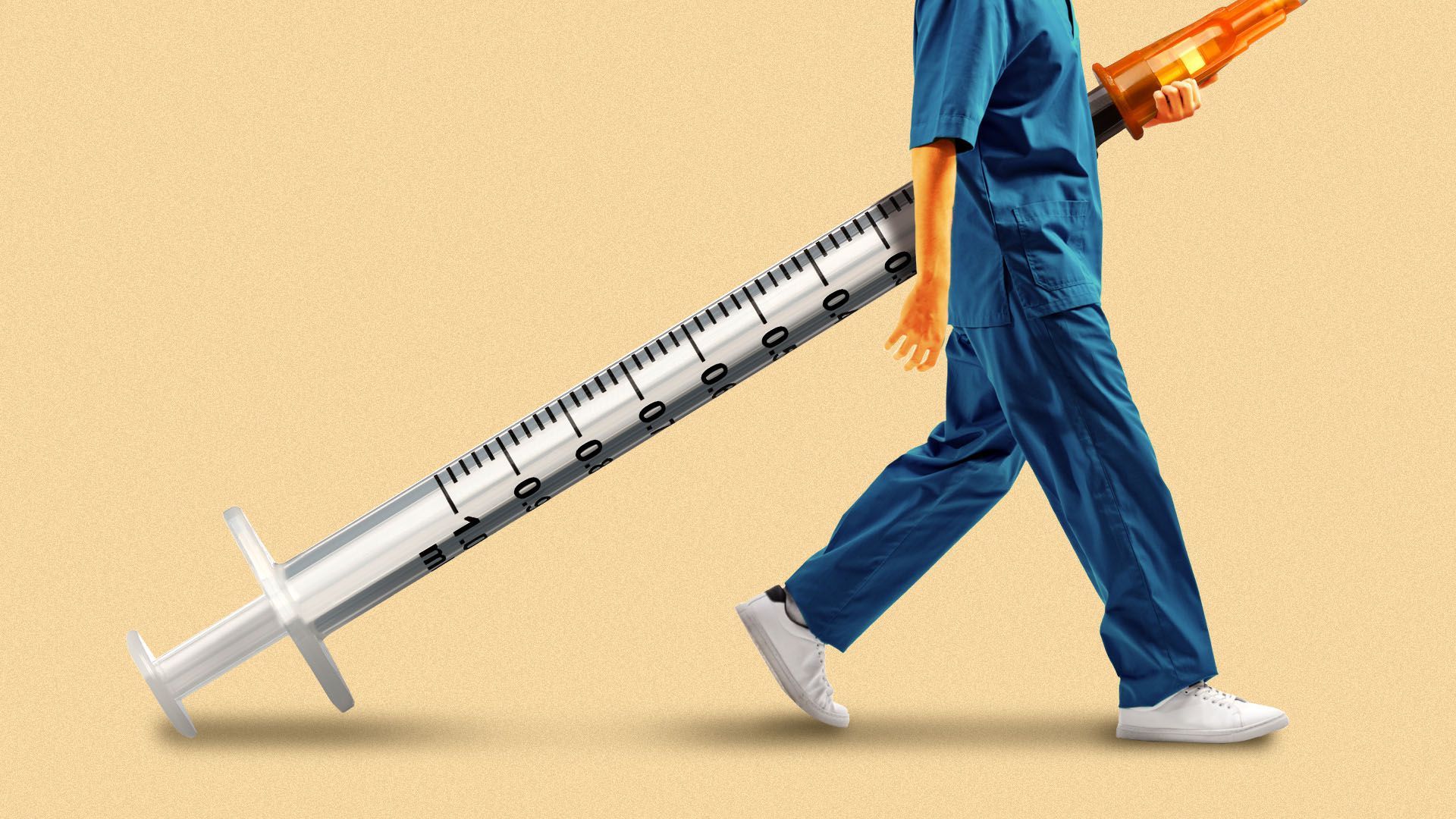 American families shouldered an enormous burden caring for family members even before the pandemic, and a shortage of professional caregivers now is only likely to make that burden heavier.
The big picture: Nursing homes and other long-term care settings have seen a staff exodus both during and after the pandemic, especially when they've imposed vaccine mandates — poking new holes in a system that was already full of them.
"We have this terrible tradeoff right in a lot of parts of the country where we can either have staff working who aren't vaccinated and put our older adults at risk, or we can be short-staffed and that also puts older adults at risk," David Grabowski, a health policy professor at Harvard, told Axios.
"We've not valued older adults or the people who care for them for a long time and this is what happens when you have a pandemic like this hit," Grabowski said.
By the numbers: Health care employment is down by 524,000 jobs since February 2020. Nursing and residential care facilities account for about 80% of the losses. Last week's jobs report showed another 38,000-job decline in nursing and residential care.
"We are losing more people than we can recruit," Gayle Kvenvold, CEO of industry trade group LeadingAge Minnesota told the Minneapolis Star Tribune about concerns in her state. Seven in 10 nursing homes and 29% of assisted-living facilities have limited new admissions as a result.
Scores of low-wage health care workers are choosing to find new jobs rather than comply with vaccine mandates.
Between the lines: The kind of care delivered in nursing homes and assisted-living facilities has long been a patchwork in the U.S.
It's expensive, it's hard for all but the poorest patients to get insurance coverage for it, and facilities offer widely differing levels of care. It's mostly been family members that have filled in the gaps.
Now families will have an even tougher choice: shouldering more of this day-to-day work themselves; turning to short-staffed facilities (if they can afford the bill); or risking relatives' health in facilities that don't have vaccine mandates.
Unpaid caregiving is a burden that has traditionally fallen disproportionately on women — as has child care, which is facing its own pandemic crunch.
More than four in ten women have provided care for either an adult family member or friend, or for a child or grandchild during the pandemic, according to an AARP poll released last month. More than half of Hispanic women over 40 were a caregiver during that pandemic.
The bottom line: "Most of the paid caregivers are women so this is an issue of sexism both in that we don't pay these workers a living wage. But because we don't, this falls on families where most of the caregiving is still done by women," Grabowski said.
Go deeper