Record number of U.S. workers quit their jobs in August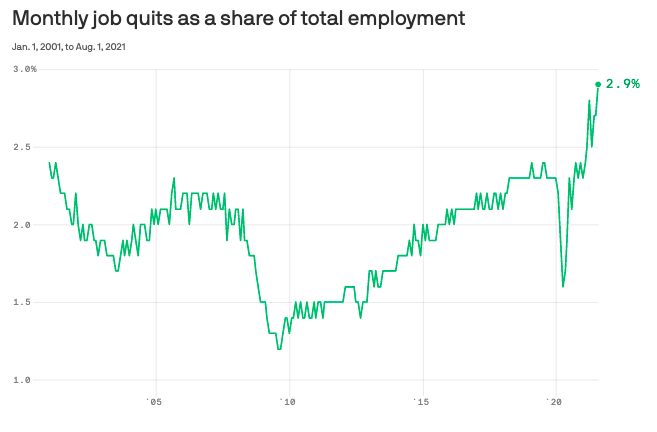 New government jobs data released Tuesday helps paint a clearer picture of the impact the Delta variant had on the stalled jobs recovery in August. In a nutshell, more people quit their jobs, and companies pulled back on job openings.
Why it matters: The number of new jobs created in August (366,000) was a stark slowdown from July's 1 million — and a reality check for investors and economists.
This week's Job Openings and Labor Turnover Summary (JOLTS) report puts meat on the bones of how that played out.
By the numbers: The rate of quits increased to its highest level ever, at 2.9% of the workforce.
Layoffs remained at record lows as companies tried to hold on to employees — but notably, they pulled back on new job openings.
Total job openings receded to 10.4 million, from a record high 11 million in July.
Go deeper: In leisure and hospitality, one of the sectors most impacted by the Delta variant, the pullback was pronounced.
Quit rates there were more than double the overall average. And employers cut back on job openings by 10.5%, twice the 5% retreat across all industries.
The bottom line: "The tepid employment growth we have seen in recent months has been at least partially the result of a decline in hiring appetite. The question is whether this is a temporary speed bump due to a surge in COVID cases or if demand will continue to slacken in the months ahead," wrote Indeed Hiring Lab's Nick Bunker in a research note.
Go deeper