Doctors' challenge with aspirin guidance: It's hard to know who's taking it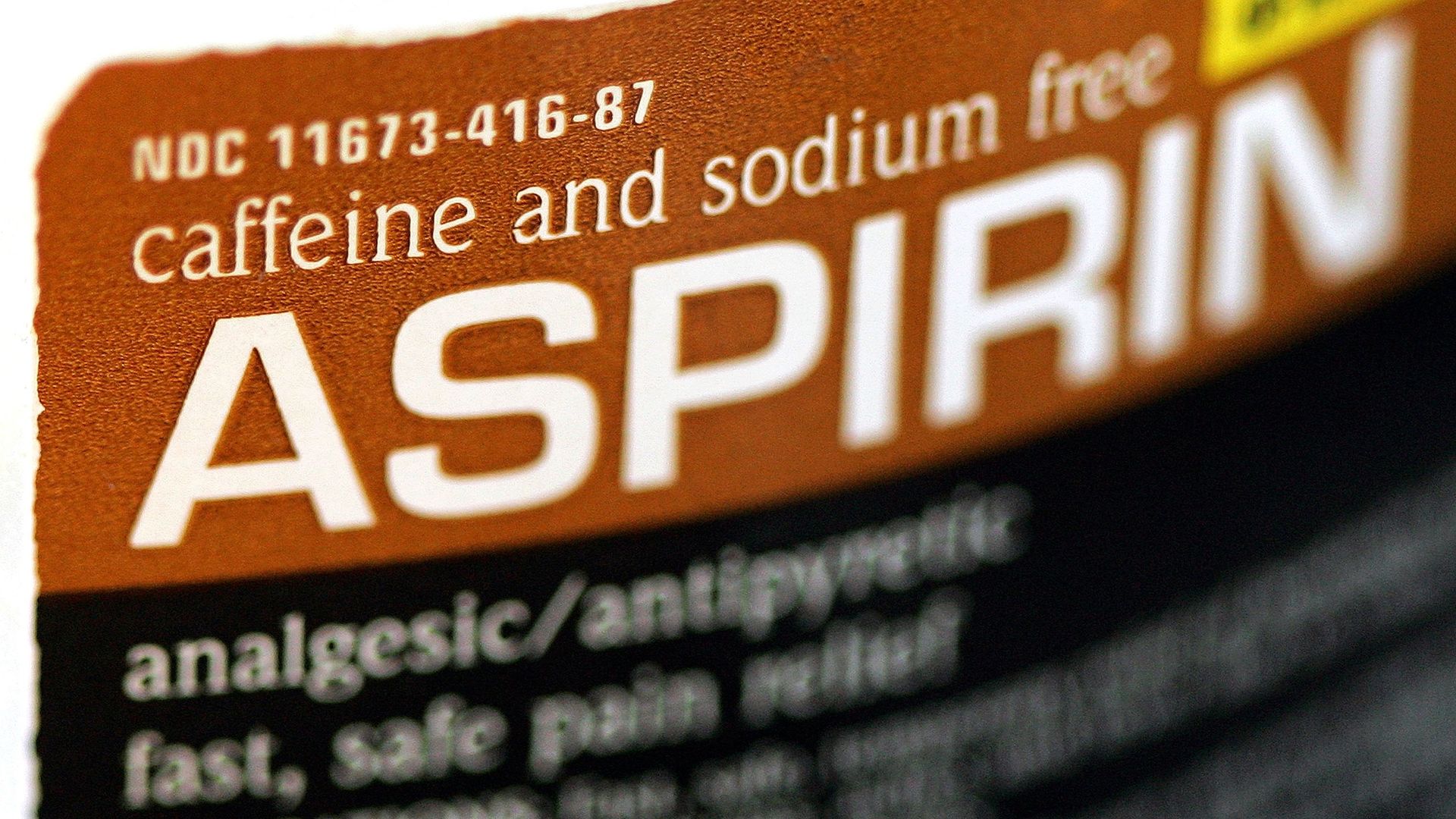 In a reversal, new draft guidance warns adults who do not have a history of heart disease or stroke should not take baby aspirin. But millions of patients may have been taking the blood-thinner without their knowledge.
Why it matters: With heart disease as the top killer in the U.S., persistent recommendations from doctors portrayed a blanket statement to the public that middle-aged people should be taking baby, or low-dose, aspirin.
What they're saying: "Aspirin is one tool or one option we have but it shouldn't be the only one," Chien-Wen Tseng, member of the U.S. Preventive Services Task Force, tells Axios. "It's on top of everything else that we really could be doing to stay healthy."
Context: Despite the 2016 recommendation, there were some groups in the medical community who felt it wasn't as clear-cut.
Steven Nissen, chair of cardiology at the Cleveland Clinic and critic of the panel's 2016 recommendation at the time, said then that he was concerned more aspirin use would do more harm than good, the New York Times reports.
The Food and Drug Administration in 2014 began recommending against using aspirin to prevent a first heart attack or stroke. The drug could prevent additional heart attacks or strokes in patients who have already had a heart attack or stroke, the agency recognized.
State of play: As a blood thinner, aspirin can help head off heart attacks and strokes by preventing clots from forming in the blood vessels that lead to the heart or brain.
Daily low-dose aspirin— 81 milligrams to 100 milligrams — in people 60 years or older has no net benefit due to an increased risk of a bleeding event that can be fatal, such as gastrointestinal bleeding or an intracranial hemorrhage.
Daily use in adults between 40-59 who have a 10% or greater risk of experiencing their first cardiovascular event over the next 10 years has a small net benefit, though the task force said such people should consult a doctor before beginning a daily regimen.
Yes, but: The draft recommendations would not apply to people who have had a heart attack or stroke and are now taking daily aspirin. They should not stop taking it without consulting their doctor, Tseng said.
What they're saying: Some in the medical community shared their own stories.
Jennifer Nuzzo epidemiologist at Johns Hopkins University tweeted: "My grandmother was told by her physician to take a baby aspirin daily to prevent a heart attack. We found out after she was admitted to the hospital for internal bleeding that she had assumed if a baby aspirin was good, a full-sized one was better. Sadly, she didn't recover."
Bob Wachter, department of medicine chair at UCSF tweeted a thread on his father who had early bleeding he thought was due to aspirin use.
The bottom line: The new data show the question of who takes aspirin has become much more nuanced than buying a bottle off the shelf.
"It's critical to have that trusted physician or clinical on your side that can answer all these questions about health," Tseng added.
Go deeper